New nonbinary ID law changes gets governor's approval, but will take years to implement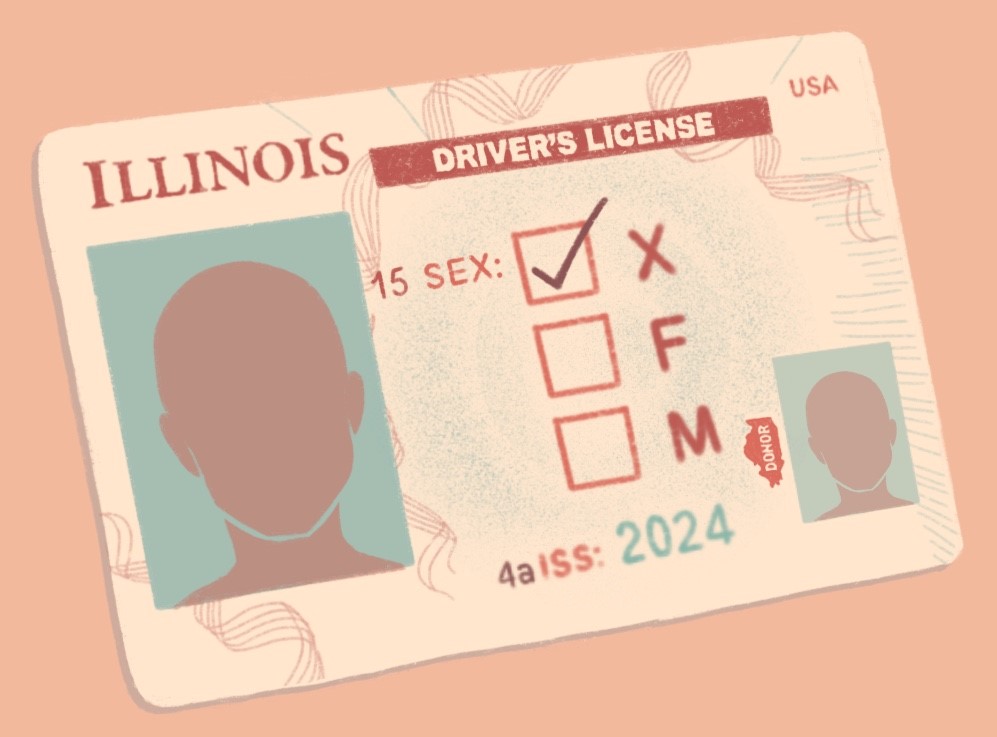 A new state law will allow Illinois residents to receive driver's licenses without declaring a male or female identity, but it could take more than four years before people can declare a nonbinary designation.
The delay in distributing driver's licenses with a nonbinary option is due to a six-year contract with IDEMIA, formerly known as MorphoTrust, said Dave Druker, assistant to the Secretary of State Jesse White. IDEMIA, a security and identity solutions company, is the ID card issuer for the state of Illinois per the contract, signed in 2018.
According to Druker, the company is currently unable to produce driver's licenses and state ID cards with the nonbinary designations at this time.
Druker said at the time the contract with MorphoTrust was renewed, the gender designation bill had not yet been introduced in the Illinois House. When the Secretary of State's office rebids in 2023, Druker said the ability to add a nonbinary designation will be a requirement in the new contract.
Gov. J.B. Pritzker signed the law authorizing the nonbinary designation on Aug. 23. "We support it," Druker said. "We applaud the governor [for] signing it."
But that sentiment is not necessarily shared by everyone, according to Joyce Guo, senior creative writing major and president of Columbia's LGBTQIA+ student organization, Columbia Pride.
"If someone were to sit down and think about it for a few minutes, they would realize that to truly have a victory for gender … it would be to just take the gender marker away completely," Guo said.
Guo, who identifies as nonbinary and uses both she and they pronouns, said while they understand the excitement surrounding this new law, they fear it will create a record of those who identify as nonbinary and make it easier for them to become targets. While the law is aimed toward lessening discrimination against nonbinary individuals, Guo said they feel it may have the opposite effect.
In states that have previously passed legislation allowing nonbinary designations, residents have been given the option to put "X" on their driver's license or ID in place of the male or female markers.
"With the use of the letter 'X' to designate a literal other gender, it sort of further 'otherizes' the existence of nonbinary people," Guo said.
Max Bever, deputy director of communications at the American Civil Liberties Union of Illinois, said concerns like Guo's are valid, but the law is important because it provides individuals a choice in how they are identified and represented.
"That is what makes [people] feel comfortable and safe," Bever said. "It is very important for the state of Illinois to realize that it is not a one or two, either-or category. It is important to expand the ability to express your gender identity on your ID."
Other states that have approved a non-gender option on driver's licenses include California, Colorado, Indiana, Maryland, Minnesota, Nevada and Utah, according to the Movement Advancement Project, an LGBTQ+ policy tracker. Similar legislation is pending in several other states, but the movement has not been without opposition.
"We believe government documents need to reflect biological facts for identification and medical purposes," said California Family Council President Jonathan Keller on the organization's website. "Secondly, the bill advances a falsehood, that being male or female, or no gender at all is a choice each person must make, not a fact to celebrate and accept."
Though nonbinary individuals in Illinois will likely have to wait until 2024 at the earliest to exercise this choice, the Secretary of State's office is taking other steps toward inclusivity.
Previously, the law required individuals to bring in paperwork from a doctor confirming a change of gender. Now, when the nonbinary designation becomes available, it will be an option just as male or female is.
Bever said the work of various advocacy organizations over several years has been culminated into this new law, and is representative of change in Illinois and beyond.
"I think that it really just reflects that there's a growing acceptance and understanding that gender is not binary," Bever said.