New exhibit highlights Hollywood film fashion, influence during '30s and '40s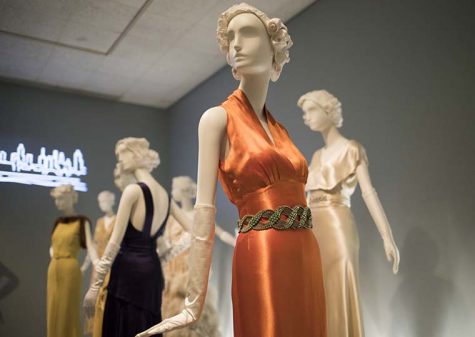 Even in black and white, old Hollywood films showcased garments' lush textures, detailed cuts and simple silhouettes—the hallmarks of  '30s and '40s fashion.
The Chicago History Museum, 1601 N. Clark St., displays glamorous garments from Paris, Hollywood, New York and Chicago in its latest exhibit "Silver Screen to Mainstream: American Fashion in the 1930s and '40s."
Featuring 30 pieces from the museum's permanent collection, the exhibit focuses on how Hollywood dominated as the hub of fashion and trends during the Great Depression and World War II era, said Virginia Heaven, guest curator and associate professor in the Fashion Department.
"There are some sensational pieces," Heaven said. "The inspiration was coming from the movies."
According to Heaven, famous designers including Chanel, Madeleine Vionnet, Valentina, Paul du Pont, Howard Greer and Adrian are featured in the exhibit.
Even in the darkest economic days of the '30s, around 80 to 85 million people were going to the movies each week, Heaven said. For both upper- and lower-class members, movies were a haven, and having the fashion of the silver screen exposed to so many resulted in its influence over American fashion.
Heaven said in addition to vintage garments on display, the story of how the fashion capital shifted from Paris to Hollywood is weaved throughout the exhibit.
"Having a room full of pretty things isn't that interesting unless there's some kind of story to go with it," Heaven said. "It's essential you know what you're trying to convey when you begin that process." 
The curation process took a total of 10 months, which Heaven said was a short amount of time for such an exhibit. The exhibit will be on display until Jan. 21, 2020.
While the exhibit does not focus entirely on Chicago, the featured pieces were all worn by affluent Chicagoans during the era, said the museum's Director of Curatorial Affairs Charles Bethea. He added the museum only features exhibits that have a particular focus within the community of Chicago.
"The [exhibits] deal with the people and culture throughout the city, as well as other issues that have a foothold in Chicago [and] have an impact on the nation or the world at large," Bethea said.
Senior fashion design major Laura Luna is a student of Heaven's. Luna said Heaven's passion for fashion history is apparent and contagious.
"History to me is a little boring, but when [Heaven] talks about it, it is fun," Luna said. "She stresses that contemporary fashion is important but also [the importance of] fashion throughout history."
A companion catalog features a photograph of every garment and an essay written by Heaven that goes further into the historical detail of the pieces featured in the exhibit.
"An exhibition goes up, and then it comes down. If you have a publication, then that lives on," Heaven said. "It's important when you do an exhibition to make sure something gets written down. Otherwise, it gets lost when the exhibition goes away."
Since the exhibit opened, both Heaven and Bethea said they have often heard people remark how they would wear the pieces today.
"The clothes that were being designed in the '30s and '40s were so classically thoughtful," Heaven said. "That really speaks to the longevity and incisiveness of American style."