New Digital Print Center accessible to entire Columbia community
By Myer Lee, Staff Reporter
September 9, 2020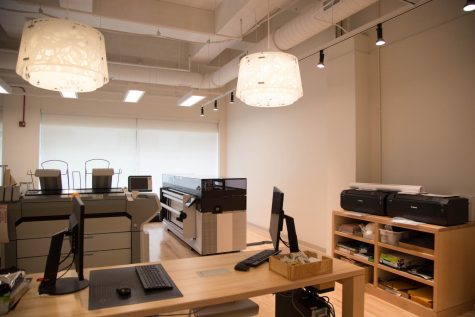 When Terrence Liggins was a student at Columbia, he and his classmates often had to scavenge the campus for places to print. So, Columbia's new Digital Print Center, located on the first floor of 623 S. Wabash Ave., is notable change for him.
Liggins, a 2014 marketing communications alum and assistant director of Diversity Initiative and Inclusion for the Admissions Office, said they would often print at Columbia's library, 624 S. Michigan Ave. Liggins knew of other places to print with more advanced services in the Design Department, but said they never explored those options because they did not need those services as a marketing student.
"There were other services for graphic designers and the design [side] of the college," Liggins said. "They were able to do printing on fabric, CDs and magazines but that was never something I looked into as a marketing student."
Steve Knight, manager of Columbia's new Digital Print Center, said the old print center was on the ninth floor of 623 S. Wabash Ave. and provided services such as printing on fabric and CDs, which were only available to the Design, Art and Art History, Theatre, Fashion and Interior Architecture Departments in the School of Fine and Performing Arts.
Knight said while Columbia's contract with the old Xerox center was ending, the college did not want to lose the center entirely. So, the Xerox center was combined with the old DPC to create a print center accessible to the entire college.
The new DPC provides a variety of services including binding, business cards and fabric printing. Knight said the prices vary based on the service, but they are consistently lower than print shops outside of the college.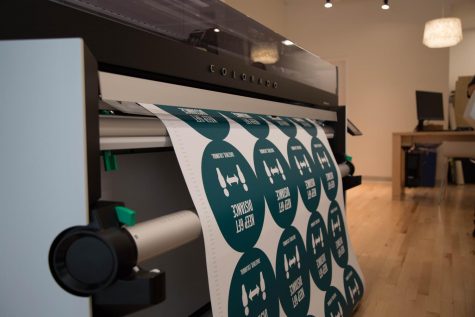 All students, faculty and staff using the facility for personal work will be charged their normal rates which begin at 30 cents per page Knight said in a Sept. 7 email.
He also said departmental printing, not student printing, is free, which he said helps Columbia gather budget data for the fiscal year.
Kathie Koch, chief information officer and DPC supervisor, said students, faculty and staff can use their Office 365 credentials to log into the print center's PRISMAdirect submission portal.
As a safety measure, the DPC will require all faculty, staff and students to request the service they want from the center and make appointments on PRISMAdirect Print Shop to pick up materials, Koch said.
She said this system encourages social distancing and better manages crowds.
The DPC is open from 10 a.m. to 2 p.m. Monday through Thursday. Koch said the center will add hours in the evenings and weekends when more in-person classes resume.
Although 75% of classes will be held remotely this semester, Liggins said they anticipate the print center will be used often because of other face-to-face classes. On-campus components of hybrid and face-to-face classes will begin Sept. 21, as reported by the Chronicle Aug. 10.
"It's beneficial for everyone having a central location where students are able to print rather than them scavenging for themselves," Liggins said.
Students currently have access to Wepa Express Printers in seven different locations around campus, which allow students to do quick print jobs remotely instead of physically going to the DPC. Koch said the Wepa printers are touch-free, meaning students can take a picture of a jobs and send it directly to printers from their phones or devices.
Before the pandemic, Knight said the new print center ran a test launch and was open for eight weeks before it had to shut down due to campus buildings closing in mid March. Knight said he hoped the DPC would be more popular, but knows it will be challenging now that most classes are online.
"With a lot fewer people on campus, I don't know if it's going to be quite what we were hoping for initially," Knight said. "But I do think it's going to be a great resource for people."