New club creates a safe space for trans and gender nonconforming students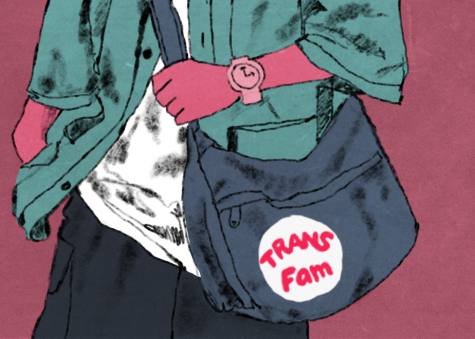 DEI ISSUE
---
When junior animation major June Gee was a first-year student at Columbia, she started coming out as transgender, so she searched for a gender-inclusive club at the college to join. But, she had no luck finding one.
"I actually thought there was one and it turns out there wasn't, but I was keeping an eye out," she said. "You want people who understand what you're going through."
When Gee was at a Student Diversity and Inclusion event for Trans Visibility in March, she found out that Trans Fam was working to become a club but needed more e-board members, so she jumped at the chance to join.
"I really wanted this club to exist and Howie [Alston, the club president] was saying how they didn't have enough board members, and I was like, 'Well, I'll do that,'" she said.
A month later, the Trans Fam club became official, with a mission to empower and create a safe space for trans and gender-nonconforming students.
Alston, a sophomore film and television major, started the club with the intention of sharing resources he had accumulated during his personal transition.
"I have so many resources that I've somehow figured out how to get and I wanted to share that with other trans and gender-nonconforming people at Columbia," he said.
Alston connects club members with places that can help students who are transitioning; two places they recommend are Broadway Youth Center, a clinic providing services to underserved LGBTQ+ youth, and Brave Space Alliance, a Black and trans-led center providing affirming care and resources on the South Side.
The club's discord, with over 40 members, has a resource page filled with feminine and masculine resources.
Gio Cecutti, a sophomore radio major, is a member of the club and actively uses the resources the club offers.
"I've been using the trans masc resources to just get tips on binding and stuff like that," they said.
Not only has the club offered resources, it's provided a community for members like Cecutti and made them feel seen.
"I was excited for there to be a safe space for trans people at the school," Cecutti said. "There are some things that I experience that I'm like, 'Do other people experience [this]?' And then I can learn that we're going through it together."
Columbia's "2022 in Review" reported that four in 10 incoming students in the Fall 2022 semester identify as part of the LGBTQ+ community.
Leo Schnellinger, a junior film and television major, is the vice president of the club, and said "with such a high LGBT population at this school, it just kind of felt stupid" to not have a trans club.
Since the club started in early April, Gee said they've held meetings about trans history, the clubs intentions and a Q&A with Chicago trans filmmaker Alice Avery.
Alston said he hopes future Trans Fam meetings will feature guest speakers from organizations that offer resources for transitioning and work on fostering community.
"I really hope that everyone understands that they're all in the same boat," he said. "And that we're a family just trying to find our own way through life."