New children on campus policy met with criticism from faculty, staff and students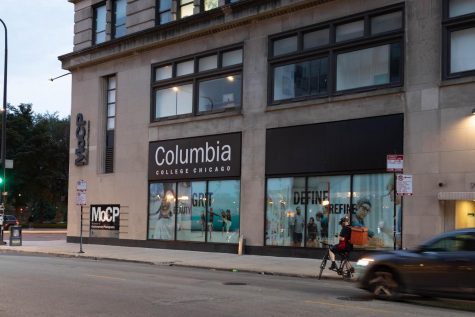 Some Columbia community members feel excluded and disappointed by a collegewide announcement that children will no longer be allowed on campus without prior authorization, issued Sept. 21 by Senior Vice President and Provost Marcella David and Senior Vice President and Chief Financial Officer Jerry Tarrer.
"Generally, minor children of employees or students are not permitted on campus," the email announcement said. "However, some exceptions may apply due to an emergency or unavoidable circumstance."
Jennifer Sadler, director of graduate studies in the Business and Entrepreneurship Department, an assistant professor and vice president of the Faculty Senate, said there has never been a formal policy regarding children on campus.
A follow-up message from David and Tarrer acknowledged that "different parts of the college have handled children on campus in different ways."
The policy outlined in the Sept. 21 email states: "Faculty must make their request to their chair; chairs are to forward the request to the senior associate provost. Other employees must make the request to their immediate supervisor, who must forward the request to their supervising VP/EVP. Students must seek approval from the dean of students."
A single parent of a 12-year-old, Sadler said she wants the school to be more flexible, which to her means leaving the decision up to parents and understanding that parents are responsible enough to bring their children to campus if necessary.
"If we think about it, [the policy] is leaving the chairs [or] basically two people responsible for making fast decisions about our personal comfort level with bringing our kids to campus if we just need to grab something," Sadler said. "And in emergency circumstances when we would need to bring our kid, I don't think that that process is fast enough."
As the vice president of the Faculty Senate, Sadler said she has received a lot of faculty responses to the policy, and none have been positive.
When the Chronicle reached out to David and Tarrer for a follow-up interview regarding the new policy, Lambrini Lukidis, associate vice president of Strategic Communications and External Relations, responded with an email resembling the collegewide follow-up email sent by the Office of the Provost on Sept. 22.
The follow-up said the policy was created to clarify COVID-19's impact on practices regarding minor children visiting campus and to "keep our campus as healthy as possible, including through controlled access by visitors." The policy is intended to create a system that will let children visit campus when necessary, while also notifying security staff to allow them access to the building and "managing the risk on campus" while COVID remains a threat.
Madhurima Chakraborty, president of the Faculty Senate and associate professor and associate chair of the English and Creative Writing Department, questioned the catalyst for this policy.
"There's not actually a problem that this policy is trying to alleviate," Chakraborty said. "The problem is that parents and guardians of children are under unprecedented stress, trying to be professional, keep up with their professional demands and keep up with all of this … and this is very clearly not addressing that problem at all."
Craig Sigele, president of the United Staff of Columbia College and academic manager in the Communication Department, said the announcement is worded in a way that suggests the college does not support Columbia community members with children. He said when someone brings their child to work, it is a last resort. Sigele added that child care is more expensive and difficult to find in emergency situations, due to COVID-19.
The follow-up announcement states, "College leadership understands the strain on families and child care resources caused by the pandemic." It further encourages students to contact faculty members and employees who are parents to contact supervisors, chairs and deans when illnesses and circumstances arise that could make it difficult for them to come to campus.
Chakraborty said her concern is with the substance of the policy and the process itself, not the language used by the Office of the Provost.
"It's just sort of a rewording to sound more compassionate, which is not a bad thing," Chakraborty said regarding the follow-up email from the Office of the Provost. "It would have been a great first step to start with that more compassionate tone, but it's not actually changing the policy that would cause the stress."
As the director of graduate studies in her department, Sadler said most graduate students are working professionals who often have kids, and this policy could negatively impact them.
Sadler also said faculty, staff and students who are impacted by the widespread college policy should have been included in the decision-making process.
The policy was drafted by the president's Cabinet, according to Sadler.
"Every single person in the president's Cabinet is making at least three to four times as much as a professor on campus, and that doesn't even include our part-time professors," Sadler said. "Think about the unconscious bias that goes into creating policies when you don't have enough people in the room that have a diverse representation of this college."
The policy "personally bothers" Sadler because of her experience initially coming to Chicago from Memphis for work, with little child care. She said she wants the school to be cognizant of the barriers this policy creates for new employees from out of state who may be parents without child care resources.
"When I got [to Chicago], I didn't know anybody in the city, and you can't just leave your kid with anybody, especially if you're a parent of color … because we have actual real threats against their lives," Sadler said.
In child care emergencies and during the 2019 Chicago Public Schools teacher strike, Jackie Spinner, an associate professor in the Communication Department, has had her children sit quietly in the back of her classroom. While they were not there often, their presence was supported by her coworkers and department chairs.
"There is a line that you can see in the policy that says 'to avoid disrupting classes, work and other campus activities,'" Spinner said. "The implication of that line is that children are disruptions and that families are irrelevant. This policy doesn't suggest that we are a community at our campus. It's like professors are workers, not people."
A single parent of a 9-year-old, a 7-year-old and a 3-year-old, Spinner has been bringing her children to campus since she began working at Columbia and even kept a small crib in her office at one time.
Liberty Morgan Cantzler, senior musical theatre major and mother of a 23-month-old, said there is not room for children in many environments in the world, and this is a form of discrimination, as parents must occasionally find child care in order to attend classes or auditions.
Cantzler said because we do not live in a country with universal child care, if the college could provide this, it would make a large difference and be an attractive offering for prospective students and faculty.
Raquel Monroe, co-director of Academic Diversity, Equity and Inclusion, associate professor in the Dance Department and mother of a 9-year-old, said the first email reflected a sense of law and order instead of community.
"In the absence of a policy, I understand the need to make a policy," Monroe said. "The timing and the tone of this policy was a misstep."
Monroe's thoughts about the policy changed after the follow-up email, which she said conveyed clarity and understanding.
"I'm grateful for the second communication that came out that made [the intention] clear," Monroe said. "Everyone is human. We're not machines. There are people sitting behind writing the policy; it's not generated by a robot, and people make mistakes. And I think that the second communication was a way of owning that error."
The follow-up email from the Office of the Provost noted "as with all policies, this policy can be revisited based on input, our collective experience working with it and, most importantly, as warranted by possible improvements in the medical response to COVID, and the hoped-for loosening of the pandemic's threat in the world and on our campus."
Monroe will be participating in a meeting with the administration in the future regarding the policy for children on campus and making Columbia "the inclusive environment that we truly desire to be." She said no date for the meeting has been set.
Monroe said having a clear policy in place is especially important so Columbia security guards are not put in a situation to handle frustrated parents.
"The exciting thing about this moment is that we recognize that the issue is that our college has not created a way to support working parents," Monroe said. "And so we are now having those conversations. So in the end, it may have caused a ruckus, but we are working on creative solutions and solutions that we've needed since the beginning of the college."