New AI Task Force prepares recommendations for how college will manage ChatGPT use in classroom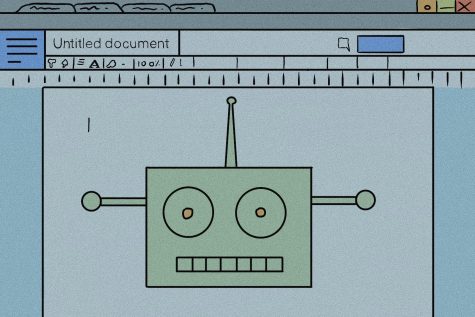 By the end of this week, the college's newly formed AI Task Force will send recommendations to the provost on how to manage artificial intelligence technology, like ChatGPT, in classrooms. 
Although no new policy is expected immediately, the college plans to offer resources explaining what ChatGPT is, how to cite it, ethical ways to use it and also its limitations.
Stephanie Frank, associate professor of instruction in the Humanities, History and Social Sciences Department and a faculty representative on the task force, said its main goal is to offer guidance for faculty and students on how to use ChatGPT "responsibly and ethically."
"Whether or not you're into chatbots … we're navigating a new reality and what does it mean for education," Frank said. "So the question is, as an institution, how do we respond to that?" 
Educators around the country are grappling with how to address the growing use of artificial intelligence since ChatGPT went viral after its launch last November. The bot is part of a new generation of artificial intelligence that can write essays for users based on a prompt and even generate videos and images.
One survey of educators found that 72% of college professors are concerned about ChatGPT's impact on cheating, compared to 55% of grade school educators. 
For Sharon Bloyd-Peshkin, a journalism professor in the Communication Department, it's important for educators to understand what ChatGPT can and cannot do.
"When you hear people fretting about ChatGPT, in particular, a lot of teachers are saying, 'Oh, my God, it's the end of the college essay,'" Bloyd-Peshkin said.
In theory, the software could act as an aid for students working on stories, writing and cleaning up essays or anticipating a counter-argument for an assignment. 
Even with its possible benefits, "I think we've got to figure out how to take advantage of it; it's going to be here," Bloyd-Peshkin said. "It's just part of the landscape now. So how do we use it as a tool?"
For now, Jeanne Petrolle, associate professor and interim chair of the English and Creative Writing Department, said the department's policy is to "design assignments that are extremely original so that no AI program could possibly develop a response."
Hilary Sarat-St. Peter, associate professor and director of Columbia's Writing and Rhetoric program, said it would be misguided for the college to ban ChatGPT altogether.
"I think these technologies exist in the world and we have a responsibility to prepare students to evaluate their affordances and constraints like what are good ethical uses of ChatGPT," Sarat-St. Peter said.
Derek Brinkley, assistant vice president of Undergraduate Admissions, said the college is just at the start of the conversation about ChatGPT, including how students may use it to write essays for admission.
"I do think that it's something that we will continue to pay attention to and keep an eye on in terms of whether we need to make any adjustments to our policies and our procedures as we're reviewing applications," Brinkley said.  
Columbia requires students to submit an essay when they apply to the college; however, Brinkley said Admissions doesn't just look at what students write. They also consider a prospective student's academic transcript. 
"I think it's much more useful to focus on the three or four years of work that a student has done day-in and day-out in their high school setting, or the work that they've done at a previous college," Brinkley said. "We really do try to spend most of our time focusing on the transcript itself." 
Students told the Chronicle that they are getting a mixed reaction to ChatGPT from their instructors. Some instructors are so worried about students using the bot to cheat that they no longer allow writing assignments to be completed outside of class. Other instructors are encouraging their students to explore how their industries are already using it.
At her sales job with the company Hippo Video, Catherine Espada, a public relations major, uses ChatGPT on a daily basis. 
"I think we have to, to be totally honest, evolve with it. So. And it might be something that kind of falls away, but I think it's always good to embrace new tech; I love it," Espada said. "But I think it's important to embrace new tech and understand it. And even if you don't use it, just know that it's kind of going to be a part of the world."
Sophomore music major Skyla Blumenscheid, said she has used ChatGPT casually but draws the line at using it in the classroom. 
"I personally don't think I ever would [use it in an educational setting], but definitely see the temptation, though," Blumenscheid said. "It could have a lot of uses, but also there are plenty of ways to abuse it." 
Blumenscheid said she has used the chatbot to come up with songwriting prompts and found that it knows how to write a four-stanza pop song. 
"I guess that really depends on what you're using it for," Blumenscheid said. "Starting an outline? Maybe. Writing a research paper? Definitely not."
After the AI Task Force completes its initial recommendations, the Provost's Office will provide feedback, which the AI Task Force then will review after spring break, said Frank, a member of the Faculty Senate's Executive Committee. 
The college's policies and guidelines on AI usage will likely evolve over time, as technology changes, Frank added. 
The AI Task Force is made up of five faculty representatives, four staff members and two students from Columbia's Student Government Association. 
Greg Foster-Rice, associate provost for Student Retention Initiatives and an associate professor in the Photography Department, said the task force is not focused exclusively on ChatGPT. It also is examining visual-image generators such as Midjourney and DALL-E. 
"Our goal is to draft a faculty resource page and communication from the Provost's Office to all faculty and staff so they can communicate some basic guidelines to students and offer a range of support for different approaches to AI across our varied curriculum," Foster-Rice said in an email to the Chronicle. 
About the Contributors
Olivia Cohen, Editor-in-Chief
ocohen@columbiachronicle.com



Olivia Cohen is a senior journalism major, minoring in Women's, Gender and Sexuality Studies. She primarily reports...
Lucas Martinez, Illustrator
lmartinez@columbiachronicle.com



Lana Martinez is a senior illustration major, who has created graphics for student profiles, COVID-19 protocols...