Navy Pier reopens after eight-month pandemic shutdown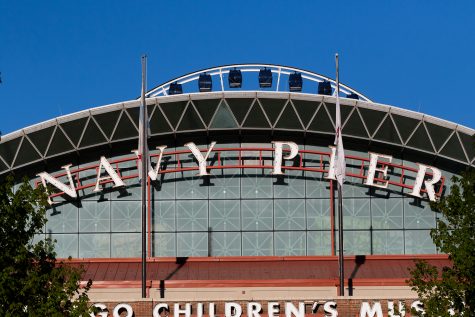 The bright, colorful lights over the lake and booming sound of fireworks can only mean one thing: Navy Pier is open for business.

After closing its doors in September 2020, Navy Pier lost approximately $20 million in revenue. It remained closed for more than eight months due to the COVID-19 pandemic and Illinois health and safety restrictions.
Since September, rides and businesses at Navy Pier like Giordano's, the Billy Goat Tavern and Completely Nuts have been closed.
On April 30, Navy Pier partially reopened with Pier Park—where people can ride the Ferris wheel, tour boats and cruises—open and operational. This had been the longest closure in the park's recent history, according to Block Club Chicago.
On May 1, Navy Pier fully reopened its indoor area.
"We have been so anxious and eager to reopen," said Payal Patel, Navy Pier's communications director. "It was a devastating and very difficult decision to close in the first place. We, along with many other businesses, did not want to close the Pier down, but it made sense from a health and safety perspective and from a financial perspective."
After reopening its outdoor areas, including rides like the Centennial Wheel, Navy Pier had its first fireworks show of the year to celebrate its reopening on May 1.
During the eight-month closure, Navy Pier finished construction on its first hotel. The Sable at Navy Pier Chicago, Curio Collection by Hilton, has 220 rooms and officially opened in March, Patel said.
"[The hotel] was always a part of our centennial vision—which we had established shortly after becoming a nonprofit in 2011," Patel said. "We wanted to have an experience that allowed people to extend their Navy Pier experience to an overnight stay." 
Mars Colbert, a freshman film and television major from California, said she was able to walk around Navy Pier while it was closed but wants to visit now that it is fully operational again.
"I really want to go again with my friends because I've never fully experienced Navy Pier," Colbert said. "I want to go on the Ferris wheel because I feel it'd be cooler, especially since it's near the water. I've always found it very peaceful being up there, even if it's a short time just watching the view. I always like that, especially at night."
Colbert was hired to work at Build-A-Bear Workshop in Navy Pier last year, but it closed before she could start her new job. 
"I'm just hoping that I can get [the job] when [Build-A-Bear Workshop] reopens," Colbert said.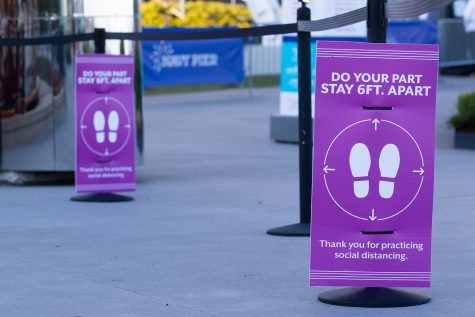 To keep staff and visitors safe, Navy Pier reopened following the CDC's guidelines of mandating face masks and social distancing at all times, Patel said. There are social distancing ambassadors to make sure people are following safety measures, as well as staff who clean regularly-touched surfaces, such as rides, after each use.
There are still a few businesses on Navy Pier that have yet to reopen, including the Chicago Children's Museum, but most of the outdoor spaces at Navy Pier will remain open, and the Pier will continue its weekly fireworks shows as it has in the past.
Jeremy Kirkland, a sophomore film major, said he is hesitant to visit the indoor area of Navy Pier because the pandemic is still ongoing.
"We're not rid of COVID yet, and I think we need to be very cautious on opening everything up," Kirkland said. "We're starting to see the light at the end of the tunnel, but we're not out of the tunnel just yet. … Outdoor spaces [are] completely fine. Indoors spaces, I am very hesitant on saying that they should reopen."
However, Navy Pier employees are eager to open their doors, Patel said.
"People who come and visit Navy Pier are the people who make the pier what it is," Patel said. "We're known as the 'People's Pier,' so to have people actually back and enjoying all of our experiences is something that we've been looking forward to for the last eight months."