Navigating sex work without sex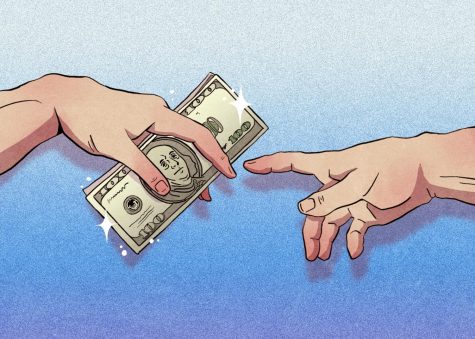 SEX ISSUE
---
Naughty Sheena, 41, has been a phone sex operator since she was 19. She recently discovered she was the highest-ranked paid operator on Calljanedoe.com.
Despite being paid so much, Sheena has never posed for any photos revealing more than her undergarments.
Sheena encourages women to understand the control they have over their bodies while working in the industry.
"The money is there. When you really wanna make the money, stay true to yourself and stay true to who you are," Sheena said.
Katie Rodenkirch, a therapist for the Chicago Center for Sex and Wellbeing, has worked with a variety of sex workers, including ones involved with a new type of sex work that has been on the rise: findom.
Findom is short for "financial domination," in which clients pay money for the pleasure of knowing that they paid for a worker's shopping trips or financial needs. While findom may not technically be sexual work, it is known as a part of the BDSM (bondage, discipline, dominance and submission) category due to the men receiving pleasure from feeling powerful.
Rodenkirch recalls one client who paid for a worker's college tuition and another who was paid to keep a client caged up.
"One of my most recent conversations was with a financial dominatrix who had a client in a chastity cage for a year and a half, operating under the hope that she had lost his key and he would be permanently caged," Rodenkirch said.
Some sex workers work in several parts of the industry. Lauren Kiley, 36, has done on-screen solo and partner work, erotic audio, sex work management, activism and everything in between. Her journey with sex work began with sugaring and escorting, which transitioned into fetish porn.
Her work days can be long. "I shoot all of my own material which includes doing my own outfits, my own makeup touches, all of that," Kiley said. Kiley's solo shoot days end with a big dinner and a long shower, however, collaboration days end in a celebration where she and her coworkers can discuss what they did and did not like during the filming process, Kiley said.
She appreciates opportunities to work for other studios. "If I'm shooting for another studio, all I have to do is show up and perform; if I'm shooting for myself, I have to set up the lights, set up the camera [and] make sure my camera is charged," she said.
While Kiley is well established as a performer, she is also known in the industry for her work as an activist, promoting performers of all types and helping to get their work on multiple sites.
"One of the things I hope my work enables other independent performers to do is unload some of that production company work," she said. "There [are] only so many hours in a day and no one person can do the work of an entire production company."
Editor's Note: This story is a part of the Chronicle's annual Sex Issue which will be published mid-February.