Multiple armed robberies near Student Center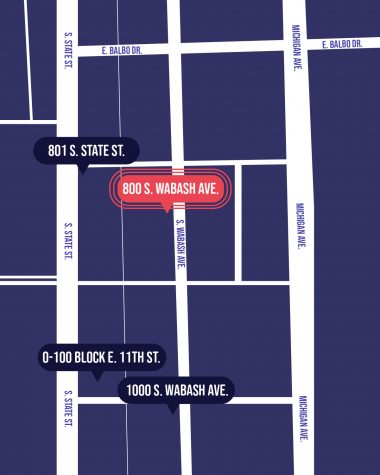 A string of at least six robberies near the new Student Center have students and local shopkeepers on high alert.
Pandit Pahtak, store manager at the 7-Eleven, 801 S. State St., said he was cleaning up the store around 4 a.m. Sept. 15 when a man thought to be between 30 and 40 years old came into the store wearing a hoodie and a mask, demanding cash from the register.
"He had a big gun. He came to the counter, showed me the gun and took $340 [or] $360, then he got away," said Pahtak while ringing up customers at the store on Sept. 17.
Pahtak said he has experienced plenty of robberies while working at 7-Eleven, with the Sept. 15 incident being the second armed robbery he has witnessed in his career. Despite the robberies, Pahtak said he is not afraid when he is working at night, but if an offender has a gun, he is going to give them what they want.
As of press time, no one is in custody for the Sept. 15 7-Eleven robbery.  However, the investigation is ongoing, according to a Sept. 19 email statement from Sally Bown, public information officer for the Chicago Police Department.
In addition to this incident, five other armed robberies have occurred near the Student Center since Aug. 17, according to a Sept. 13 crime advisory from the CPD.
Later, on Sept. 15, a separate incident occurred involving an offender who approached three women around 8:30 p.m. near the 800 block of Wabash Avenue. The offender demanded their personal property while displaying a handgun. The victims gave up their property willingly and fled, according to a news release from CPD. On Sept. 16, the offender was identified on surveillance video in possession of the victims' property and was then arrested and charged.
Ronald Sodini, associate vice president of campus safety and security, said campus security provided footage from an on-campus security camera near the Student Center  to the CPD, which led to the arrest of the offender of the Wabash robbery.
It is unclear whether the arrested offender is connected to any of the other incidents, but as of press time, no additional arrests have been made in connection to those cases, Brown reiterated in a Sept. 20 email statement.
Raven Palmer, senior public relations major, said she received many crime alerts throughout the 2018-2019 academic year, but, now that guns are involved, these robberies are more frightening.
"It sucks because you know this might happen because you live in the heart of the city," Palmer said. "It could be anybody and anywhere. You just have to be cautious."
Sophomore public relations major Diego Ochoa said there should be training for students to make them aware of what they can do in a robbery situation, and what resources are available before, during and after an emergency situation occurs.
Columbia offers "Kick @$$ Self-Defense" workshops, a two-hour class designed to help students navigate Chicago with confidence while learning self-defense techniques. The next workshop will be held Sept. 24 from 2-4 p.m. at Dwight Lofts, 642 S. Clark St. Workshops are open to all students, faculty and staff.
Additionally, the college offers an after-hours security escort program, which is available to students seven days a week from 6 p.m.-1 a.m. during the fall and spring semesters.
Sodini said the college purchased a new escort van since the program started during the 2018–2019 academic year because so many students were using the service.
Palmer and Ochoa both said they feel safe around the new Student Center, but more could be done to protect students.
"You don't see security much outside," Palmer said. "When I lived in the Lincoln Park area I would see those [DePaul University security] cars just driving around. It's kind of hard here because you're really in the city, compared to DePaul's campus, but just add more security."
Ochoa suggested more security cameras and blue-light emergency phones on campus. Currently, there are two blue-light emergency phones at the Student Center.
Sodini said security patrols and efforts are adequate.
"We activate our patrol vehicles; they're out there," Sodini said. "We as a security department are limited in our authority on the public way. But, even though we don't have that authority, we still patrol that area."