The Blue Paradox, which opened this summer at the Museum of Science and Industry, is a multimedia, immersive exhibit focused on the devastation of plastic pollution in the Earth's Oceans. The exhibit aims to inspire visitors to reflect on their own personal plastic use and encourage them to join the pledge to "turn the tide on the ocean plastic crisis before it's too late."
Immediately after stepping through the exhibit entrance, guests are fully immersed as an ocean animal, living in the pollution. Along the walls are photos of pollution-lined shores with people living amongst them. The queue for the exhibit displays a screen of "fun" facts about plastic in the ocean. Once fully inside the exhibit, guests view a film about the beauty of Earth and the life on it. After the film, the exhibit uses art to help fully grasp the situation with a combination of projections, sculptures, and infographics to educate the public on the severity of ocean pollution.
Professor Spencer Hellert is an oceanography professor in the Science and Math Department at Columbia. As a scientist teaching at an art school, Hellert builds a bridge to show the importance of the arts in the science community. Instead of a final or midterm, in several of her classes, students are encouraged to educate and inform the public about common scientific misconceptions through different forms of arts and media.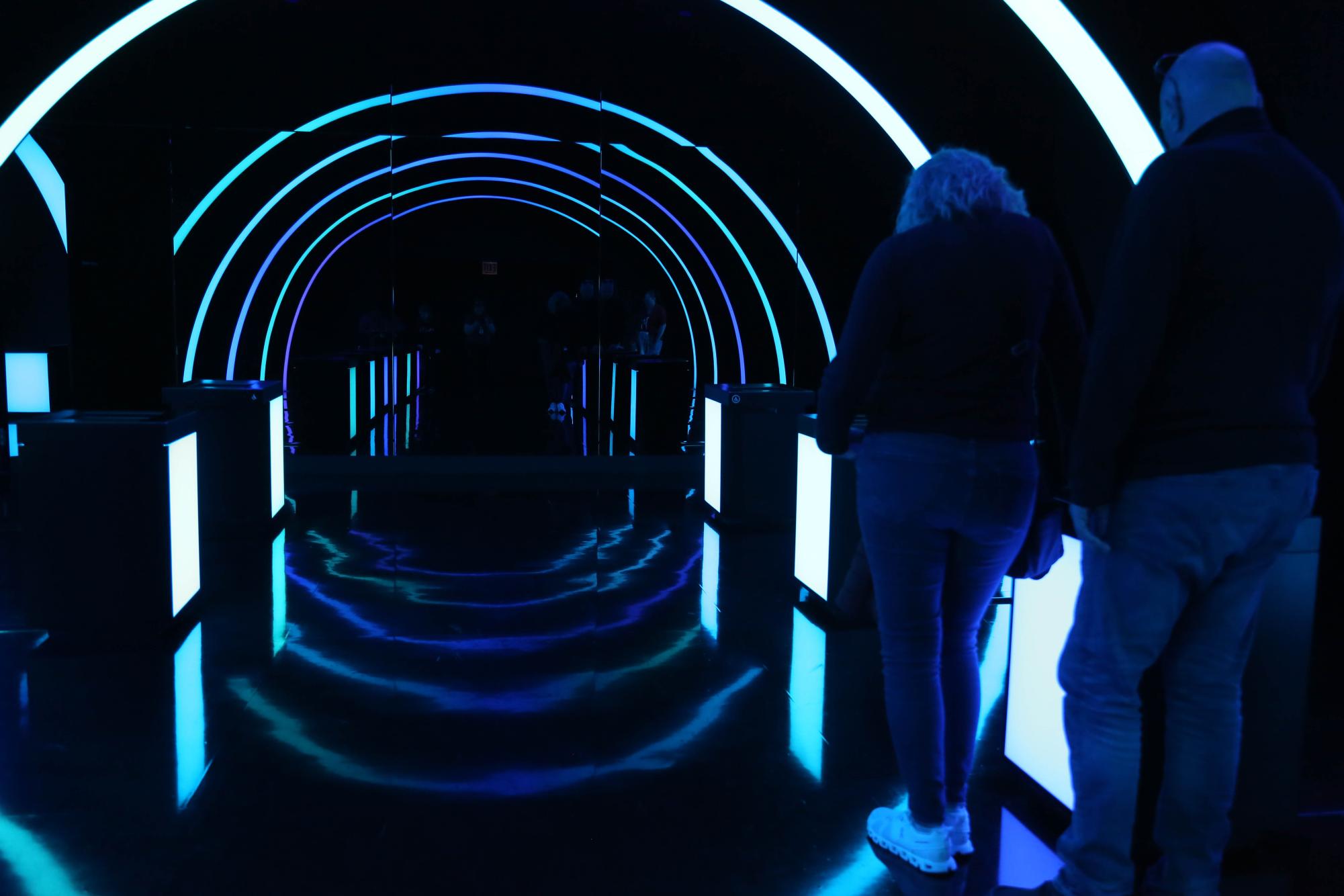 "Part of what is important about being a scientist is that you have to write very technically because scientists all over the world need to know exactly what we mean. Then, you are supposed to communicate what you have done to the public in story form," Hellert said.
The Blue Paradox incorporates the arts and science together to educate those of all ages. Joe Cavaliere, a graduate student at DePaul's College of Education and Graphic Designer, shared his experience as a teacher and design student.
"A memorable part of this exhibit is the children's reaction to the opening film. It gets them excited about the Earth, and as they walk through the exhibit, they see what needs to be done to help save it." Cavaliere said. "Art is a great way to grab people's attention. Education and art go hand-in-hand." 
Columbia's Student Government Association included this mantra in its own recycling initiative, led by President Tyler Harding and VP of Communications Jenna Davis. The effort, which started last year, focused on education and impact.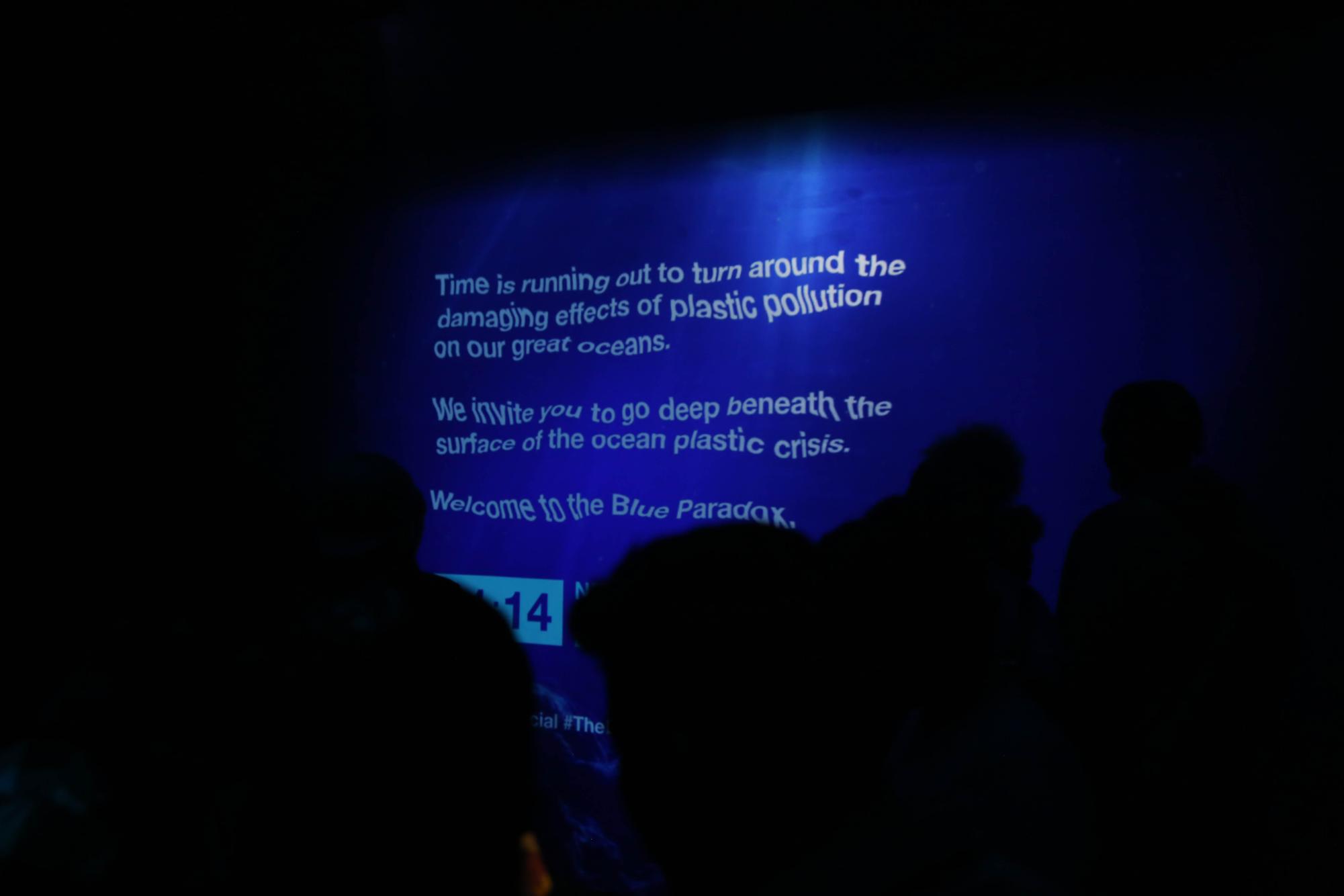 "I believe using engaging graphics made the initiative more effective. I have seen with my own eyes how people are taking a second to think if they can recycle something or not before throwing it into the bin," Davis said, referring to recycling infographics posted on every garbage and recycling bin on campus.
"By doing all of the research and by engaging, even if you were not part of the committee, by engaging with those infographics, whether consciously or not, you are learning about recycling, about different plastics," Harding said. 
The Blue Paradox exhibit is an example of using art to tell a story about human destruction. The exhibit also makes sure to have viewers leave hopeful for the future and provides them with resources for further education.
"Talking about art and the ability to expose us to environmental atrocity, [this exhibit] is gonna open our eyes to a lot of that. Sometimes it can be really hard and really depressing to learn about a lot of this, but because we as humans are causing it, we also have a responsibility to open our eyes to our own destruction that we are causing, part of that is awareness, through art, through storytelling, and we need to receptive to it," Harding said.
MSI's next Chicago Free Days is Nov. 8. Students can reserve tickets on the Museum of Science and Industry's website.