Misinterpreted: the role of Deaf and hearing interpreters in the ASL community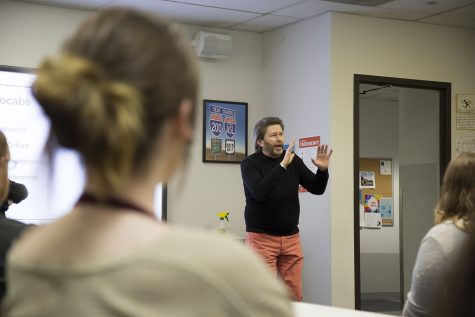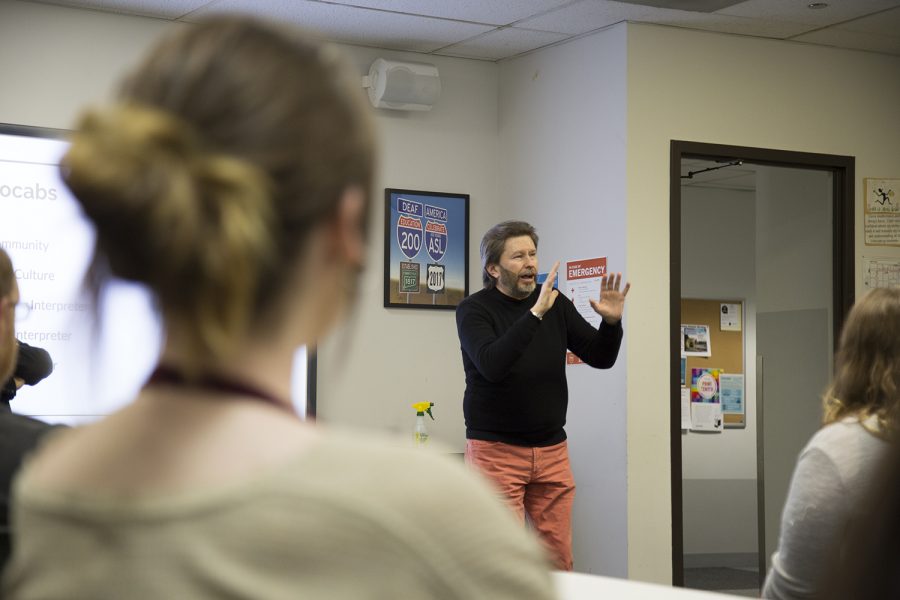 Though access for Deaf students at Columbia has improved over the years, there is still a need for to educate those in the hearing and Deaf communities about remaining challenges.
Oftentimes, people forget about making content accessible for everyone because hearing people often do not consider how people from the Deaf community navigate the world, said Ian Rust, American Sign Language Club president.
"Because we live in a world where we are not in the marginalized group, we don't have to think about access and how we get it because it's already readily made available to us," he said. "Just because it doesn't affect you, doesn't mean that other people aren't struggling to get access to information."
To address these gaps in communication and understanding, Rust invited ASL master tutor Malinda Tran and ASL Tutor Peter Wujcik from the American Sign Language Department to discuss the duties of interpreters and understanding the dynamic between hearing and Deaf interpreters.
A Deaf interpreter is a person who is Deaf, whose primary language is ASL and has experience interpreting, according to Canadian Hearing Services. They may work with a hearing interpreter to communicate regional dialect, differences in signing styles or in situations such as in courtrooms or during police interviews.
Situated in a triangle, communication can flow smoothly as a message first goes to a hearing interpreter, then to the Deaf interpreter and finally to the Deaf recipient.
Oftentimes, the sign language interpreters are placed strategically in a triangle to allow distraction-free communication between someone from the hearing community and the Deaf community, Tran said in ASL.
As a certified Deaf interpreter, Wujcik, said in ASL, he works with hearing interpreters to add a linguistic and cultural understanding of verbal concepts to ASL to better relay messages to people who are Deaf.

This presence of a deaf interpreter in these settings is especially important, Tran said, so there are no lapses in translation between the hearing interpreter and recipient of the information.
For instance, during one of Wujcik's interpreting jobs, a student was failing math for a year because there was not a certified Deaf interpreter to explain the concept of the word "odd." The student did not understand the difference between the word "odd" as bizarre or strange, and the word "odd" as it relates to numbers.
ASL master tutor Malinda Tran and ASL Tutor Peter Wujcik from the American Sign Language Department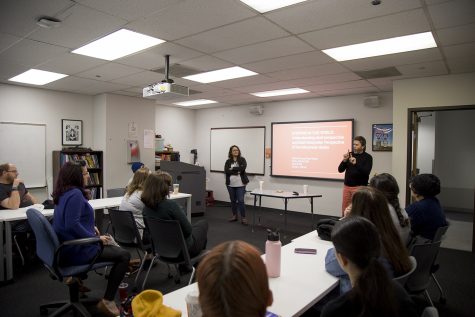 In response, Wujcik then visually explained which numbers were even and which were odd so the student understood to do every other problem on assignments. Because the student had received the same opportunity to succeed, he was able to pass and graduate, Wujcik said.
At the same time, unqualified interpreters are often the reality for the Deaf community. Wujcik said people sometimes sign up for these jobs for the attention or the money. There are also instances where interpreters have not been properly vetted.
Wujcik referenced an incident in Manatee County, Florida when a lifeguard who was not a certified interpreter was brought in during a press conference regarding Hurricane Irma and was incorrectly translating words, as reported Sept. 13, 2018, by television station WFLA, an NBC affiliate.
Students studying to be ASL interpreters need to assess their own qualifications because their interpreting abilities can truly impact others, Wujcik said.
Tran, who is training to become a certified Deaf interpreter, said the line between interpreting and being an ally can be "sticky."
Tran occasionally works at a Social Security office, where many of her clients who are Deaf do not know they can appeal a decision. She said she will ask a client what they would like to do next, but they often do not know because their options have not been explained to them.
In those cases, she said it is difficult to separate explaining a client's rights versus suggesting what to do.
"You can't just step way out of your role as interpreter and become 100% advocate," Tran said.
Tran said people who are Deaf are often blocked from common information the hearing world has access to, which causes a certified Deaf interpreter to move into a "cultural mediator" or "advocacy" role.
Both instructors encourage their hearing students to socialize with the Deaf community not only for linguistic acquisition but to solidify their use of body language and facial expressions when they sign.
"Not every job is going to be you sitting very nicely in front of the Deaf person and getting clear information," Tran said. "Some of this is going to be confusing when there's going to be misconceptions [and] misunderstandings. If you [want to] try and see things more from a Deaf person's perspective … ask a Deaf person."