Michael F. Guidotti remembered for passion, work in every Columbia building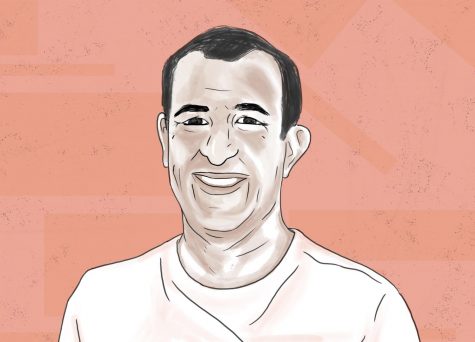 Michael F. Guidotti, a dedicated engineer and director of planning and construction in Columbia's Facilities and Operations Department, was known for going "all in" on every project he was a part of.
"He always took a lot of pride in his job and made an impression on my family, but he always just had to work hard and make a living doing what [he] liked to do, " said his son, John Guidotti.

Guidotti, known as Mike to his family and friends, suffered a stroke on Aug. 24 and died Aug. 30 at Alexian Brothers Medical Center in Elk Grove Village, Illinois, surrounded by loved ones.
Those who had the opportunity to meet Guidotti knew him as someone who took pride in his work and always had time for family and friends, his son said.
Guidotti's daughter, Katie, a 2015 marketing alum, said her father was the most complex person she knew because of his passion and dedication to anything he took on.
During her time at Columbia, Guidotti's daughter said she would always stop by her father's office at 600 S. Michigan Ave. just to say "hi" or to keep him updated on things happening around campus.
"He really cared about the students and what was going to make their lives better or a more fun environment for learning," she said.
Guidotti, who lived in the western suburb of Roselle for the past 25 years, began working at Columbia in 1999 as a building engineer when the college purchased the 33 E. Ida B. Wells Drive building.
Guidotti held a number of roles in the college's Facilities and Operations Department including chief engineer, interim assistant vice president of facilities and construction, interim director of construction and physical plant, and most recently as director of Planning and Construction.
Some of the projects Guidotti worked on include the 33 E. Ida B. Wells Drive HVAC replacement and gallery renewal and the establishment of the Digital Print Center at 623 S. Wabash Ave.
John Guidotti recalled going to work with his father on campus when he was younger and how he would follow him on his daily routine of checking buildings and taking inventory in the utility closet.
"He gave me some busy work to keep me out of the way, not in a bad way, but a way that would be expected and appropriate so he made me feel included," John said.
For Ann Kalayil, associate vice president of Facilities and Construction, Guidotti was the first person she met on campus when she started working at the college nine months ago.
"I can't remember how many days we were [on campus] until 7 p.m. together just working on things and talking about what are some of the solutions to construction-related problems, " Kalayil said. "There wasn't anything that he couldn't do."
Up until he was hospitalized, Kalayil said Guidotti worked tirelessly on the college's COVID testing facility to make sure everything was in place and ready for reopening.
Kalayil said Guidotti was particularly proud of his work in the Dance Center's first-floor lobby and classroom, 1306 S. Michigan Ave., because he "single-handedly" made the dance classroom there.
Tanya Harasym, director of the Academic Center for Tutoring, said she remembers 20 years ago when Guidotti saved her partner's handprint art pieces plastered on the wall of her old office by cutting the drywall attached to the art pieces and delivering them to her new office.
"Rather than taking the easy route and just sanding it down, he actually did that for her," Harasym said. "All kinds of people have stories like that about Mike."
Harasym said she was shocked to hear the news and recalled seeing Guidotti two weeks prior just walking by until he stopped to talk with her.
"He stopped dead in his tracks and caught up and told me what he was up to, and I told him what I was up to, and it was all fine," Harasym said. "It's a big shock, and the more people I talk to—they feel the same."
When he was not working, Guidotti was either cooking food on his smoker, taking cruises in his Mustang, fishing on Deep Lake in Oxford, Wisconsin, with his son or golfing with friends on the weekend.
Katie and John Guidotti said there was never a dull moment when he was not doing something with or for someone else.
Mike Guidotti is survived by his wife, Debra Guidotti, and children, John and Katie Guidotti. He will be remembered fondly by his co-workers, and his impact will continue to be felt in the buildings across Columbia's campus where he worked and by the people who keep them running.