Meet the two candidates running for newly created police district council representing the South Loop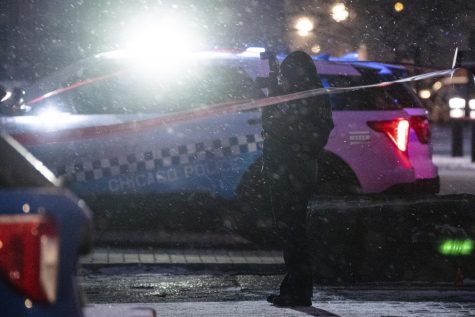 2023 ELECTION
---
Attorney Jamie Brown and photographer Sarah Kammerer are running for seats on a newly created police accountability body for the 1st District.
District Councils were created in each of the city's 22 police districts and will be made of up three people elected in regular municipal elections every four years. This is the first election with candidates for the positions since the City Council created the governing bodies in July 2021.
The majority of the 22 districts for Police District Council have three or more candidates on the ballot, making the 1st District, with only two council candidates, unusual.
Police District Council members: 
 Collaborate in the development and implementation of community policing initiatives.
Hold monthly public meetings
Ensure the Community Commission for Public Safety and Accountability gets input from the community
Nominates seven members to serve on the Community Commission.
Community Commission members have final decision making authority on police department policy, search for a new police superintendent once the current superintendent's position becomes vacant and appoint the head of the Civilian Office of Police Accountability that investigates police misconduct.
Columbia's campus falls within the First District, which covers the majority of the South Loop.
Jamie Brown
---
Brown is an attorney who graduated from the Catholic University of America and Columbus School of Law.
Brown served on Chicago Votes' board of directors for three years, including as president, and is a precinct captain and zoning board community representative in the 25th Ward. She was a volunteer advisor for Democrat Daniel Biss's failed 2018 bid for governor.
Brown is currently the associate general counsel of Shield AI, an artificial intelligence defense company with a mission to protect service members and civilians with intelligent systems.
Sarah Kammerer
---
Kammerer worked in Congress and on Republican Sen. Mitt Romney's failed 2008 presidential campaign. She co-founded ChiWomenVote and IllinoisWomenVote, and serves on the advisory council of the nonprofit New Politics and the leadership council of ProPublica, an independent non-profit newsroom.
Kammerer is also a photographer, a 2012 Fulbright Scholar to India and serves on the advisory council for The Chicago Brewseum.
In a statement to the Reader, Kammerer wrote, "I'm looking forward to serving as a liaison between the community and the police to help build relationships and trust. My background leaves me well-positioned to excel in the role and create opportunities for better communication and safer, stronger, and welcoming neighborhoods."
Police oversight history
---
Alexandra Block, senior supervising attorney for the Criminal Legal System and Policing Project at the ACLU of Illinois, gave insight into the history behind the creation of the police district council.
Civilian oversight ability and authority have taken a long time, said Block.
"In 2017, when the United States Department of Justice completed its pattern and practice investigation it indicated that the Chicago Police Department had a pattern and practice of abusing community members and covering it up," Block said.
After being thoroughly implicated in the Justice Department report, IPRA was disbanded and replaced with the Civilian Oversight Police Authority (COPA), she said.
Block said Chicago community members are still not satisfied with COPA.
District council seats are open for registered voters, and candidates must have lived in the police district where they want to run for at least one year before the election. For this year's election, several candidates with law enforcement ties are running.
"There is no limitation on, for example, former police officers running for the District Council," Block said. "In many districts, I think the Fraternal Order of Police, the police union, has actually put up candidates to run because it's a democratically elected process. So, there are reform-minded candidates and some candidates who are aligned with the police department."
Block said that while there is no way to prevent police-aligned candidates from running in a democratic election, voters in each district can choose either a reform candidate, a police-oriented candidate, or a different candidate on the ballot.