Masters of a ping pong speakeasy square off in an eclectic basement court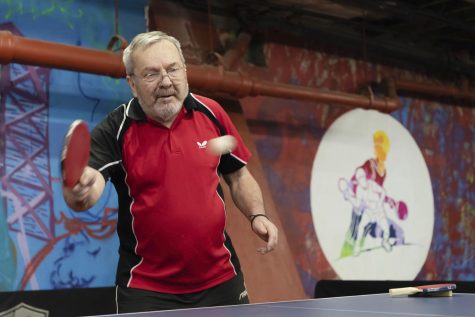 Editor's note: This article is from the Communication Department's award-winning Echo magazine.
A black, unmarked door sits next to an Anytime Fitness, with no hint of what lies behind it. To enter, visitors must make a phone call to ping pong coach Ardy Taveerasert, who will then open the door to an entryway that leads to his table tennis club, ChiSlam.
The corridor echoes with the sound of ping pong balls popping to and from players. In a room at the bottom of a set of dimly-lit stairs, club members square off, giving a death stare at the small, white balls as they squat eye-level to their tables. 
Since 2001, ChiSlam has called the basement of 2412 W. North Ave. home, gathering ping pong players of all races, ages, ethnicities and genders. Taveerasert, 62, has coached at ChiSlam for 20 years and turned it into his full-time profession.
"Ping pong is not fun," he says with a laugh. "I describe ping pong like a martial art."
He first learned the competitiveness of ping pong as a 7-year-old while growing up in Thailand with a brother who continually beat him in every game. The more his brother defeated him, the more Taveerasert wanted to win and eventually he did. He wanted to pursue ping pong as a professional until he got a job in 1993 that brought him to the United States.
Within his 20 years of coaching ping pong, Taveerasert says he's taught thousands of students including actor Vince Vaughn and actress Jennifer Connelly for a ping pong session in the 2011 movie "The Dilemma."
Ann Schaffer, who is one of 10 women who play at the club, sat watching Taveerasert coach one of his students. She had sweat beading on her head from the couple hours of playing she had done that day. For her, playing ping pong is a great combination of playing an athletic sport while getting to socialize.
"Ardy will meet you at your level; he's not pretentious at all," she says. 
Across the room, Jim Speir, 59, a retired vice president of sales for a gift card company, plays an up-and-coming 12-year-old member who has most of the older guys nervous. Speir brags that he has never taken a lesson from Taveerasert and hopes to beat every single one of Taveerasert's students. 
"It's not because I shouldn't, it's just because I'm being stubborn, and I decided that would be my thing," Speir says with a grin, adding that he still learns something from Taveerasert every time he comes to play. 
Speir describes ChiSlam as a speakeasy for ping pong, and says the authenticity of its location makes the club special. Thin blue fabric hides the back section of the basement while colorful, abstract paintings of ping pong players are plastered on the cement walls giving the entire room an eclectic and funky feel.
While ChiSlam may not have the most welcoming entrance, once you step foot inside this ping pong club, it's anyone's game. For 81-year-old player Vern Schultz, he suggests if you want to learn how to play ping pong you must be willing to learn and improve your skills and just have a good time.
You can read the entire 2022 issue of Echo, as well as previous issues, on our website.
__________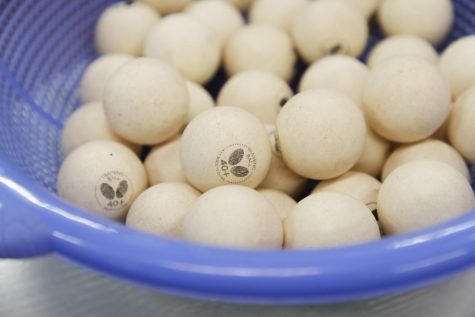 How to master the game of ping pong 
Standing across the table from ping pong coach Wojchiech Gajda, I try to pretend I know what I'm doing. Gajda sees right through me and instantly teaches me what I barely knew about ping pong.  Here's what you can take with you the next time you go head to head with an opponent.
Take a squat: When preparing to hit the ball, both Gajda and Taveerasert recommend standing in a squat-position. Taveerasert says the pros even squat eye-level to the table. Feet should be in a firm position, shoulder-width apart, giving you ample room to sway side to side to hit the ball in any direction.
Get a grip: Hitting the ping pong ball correctly is all in how you hold your paddle. Gajda continually reminded me to hold my paddle at a down-ward angle as the paddle hits the ball, so it actually lands on the table, rather than the wall behind him. 
Salute, salute, salute: When you hit the ball, you should keep your paddle in a down-facing angle and swing your arm as if you are saluting your opponent. I struggled to do this consistently and felt like a puppet on strings as Taveerasert took my hand and seamlessly did the motion for me. I can still hear the ringing of Gajda's voice telling me to "salute, salute, salute" every time I hit the ball. 
— Kamy Smelser