Making Columbia more affordable could increase already-growing enrollment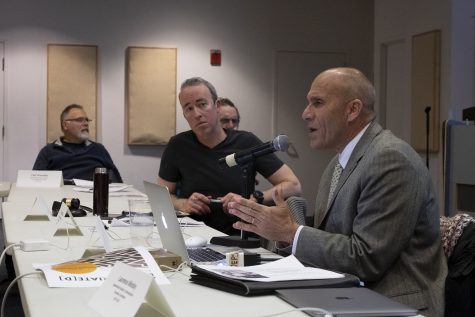 More than a year after Vice President of Enrollment Management Michael Joseph updated Faculty Senators on the college's encouraging Fall 2019 enrollment numbers, he told senators he is expecting another increase going into Fall 2020.
This semester has been the first time in more than a decade that Columbia's enrollment rates have gone up, from 6,825 students in Fall 2018 to 6,947 in Fall 2019, as reported Sept. 27 by the Chronicle.
"I'm trying to balance growth with quality with making money," Joseph said during a Friday, Nov. 8 Faculty Senate meeting held at Stage Two, 618 S. Michigan Ave.
Columbia currently has 3,800 applications "rolling in like crazy" for the Fall 2020 semester, which is more than the college had at this time last year, Joseph said. He plans to focus on increasing enrollment rates among transfer students, students from Chicago, nontraditional students and international students.
One of the biggest hurdles to increasing enrollment is the financial burden students face while attending higher education institutions, Joseph said.
"I've stressed [since] literally the minute I got here, we need to really come to grips with the reality of what we need to do on the aid side and an emphasis on affordability for lower-income students who we're losing en masse in the upcoming year," Joseph said. "And then the ones who were coming here are leaving en masse after coming here for one year."
Although the college has increased financial aid and scholarship options for students to combat this obstacle, senators were still concerned students leave with too much debt.
"There's not a fair amount of understanding at 18 [years old] of what's going to happen to you at 22 and what's going to happen to you at 32 when you have these huge loans," said Jennifer Sadler, senator and an assistant professor in the Business and Entrepreneurship Department, who was concerned about whether students working in careers in the arts will have the income to pay off their student loans.
In interviews around campus, Ian Lewis, a transfer sophomore advertising major, said if students better understood their financial aid package, they would be more likely to stay at Columbia.
"A lot of kids don't know what to do with themselves [in terms of finances] while they're here so they blame the school as to why they're failing when this school has many things that can help them," Lewis said. "They have to really reach out for it instead of the school [reaching out]."
Kaitlyn Venturina, a freshman filmmaking major, said the college should better publicize Columbia Central, the college's financial and enrollment center. Venturina is happy the resources are available but said the problem is that most students do not take advantage of resources upon entering the college, unless they have a classmate who tells them.
"You're responsible to know where [advisers] are and how to contact them," Venturina said. "I just wish [Columbia] would be a little more open and helpful about that."
In response to a Faculty Senator's question on maximizing revenue by attracting affluent students, Joseph said financial aid leveraging, although productive, is an "ugly thing" he would rather avoid in order to prioritize student fit.
"We're trying to do it the right way; we were very conscious of dealing with students' actual cost of attendance and the net cost for them relative to their financial situation," Joseph said.
Joseph said there is a small population of students who "aren't that bright but have a lot of money" who many colleges are after, but those students do not fit Columbia, which is why the college is not targeting them, like it is transfer, international, Chicago-native and nontraditional students.
"The better job that we do of bringing students in here who are the best-fit students for us, who are going to have good experiences here, and keeping our promise to them," Joseph said, "the easier it is to reach our ultimate enrollment goals."