Love letter to sweaty crowds: Mosh pits create circles of sanctity for women, LGBTQ people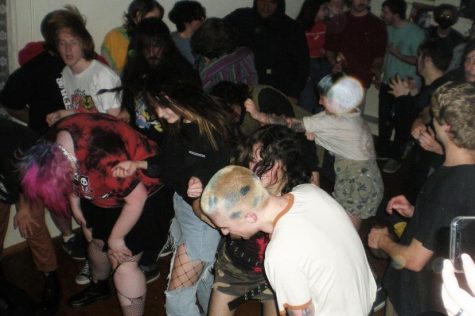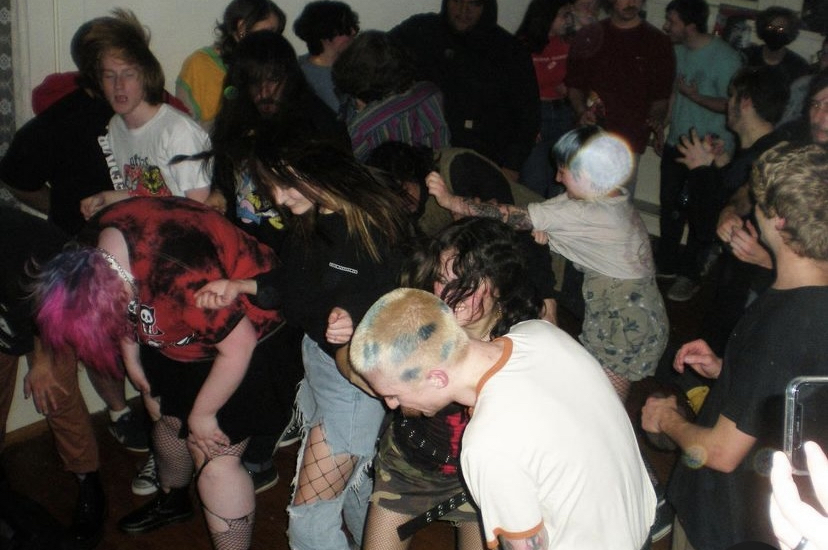 Editor's note: This article is from the Communication Department's award-winning Echo magazine.
When I was 13, I daydreamed about dancing amidst sweaty crowds at a rock show, as I listened religiously to L7's "Bricks Are Heavy" and The Stooges' "Raw Power" on vinyl. My fantasy was to bask in the glory of hearing a favorite song played at 50 times the normal volume, as I shouted the lyrics and brushed up against strangers' sweaty bodies. Life's greatest thrill for me may just be the feeling of euphoria that comes from heavy, distorted guitar riffs and singers threatening to burst my eardrums.
As a woman, my goal was to explore what punk meant on my own terms, and that includes finding safe spaces to freely dance without worrying about harassment from creepy men drenched in alcohol. 
When I migrated from listening to punk music to entering Chicago's heavy-punk holy grounds – such as Exit and The Empty Bottle – and abandoned warehouses, I was surprised to find how inclusive the spaces were toward women, people of color and people who are LGBTQ+. As my love for punk music deepened – especially for female-fronted bands – I began to hang around barricades and admire the lead front women who sang about the reclamation of their bodies.
In the beginning of punk and male-dominated subcultures, women often stood in the back and watched the band from afar. Riot Grrrl, a subcultural '90s third wave feminist movement, broke this mold in the '90s by stopping shows to escort girls to the front safely. Feminism took on a new meaning in punk culture, and women now can serve as the lead singers, drummers and instigators of mosh pits at any house show or sold-out festival.
The pit's energy is infectious, and men aren't the only people in the circle right in front of the stage. Now, women are kicking and screaming there too. The perception of angry, testosterone-driven white men in the scene contrasts with the reality of a punk show that embraces an array of races and sexualities. This diversity is on stage too with a lead singer who has dyed, liberty-spiked hair and dozens of tattoos adorning their body.
It's not a fight. Moshing is an intense, collective experience that's a physical way of matching one's body and energy to the live music. The origins of moshing (originally called "mashing" until Bad Brains singer H.R. changed the "a" to an "o") come from the American heavy rock movement in the late '70s and early '80s when punk and grunge were exposed to the mainstream.
Amaris Edwards, a member of  Chicago's punk scene and a regular mosher at concerts, sees the pits as a safe space.
 "A mosh pit seems intimidating, because when you're looking on the outside, it seems like a lot of people bumping into each other and being loud. But I feel like it's an outlet for me to let out certain emotions," Edwards says. "Moshers make sure people don't get hurt — the intention is not to hurt people but to just have a good time."
The anti-authoritarian energy of mosh pits provides a space for emotional release and physical healing, as bands sing about religion, anarchy and politics. For Edwards, there's a freedom of expression in moshing.
"There's conversations of angst and speaking out against the system and letting those emotions out," Edwards says. "I feel like it's a safe space for people who understand that a certain type of angst comes with society and politics implemented on Black and brown people."
The energy is empowering, reckless and therapeutic, and mosh pits are completely voluntary. Of course, concert-goers can't just jump into a pit intending to create violence and hurt other moshers. There are basic rules of etiquette and codes of conduct for moshers to abide by, to protect themselves and everyone involved.
As moshers slam, elbow and kick into each other, some with faces bloodied and piercings ripped off, the number one rule is that if someone gets knocked to the floor, other moshers immediately help them up. And if a mosher gets injured, they're pulled out of the pit and looked after. The goal of a mosh pit is to push one another, but never to intentionally hurt someone or get into a fight.
 Punk mosher Taylor Brown has been a fan of local Toronto punk artists for five years and feels comfortable in the midst of chaos because of these rules.
"I enjoy [moshing] despite the fact that [even though] it's very chaotic, it's an environment of care," Brown says. "If someone drops their phone, everyone stops and finds it. For the most part, people don't mosh maliciously. "
In the pit, moshers can form friendships and bond through music and the exchange of energy.  
"It's all about coming together, screaming the lyrics that everyone loves," Brown says. "It's more of a connection about finding these weirdos who also like this music that you happen to like."
I've had my fair share of hair pulling, bruises and aggressive slamming, but punk music and cheap local shows have given me a space to flourish, by not only expanding my fashion taste, but also building my confidence. Releasing anger isn't just for men, and safe spaces like pits are a great way to provide a release of rage and display of angst.
Dancing with other women with sweaty faces, smudged makeup and chain-link leather platforms creates a healing space for me. It's a dream come true for my angsty, teenage self. It could be the same for you.
You can read the entire 2022 issue of Echo, as well as previous issues, on our website.