Looking back: Danny Fenster's imprisonment and the persistence that got him home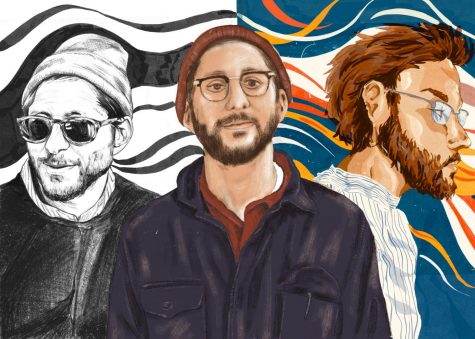 When Bryan Fenster heard about his brother's detainment by military force in Yangon, Myanmar, he said he took two quick breaths of panic and then went into fight mode, doing everything he could for nearly six months until Danny Fenster was freed on Nov. 15. 
Danny Fenster, 37, managing editor of Frontier Myanmar and a 2009 Columbia journalism alum, was arrested at the Yangon International Airport on May 24 on his way home to Detroit to surprise his family. For more than 170 days, the Fenster family persevered in raising awareness of Danny's imprisonment, resulting in his release just in time for them to celebrate Hanukkah together. 
On Nov. 28, the first day of Hanukkah, Danny was one of the honorees at the Menorah in the D 11th Annual Lighting, a public ceremony in Detroit that celebrates the holiday. Danny lit the first candle on the menorah and recited a prayer, saying "Blessed are you Lord, our God, king of the universe who bestows kindness upon the undeserving, for he has bestowed goodness to me." 
During the journalist's imprisonment, friends, colleagues, former classmates and students, government officials and strangers alike became a major support system for the Fenster family, advocating for Danny's release.
The Fensters created BringDannyHome.com, a hub for stories about Danny and more than 50 drawings of him from artists around the world. The site also sold "Free Fenster" T-shirts.
"Our hope is that if we humanize [Danny], people all over the world, [while] they don't know him, if they can find some kind of connection to him maybe they'll be empowered to contact their officials or share his story to keep this thing going," Bryan Fenster said in June after the court's first extension of Danny's detainment. 
The petition for Danny's release garnered more than 43,000 signatures, and his imprisonment even caught the attention of popular rock band U2, which linked to a Chronicle article in a tweet that received close to 1,200 likes. 
Months passed with the Free Fenster community not knowing why Danny was detained and no official charges being filed against the journalist. The Fensters and Danny's wife had minimal communication with him through brief, closely monitored phone calls. In July, Danny contracted COVID-19 but was not treated for the virus. 
On Aug. 31, the family held a press conference to bring awareness to Danny's 100th day in Insein Prison, with journalists from more than 40 domestic and international media sites in attendance. 
"I think it's inherent in human nature, something called hope, and I think it's the one thing that keeps us from jumping off buildings," Buddy Fenster, Danny's father, said at the August press conference. 
Columbia faculty, staff and students reacted strongly to the situation, such as Sam Weller, an associate professor in the English and Creative Writing Department and one of Danny's former teachers.
"There's no better symbol than a young man who once sat in my classroom at Columbia College Chicago, who is now sitting in a prison in Myanmar for simply just doing his job," said Weller, speaking about fascism and the increasing threat to journalists' rights in a June interview with the Chronicle. 
Noah Isackson, an adjunct faculty member in the Communication Department and one of Fenster's former instructors, said Fenster's freedom speaks volumes about perseverance, endurance and faith.
"As anyone that has worked in journalism for as long as I have, your heart skips a beat, and then you realize that it isn't just some abstract journalist, it's someone that you not only know but someone that you've worked with and were involved in an early part of their career, and it's terrifying," said freelance journalist Dan Sinker, a former associate professor in the Communication Department and one of Fenster's teachers, in a June interview with the Chronicle. 
Fenster was sentenced to 11 years of imprisonment after being found guilty of three charges: incitement, unlawful association and violation of immigration laws, all based on the assumption that he continued working at Myanmar Now after its license was revoked. All charges have since been dropped.
Conditions under the military regime that took control of Myanmar on Feb. 1 remain dangerous for civilians. Many journalists and citizens are still imprisoned, along with Myanmar's elected president, Aung San Suu Kyi, who was overthrown by a military junta. 
In a press conference on Nov. 16, Danny expressed gratitude for the efforts that brought him home but said he wants people to "keep focused on what the actual story is here," referring to the struggles of Myanmar people under the violent regime and the attacks on democracy and free press around the world. 
"What Frontier [Myanmar] does and what a lot of the Westerners that go there to edit work [do] — they go to help locals tell their story for an international audience, and we believe that that is really important, and we believe that that brings these outside powers to bear on the country," Danny said.