Local live dating show connects 'parts, not hearts'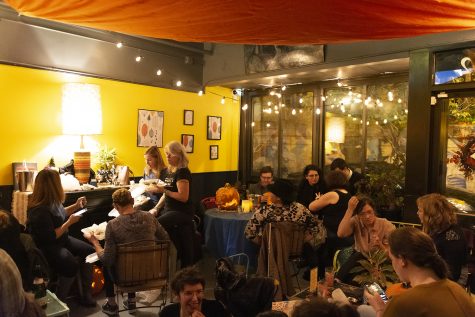 In a crowded Rogers Park bar on Wednesday evening, Vanna Mix-a-Lot—dressed in a sexy Captain Ahab costume, complete with a drawn-on beard and a hand-crafted harpoon—stood in front of a tipsy, excited audience and reminded them exactly what they were there for: to connect "parts, not hearts."
"This is not the 'Love Connection,'" she said. "This is not the 'I want to hold your hand in the dark' connection. This is not the Aerosmith 'I Don't Want to Miss a Thing With You,' 'I'm going to defeat an asteroid for you' connection. This is The Hump Connection."
Vanna Mix-a-Lot, otherwise known as Kaycee Filson, host and co-creator of The Hump Connection, has been running the live dating show since 2012. Originally started in New Orleans, the show has the basic format of ABC's "The Dating Game," where three contestants compete for the affection of a fourth contestant who sits on the opposite side of a screen.
The primary differences between The Hump Connection and "The Dating Game" are twofold: First, it incorporates games each round. Second, The Hump Connection in its Chicago iteration, unlike the New Orleans version, is almost entirely queer.
Filson and her wife run the game together typically on the third Wednesday of each month as their alter egos, with Filson playing Vanna Mix-a-Lot and her wife acting as a DJ with a name that rotates for each episode. In October's episode, her name was DJ White Whale, named after the sexy white whale costume she wore in coordination with Filson's Captain Ahab.
Unlike most dating shows, The Hump Connection has never been recorded and does not have the budget or production value some might expect.
"There are a lot of people who are intrigued by the idea … but are really nervous about what it looks like because they think dating show and they think big budget, high production, televised embarrassment—and it is not that at all," Filson said. "It's meant to feel like it's happening in someone's living room."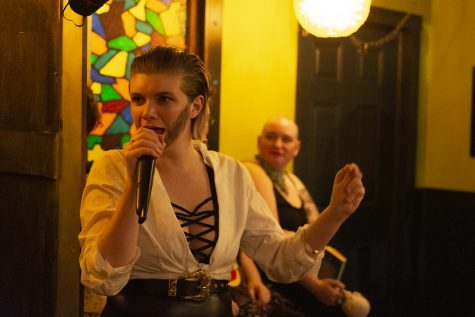 With the intimate venue at Rogers Park Social, 6920 N. Glenwood Ave., and the familiar, comfortable energy between the contestants, the hosts and the audience, the living room-type setting is not hard to imagine.
For instance, in the Oct. 23 episode, the three contestants who were competing for the fourth's affection—referred to as Bachelorx, to maintain gender neutrality and inclusivity—bonded so much that they formed what they called the Chicago Daters Union.
During the same episode, the fourth Bachelorx, Callum Radley, did not know what to expect at first—but the show seemed like a way to put themself out there.
"It's hard to find people who are queer and vibe with you well," they said. "But going to something like this, hanging around a bunch of queer people, definitely makes it a lot easier."
Filson's experience of queer dating was short-lived, she said, as her relationship with her wife was fast-paced. However, she has heard from friends that the queer dating scene in Chicago is hard to navigate, and said The Hump Connection offers an escape from that.
"It is meant to be playful," she said. "It's meant to be a fun introduction to somebody that you maybe wouldn't always get the chance to meet—and you have an entire audience of people who then know you and are rooting for you."