Little Village street artist 'Clue?' showcases the importance of community and mentoring young artists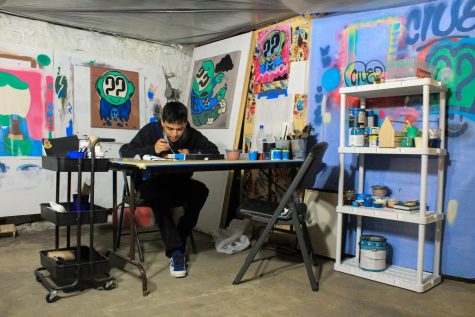 Along the basement walls of Sentrock Studio in Pilsen, a cartoon-styled green alien with big ears and question marks for pupils engulfs the space of each stretch of canvas hanging as either finished works or work-in-progress acrylic paintings.
Emmanuel "Manny" Gomez, a Little Village-based street artist, got his start toward the end of 2017 under his artist name "Clue?," incorporating his lived experience and issues in his community into his work.
Growing up in Little Village, features of his alien street art character, such as the pointy green ears, came from his Mexican background and upbringing.
"I'm Mexican and a lot of people refer to us as aliens or illegal aliens, especially how people view Little Village. It's not a good narrative," Gomez said, "The ear, I made it big because my tío used to call me 'orejón' [big eared]."
One of his unfinished canvases, stapled onto a wood board against a wall of the basement, depicts his character crying into a 40-ounce bottle of beer.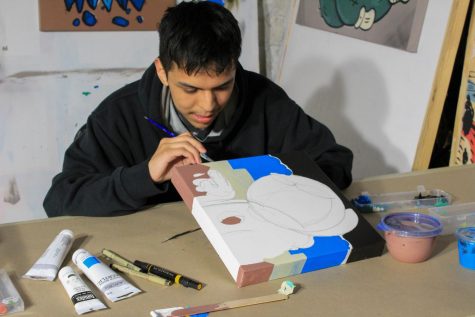 "I had a couple of neighbors who were always outside drinking … especially drinking Cobras, which is a beer brand, and it's super bad," Gomez said. "One of them ended up passing away … so I decided to make something that would recognize the struggles of some people who just think that alcohol is an escape from their problems."
Through this kind of artwork, Gomez hopes to pass off a deeper message which addresses issues that impact his community.
During high school in 2017, Gomez met Joseph Perez, a Pilsen-based street artist known as "Sentrock," during a street art class at Yollocalli, a Little Village-based youth art initiative started by the National Museum of Mexican Art.
Perez would become a mentor for Gomez, guiding him as he continued to develop his artwork and his character.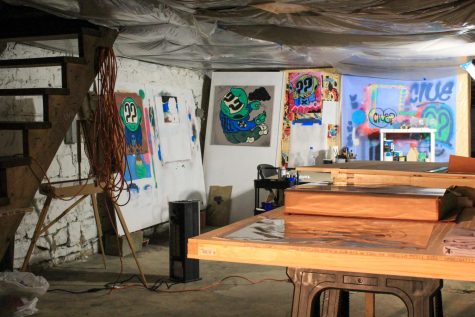 Francisco Vilchez, who goes by his artist name "Frillz," met both Gomez and Perez around 2019, learning from both through painting murals and other collaborations.
"If it wasn't for both of them, I wouldn't know how to paint. … I wouldn't know what I know now," Vilchez said, "When [Gomez] does mostly Little Village [art], it's good for the community because there are probably kids who are five or 10 years younger than Manny looking at his art, and they're being like, 'Look at this, he's doing murals; maybe I could do that, too.'"
Just as Perez mentored Gomez, he hopes to also do the same for other up-and-coming artists in his neighborhood with an upcoming artist workshop with New Life Center, a not-for-profit gun violence intervention organization whose first location was in Little Village.
"I always wanted to do that; I always wanted to work with the youth in Little Village, especially show them my type of art," Gomez said. "Do what Sentrock did to me when I took on Yollocalli."
For more information on the community outreach work of the New Life Center, you can visit their website.