Little Village organizers call for justice for Adam Toledo and other victims of police shootings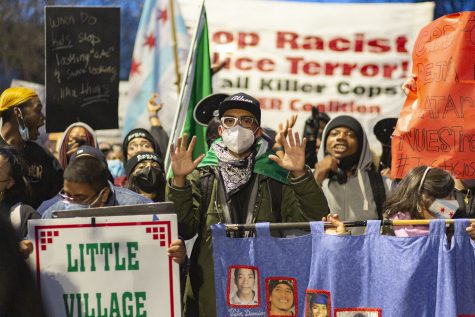 More than two weeks after 13-year-old Little Village resident Adam Toledo was fatally shot by a Chicago police officer, protesters marched through the Logan Square neighborhood, calling for police reform.
Marchers gathered around the Illinois Centennial Monument, 3150 W. Logan Blvd., on Friday, April 16 carrying signs reading "Abolish the police" and "Justice for Adam," following the release of a video showing the March 29 police chase and shooting of Toledo.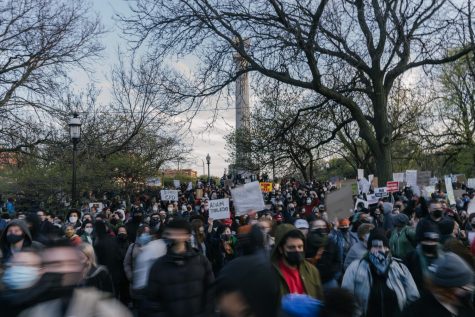 Reina Torres, a 16-year-old community organizer with GoodKids MadCity and The Pilsen Alliance who helped lead the protest on Friday and a vigil on Sunday, April 18, said Black and Brown youth came together to show "there is power to the people, and we are stronger than the people in power."
"This protest was to show the injustice that these police do when it comes to our Black and Brown people," Torres said. "We came together to show our respects to Adam Toledo, Anthony Alvarez and all the other Black and Brown folks."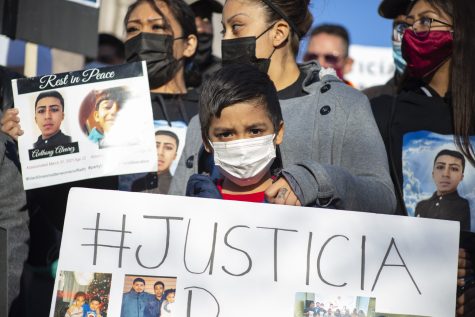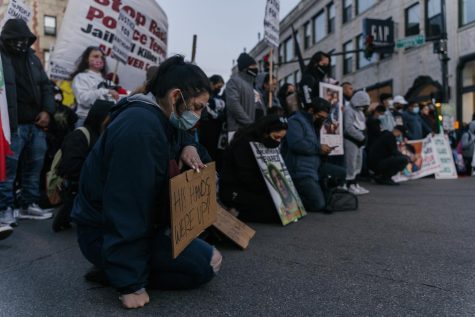 Torres said protesters demanded
that Eric Stillman, the police officer who shot Toledo, resign; that Mayor Lori Lightfoot talk to and understand Chicago's Black and Brown youth; and that resources, such as more funding for after-school programs, mental health clinics and medical clinics, be funded by the city.
According to a statement provided to ABC-7 news by Stillman's attorney Tim Grace, "the juvenile offender had the gun in his right hand, came to a fence, looked at the officer which could be interpreted as attempting to acquire a target and began to turn to face the officer attempting to swing the gun in his direction.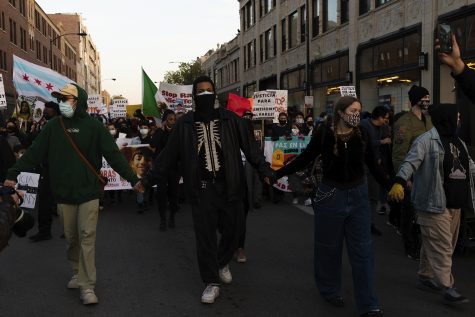 "At this point the officer was faced with a life threatening and deadly force situation," according to the statement. "All prior attempts to deescalate and gain compliance with all of the officer's lawful orders had failed."
The body cam footage shows Toledo was empty handed when Stillman shot him in the chest.
The families of people fatally shot by Chicago police, like Alvarez, who died March 31, and Marc Nevarez, who died October 23, also attended the protest.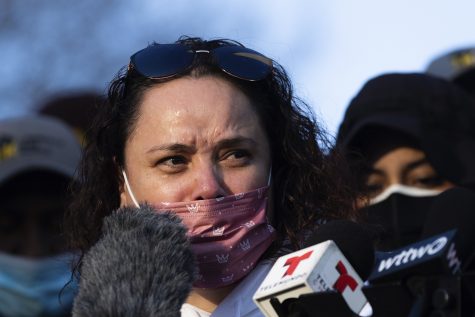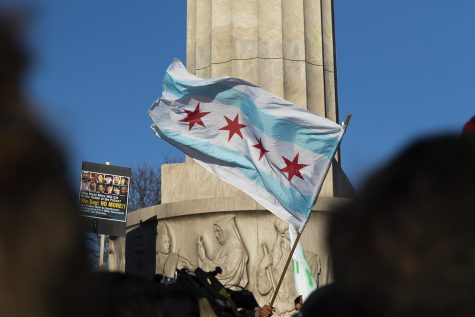 "There is no reason why a mother should be burying her kid," said Sandra Nevarez, Marc's mother. "Enough is enough. We need justice."
Ana Solano, a Little Village resident and community organizer with the nonprofit Únete La Villita, said the protest's organizers were very intentional about uplifting the families that have been affected by police violence. She said the community has their back and stands with them.
Edith Tovar, a Little Village Environmental Justice Organization community organizer, said Toledo's death has shaken the Little Village community to the core.
"This was a young person," Tovar said. "They were in seventh grade, and they were not given an opportunity to grow, to learn, to see what their life could have been."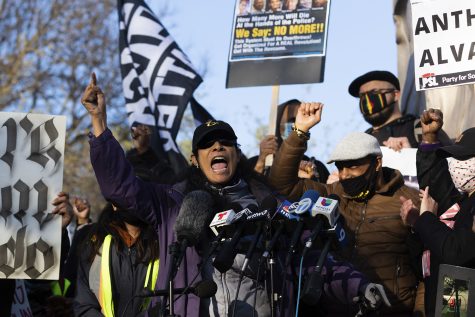 She said there is a stark difference between when a white man commits a crime versus when a Black or Brown man commits a similar crime or is accused of one.
There have been many instances in which white men who commit crimes are taken into custody alive, Tovar said, while Black and Brown children aren't given that grace.
"They are seen as grown, dangerous men that should be killed, and I think it goes back to our communities not being funded correctly," Tovar said.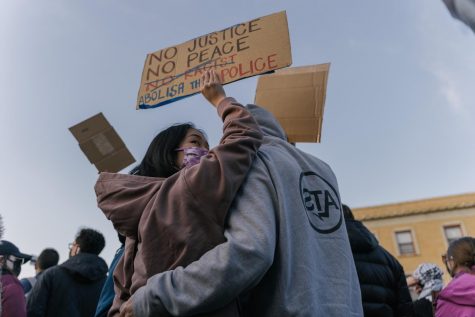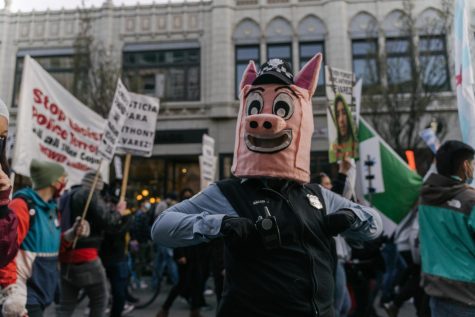 Before the video of Toledo being shot by a police officer was released, Lightfoot asked for a peaceful response as Toledo's family grieves, as reported by Block Club Chicago April 15.
According to Torres, the Friday event was peaceful until what was thought to be a loud taser sound was heard around 10 p.m., and youth organizers started running toward a large group of police by the Logan Square Blue Line station.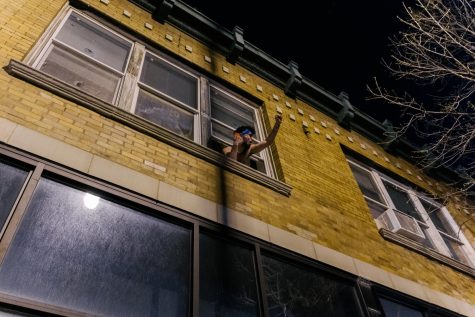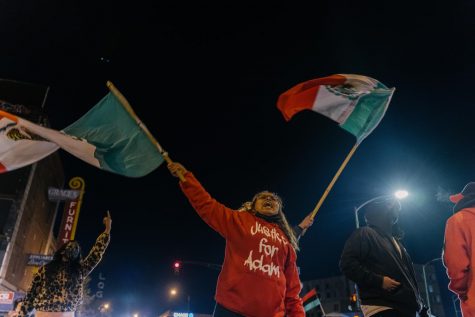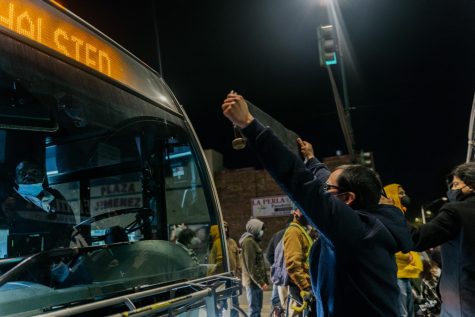 In an email response to Chronicle questions, the Chicago Police Department had no information available about the event described by Torres.
Torres said she believes the police purposely made a taser sound to get the youth riled up.
"Nobody protects us like we protect us, so of course our youth were ready to throw down," Torres said. "They were ready to protect one another."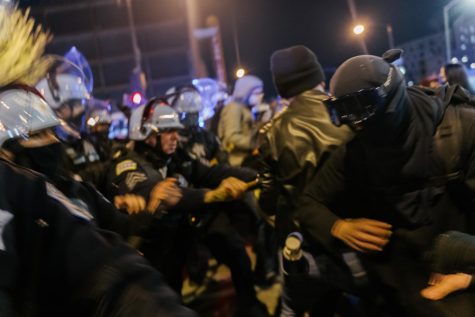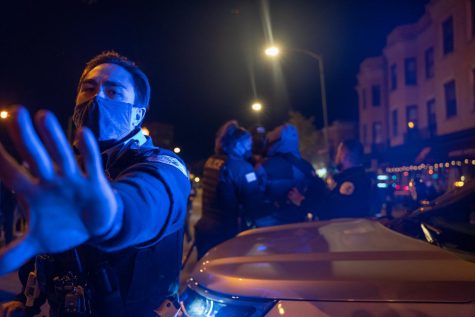 According to a CPD spokesperson, two people were arrested: Graham Lefauve, an 18-year-old Logan Square resident who allegedly spat on an officer, and Anthony McCollum III, 20, the son of Black Lives Matter Chicago's executive director Amika Tendaji.
McCollum III was charged with a misdemeanor for reckless conduct for allegedly being "part of a large crowd observed pushing and shoving uniformed Chicago Police officers," according to the CPD spokesperson.
"Cops are supposed to protect and serve," Torres said. "They are hired to arrest—not murder—but in reality, they protect the rich, the white and the property, not our Black and Brown people."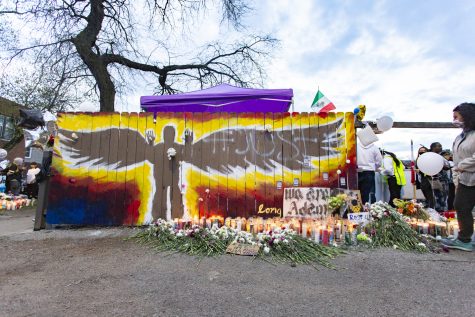 On Sunday, April 18, Little Village community members held a vigil in Douglass Park. Dixon Romeo, campaign director for United Working Families, an independent political organization run by Black, Latinx and women of the working class, said the goal of the vigil was to give people a space to focus on healing and work toward a better world as a community.
Irma Morales, a member of Únete La Villita, said the purpose of the vigil was to "ease the spirit" after such a large event two days prior.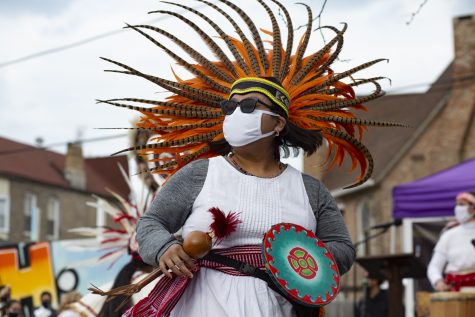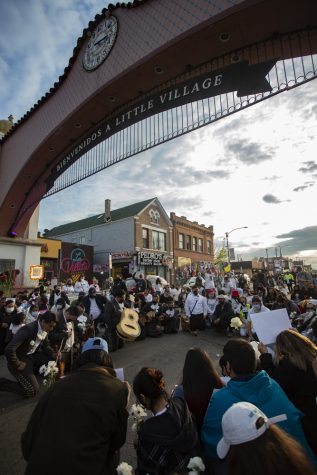 "It's necessary to have emotional and mental healing spaces, as well as to know that there are people around us willing to support us physically and morally," Morales said.
Later on Sunday, April 18, neighbors gathered in the spot Toledo was killed near the intersection of West 24th Street and South Sawyer Avenue and near the memorial created by artist Pablo Serrano for Toledo, for a peace walk with Toledo's family to honor his life.