Little Village community members demand a stop to surveillance of Black and Brown communities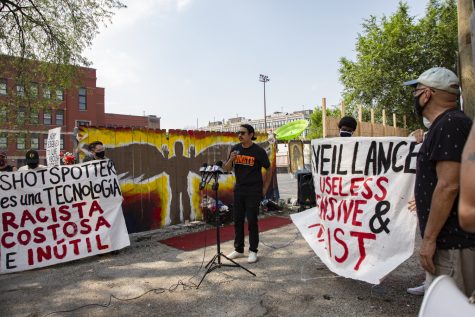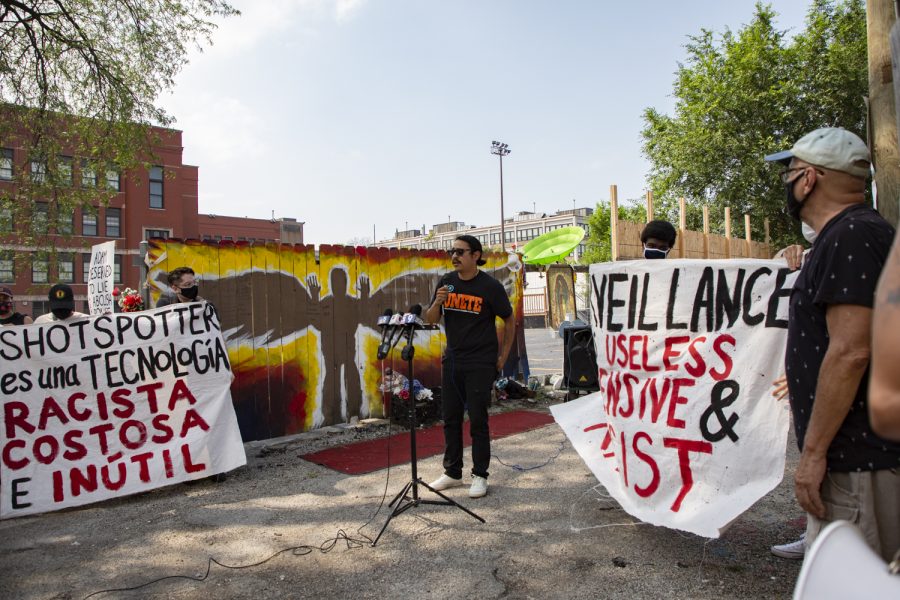 Community activists are demanding an end to the contract between ShotSpotter and the Chicago Police Department after findings they say prove the system is ineffective and targets Black and Brown communities.
ShotSpotter is a gunshot detection and surveillance tool utilizing sensors spread around the city, but especially on the South and West Sides of Chicago, which are largely populated by Black, Indigenous and people of color. The sensors detect gunshots by sound and alert police.
Alyx Goodwin, a member of the steering committee for Defund CPD, said ShotSpotter is not reducing gun violence or creating change in these communities, and instead it justifies overpolicing.
"Rather than invest in structural solutions that would help curb violence, they're investing in the anticipation that there will be harm and violence,"Goodwin said.
On July 29, around 50 people including organizers from Defund CPD, Unete La Villita and Erase the Gang Database gathered at the intersection of West 24th and South Sawyer streets and marched to Ald. Michael D. Rodriguez's (22nd Ward) office, 2500 S. St. Louis Ave.
"Where we started, the protest was [at] the site of the death of Adam Toledo, the 13-year-old who was killed by CPD after ShotSpotter led them to him," Goodwin said. "We wanted to take some time to honor him and also raise the profile of the issue of overpolicing."
According to Jose Manuel Almanza, a community organizer and Unete's treasurer, the contract between the Chicago Police Department and ShotSpotter ends Aug. 19, with the possibility of renewal.
"We really want to put a lot of pressure on politicians and also get the community to put pressure on the politicians so that this contract doesn't at the very least get renewed," Almanza said.
According to CPD spokesperson Thomas J. Ahern in an email to the Chronicle, ShotSpotter has been crucial in detecting "hundreds of shootings that would have otherwise gone unreported," as well as in reducing gun violence and ultimately saving lives.
"Using ShotSpotter, CPD receives real-time alerts of detected gunfire enabling patrol officers to arrive at a precise location of a shooting event quickly," Ahern said in the email to the Chronicle. "Instead of relying on the historically low rate of 911 calls, law enforcement can respond more quickly to locate and aid victims, identify witnesses, and collect forensic evidence."
According to a MacArthur Justice Center study, it has been found that the overwhelming majority of ShotSpotter alerts turn up nothing.
"Five percent of the time, they find what they were looking for; the other 95% they're just harassing people and finding nothing that has to do with any kind of guns or gun violence," Almanza said.
Ahern said the MJC study "is drawing a connection about the effectiveness of ShotSpotter based on police reports being filed as a result of alerts, which is a mischaracterization of the way this technology is used and why it is so effective, particularly in regard to alerting medical personnel to the location/status of gunshot victims."
Ahern, who said he did not know the status of the ShotSpotter contract, said knowing where gun violence occurs is crucial to stopping it, and the ShotSpotters are there to help Chicago communities.
"The system gives police the opportunity to reassure communities that law enforcement is there to serve and protect them and helps to build bridges with residents who wish to remain anonymous," Ahern said in the email to the Chronicle.
Almanza said canceling the contract with ShotSpotter is important for various reasons beyond data and the expense of something that he believes is not working.
"It's important because one of our neighbors was murdered as a result of that, and that's just one too many," Almanza said. "If that ShotSpotter contract wasn't there, who knows? Maybe Adam wouldn't have been murdered that night."
The Stop ShotSpotter campaign is intended to continue throughout the summer.
"Hopefully we will make enough noise and we get enough [alderpersons] on our side to at the very least stall the negotiation so that they don't have to make a decision on the 19th," Almanza said.