LGBTQ+ film festival 'dazzling' audiences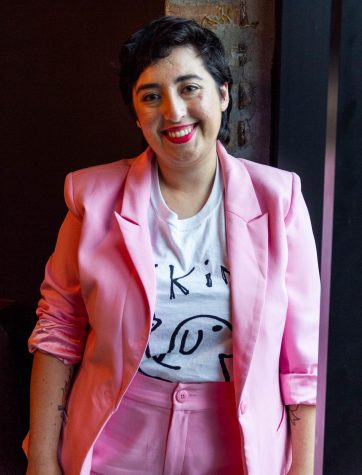 From gay thrillers to documentaries, lesbian vampires to side-splitting comedies and dramedies, Reeling: The Chicago LGBTQ+ International Film Festival has queer films that reflect diverse narratives.
On opening night of the 37th annual festival, Sept. 19, hundreds gathered at the Music Box Theatre, 3733 N. Southport Ave., to watch the premiere feature, "The Shiny Shrimps," a heartwarming French film about a gay amateur water polo team coached by a homophobic Olympic champion.
The audience roared with laughter and teared up in silence as the movie navigated issues of generational divides, transphobia and illness using sassy one-liners, smart humor and poignant scenes, setting the tone for the rest of the festival.
Brenda Webb, the executive director of Chicago Filmmakers who founded Reeling in 1981, thanked the crowd for coming out to support independent filmmakers.
"Very few of them will ever be seen in a movie theatre," Webb said. "Film festivals are one of the few opportunities to see films like this in a theatre."
The festival will run through Sept. 29 and host a diverse lineup of 51 programs, including feature films, short films and web series, that can be viewed at Landmark's Century Centre Cinema, 2828 N. Clark St. or Chicago Filmmakers, 5720 N. Ridge Ave.
Richard Knight Jr., features programming director, said as the second longest-running LGBTQ+ film festival in the U.S., Reeling is an important place for the queer community and allies to get together and watch films that speak to intersectionality.
"It's great for our own community to come out and support and see the vast experiences that we all have," Knight Jr. said. "To see it all in one place is kind of dazzling."
Since he began his career as a film critic, Knight Jr. said a lot has changed in the LGBTQ+ entertainment industry with movies such as "Love, Simon" and TV shows like "Pose" on FX, which feature transgender characters of color.
"Probably the most exciting thing is there seems to be a much more mainstream appetite for queer-themed stuff," Knight Jr. said. "It's not just … 'Will & Grace' and 'Ellen.' Now, there's a whole bunch of shows with queer characters."
Rachel Relman, 2016 comedy writing and performance alumna, who wrote, directed and produced the independent TV pilot "Kings and Queens," was inspired to make a "dramedy" series after immersing herself in Chicago's drag scene.
Relman said queer stories, while often dramatic, have lots of comedic potential.
"Our lives don't always have to be so heavy, they can be lighthearted and fun. And I think that is conveyed pretty well in the pilot," Relman said.
She hopes the show will help the drag scene in the city gain more visibility and inspire scriptwriters to produce their own content.
Director, executive producer and actor Michael Cicetti's farcical series "5A5B" follows the lives of New York City neighbors Kev, a gay geek, and Jan, a straight suburban divorcee.
"I really wanted to create a piece that spoke to the energy and the friendship dynamic … between gay men and straight women," Cicetti said. Cicetti wanted the piece to convey the "shared fears, neurosis, insecurities and desires."
While it was a challenge to create his own commercial entity as an independent showrunner, Cicetti said making "5A5B" and being part of Reeling was worth it for the LGBTQ+ representation."
"Inherent queerness," Knight Jr. said at Reeling is the central element among their films, meaning most actors and filmmakers are part of the community, and LGBTQ+ characters are not sidelined or restricted to the same coming out and transitioning clichés.
"It's lovely to keep reminding the world we're here and we're queer," Knight Jr. said. "And we're not just watching movies, we're making movies."
A modified version of this article appears in the Sept. 30 print edition of the Chronicle.