League of Women Voters turns 100, but work not done yet
By Camilla Forte, Deputy Director of Photography
February 18, 2020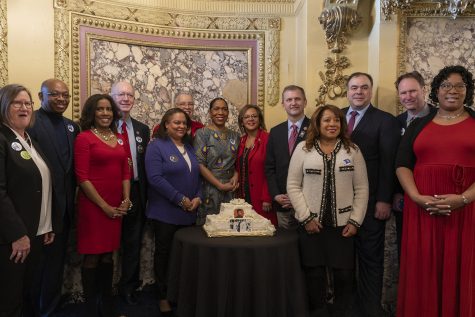 Illinois politicians, community leaders and members of the League of Women Voters gathered at the Congress Plaza Hotel, 520 S. Michigan Ave., to celebrate the organization's centennial Friday, Feb. 14.
At the event, two Columbia professors were among the honorees: Michelle Duster, an adjunct faculty member in the Business and Entrepreneurship Department, who is the great-granddaughter of suffragist and journalist Ida B. Wells; and Sharon Bloyd-Peshkin, an Associate Professor in the Communication Department, who has led voter registration initiatives on campus.
Despite the event's celebratory nature, attendees and speakers fixed their gaze to the future, drawing on lessons from the past to shape their vision.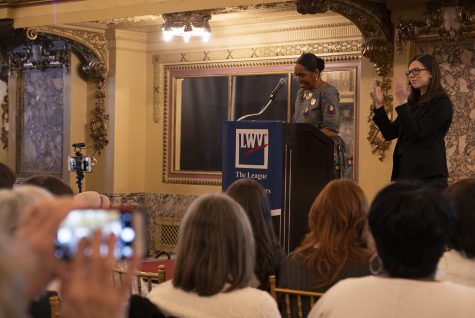 "It is an unfortunate reality that the League and our work is needed now more than ever," said Kentiya Orange, League of Women Voters U.S. representative.
The continued relevance of the organization's presence was stressed throughout the meeting's three main points: passing the equal rights amendment, census participation and "fair mass and inclusive voting" for all women.
Key goals for the organization were emphasized by featured speakers, including Sen. Tammy Duckworth (D-Ill.) and Lt. Gov. Julia Stratton, who both said inclusivity in voting continues to be what the League must focus on to fulfill its true mission so that women continue to have a say on crucial issues.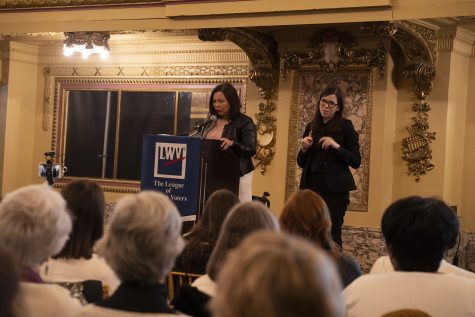 "Women's health, safety, access to economic opportunity and … our right to vote is under constant threat across this nation," Stratton said.
These issues will be targeted by individuals and community groups on the grassroots level in the coming years, the speaker's said. Other elected officials and community leaders also addressed the group.
Illinois League of Women Voters President Allyson Haut stressed the need for individuals to speak to their communities and peers in order to ensure fair representation.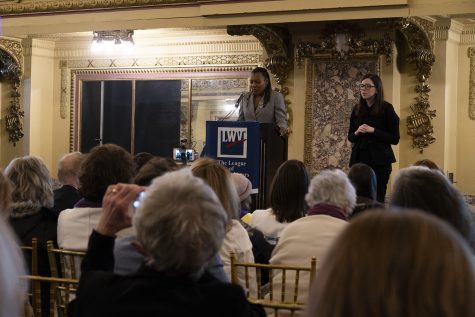 "We need to all do our part to engage and activate," Haut said. "Everyone in this room can carry this message somewhere or to someone who hasn't heard it before."
In alignment with the group's centennial message, "100 years and beyond" it was clear this milestone was not an occasion to slow its activism.
"This [is] work that we, that everyone, does selfless[ly] and long term," Haut said. "We work toward goals that may not be achieved overnight, or even in our lifetimes. Nothing is too small—because the stakes are too great."