Journalism alum Danny Fenster sentenced to 11 years in Myanmar prison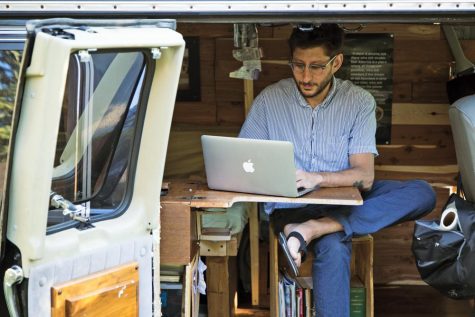 A 2009 Columbia alum and journalist detained in Myanmar since May was sentenced to 11 years with hard labor in Insein Prison in Yangon, Myanmar, on Friday, Nov. 12 by the Myanmar military regime, according to his employer Frontier Myanmar.
Danny Fenster, 37, managing editor of Frontier Myanmar, was found guilty of three charges: Section 505-A of Incitement, Section 17(1) of the Unlawful Associations Act and Section 13(1) of the Immigration Act for violating visa regulations. He also received a fine of k100,000 which is the equivalent of approximately $50 in U.S. currency.
Earlier this week, Fenster was hit with two additional charges under the Counter-Terrorism Law and Section 12(a) of the Penal Code, which will be heard in trial on Nov. 16. If he is found guilty of the additional charges, the maximum penalty is life in prison. The legal proceedings have been closed to the media and the public, according to the Associated Press.
The sentence follows a string of events beginning with the military coup on Feb. 1, with the military taking over the democratically-elected government of Nobel laureate Aung San Suu Kyi, spurring peaceful strikes and protests met with deadly military force, in which more than 1,200 civilians were killed and 10,000 were arrested, according to the AP.
Fenster was detained at the Yangon International Airport on May 24 while attempting to leave the country for his home in Detroit.
According to Fenster's lawyer Than Zaw Aung, the charges are based on false allegations that the journalist continued to work for Myanmar Now after the coup, a publication Fenster resigned from in July 2020 when its publication license was revoked, as reported by the AP.
Frontier Myanmar said the court disregarded evidence of Fenster's employment at Frontier Myanmar, such as tax records, social security information and testimony from a colleague at the publication.
"There is absolutely no basis to convict Danny of these charges. His legal team clearly demonstrated to the court that he had resigned from Myanmar Now and was working for Frontier from the middle of last year," said Thomas Kean, Frontier Myanmar's editor-in-chief, in one of the publication's tweets.
In an email to the Chronicle on Nov. 12, Lambrini Lukidis, associate vice president of Strategic Communications and External Relations, said Columbia is "deeply disappointed" by the sentence.
"Danny's education as a journalist at Columbia was rooted in the pursuit of truth, objectivity and exposing social injustice," Lukidis said. "The College will continue to advocate for Fenster's release."
The Committee to Protect Journalists has called on Myanmar's military junta to release all detained journalists. The AP reported that Fenster is among 47 journalists who are being held captive by the Myanmar military regime, which has rescinded media licenses and controlled internet and satellite broadcasts — actions which human rights groups have called an "assault on the truth," according to Reuters.
Reuters reported that Phil Robertson, deputy Asia director of Human Rights Watch, called Fenster's imprisonment a "warning" to the U.S. and media, as he is the only U.S. journalist still imprisoned.
According to Reuters, the U.S. condemned Friday's sentence as an "unacceptable attack on freedom of expression," saying it is an "unjust conviction of an innocent person."
The Fenster family has continued to be Danny's voice, campaigning and calling on the Biden administration to push for his release and boosting bringdannyhome.com, the online platform for information and stories about Fenster. The family was not available for comment on Friday.
In a press conference held by the Fenster family on Aug. 31 marking Fenster's 100th day of captivity, Danny's brother Bryan said, "We're fighting for him; the world needs to know about him, not just who he is as a person but this broader story about press freedoms and democracy."