Job security: Are you still watching?
An influx of streaming services creates more opportunities for content creators. But that is not the same as job security.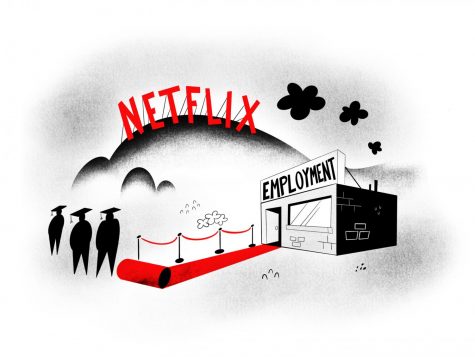 With more than 25 years of filmmaking under his belt, Miguel Silveira has seen firsthand the unprecedented effect the advent of independent streaming services has had on the film industry.
"When I was at Columbia … the idea was to go to the Hollywood system and perhaps work on features," said Silveira, a 2005 film and video alumnus and current adjunct faculty member in the Cinema and Television Arts Department. "I remember when 'House of Cards' became a huge deal. That was one of the first ones, and it completely changed everything, because from that show forward, most of the work that was hiring was TV, and it was designed for online consumption."
Silveira is just one of many filmmakers looking to streaming services for distribution, jobs and, potentially, their big break.
Streaming services such as Disney Plus have made a splash in the market, employing approximately 200,000 people worldwide. For comparison, Netflix employs approximately 7,000 people, and Hulu employs approximately 3,000 people, according to Forbes.
Dan Rayburn—the editor of the site StreamingMediaBlog.com and host of the Streaming Summit, an event dedicated to the streaming industry that brings together 125,000 attendees over four days—said the current state of the industry is a "gold mine" for content creators.
"If you are an editor, pre-production, post-production, audio person, whatever, there has never been more money flowing into your industry ever in history," Rayburn said. "There are more opportunities for you now than ever before."
Although employment opportunities have increased, Eric Scholl, interim chair of the Cinema and Television Arts Department, said opportunities and job security are not one and the same.
"There's a job glut, but not necessarily job security," Scholl said. "It's the freelance economy where you work on a project and each time you're kind of re-selling yourself onto a new project."
As a result of the coronavirus, or COVID-19, job security for alumni has become even more unstable in the short-term.
"
There's a job glut, but not necessarily job security.
— Eric Scholl
"What's tricky is folks who, for instance, graduated a year ago, who are beginning to work now and are in the process of going to the second or third level … these people are going to be terminated," Silveira said. "There's not going to be a salary for a production that's not taking place."

However, Silveira said the job security for graduates in the near future will be much safer, as companies will be looking to hire more people while the industry "reorganizes itself."
Silveira said there is some hope because it is likely hiring for production will pick up as soon as possible when shooting for television and film production can resume.

Jennifer Chung, a 2015 cinema art and science alumna, has worked extensively in post-production after graduating, most recently working on David Fincher's "Mindhunter" as well as an untitled Fincher film. She said due to the influx of streaming services, the pace of the industry has accelerated greatly.
"When we were working on 'Mindhunter,' it was pretty crazy because we had nine episodes that we were trying to get out in the same amount of time we would make a feature," she said.
Chung said this has always been the reality of the industry.
"This is something that's always been the case, because if you look at editors, you edit a show and once it's wrapped, you just find the next show you're working on," she said. "And that goes for everyone in this industry, whether you're in camera or the art department."
Sharon Ross, an associate professor and associate chair in the Cinema and Television Arts Department, said this pace has made adaptability a priority for young content creators, regardless of what phase of production a student works in. In the future, Ross said she predicts young content creators may have to hop from one company to another for work.
Regardless of how new this trend may be, Ross said Columbia also needs to continue to adapt to the streaming market model.
For instance, Ross said Columbia's television studies are encouraging students to focus on pitching to streaming services, versus a traditional studio. Another area she said young content creators should focus on is budgeting for shoots, as well as scheduling for a different calendar than what directors may be used to. But the big thing writers have to face, Ross said, is coming up with fresher ideas, as the vast amount of original content being made for streaming services have made "rising to the top" much harder.
"I'm not really sure if they've [adapted] that on the cinema-producing side of things," Ross said. "From a little bit of the aesthetic side, but especially from the business and producing side of things, there needs to be a lot [of change]."
"
Folks that go to Columbia will always have that going for them because we do really well in the technical sense.
— Miguel Silveria
While Columbia emphasizes teaching "tried and true" production techniques, Scholl said the Cinema and Television Arts Department does have plans to adapt the curriculum to address "smaller" streaming services.
"A lot of the smaller streaming services are where you can really have a very, very personal brand. … When you're shooting something for TikTok, obviously, it's a completely different skill set technically than if you're trying to shoot for Netflix," Scholl said. "So, those are the things that we're starting to look into and say, 'If we don't have to go strictly with big-budget Hollywood, what else can we do?'"
Scholl said skills related to pitching to streaming companies are taught in producing classes, the Semester in LA program and streaming-centric courses such as the department's "Netflix Culture" course.
While this increase in opportunity from the influx in streaming platforms raises hope for young filmmakers, Missy Hernandez, an assistant professor in the Cinema and Television Arts Department, said the demanding pace can also lead to serious concerns.
"Because there's so much content being pushed out all of the time … the contracts [for writers] tend to be very short," Hernandez said. "With short contracts, writers in the [Writers Guild of America] are in danger of not meeting all the requirements to get their benefits."

Hernandez was also an associate producer and writing assistant for the show "Random Acts of Flyness," a sketch comedy show that premiered on HBO in 2018. The show has been renewed for a second season, according to HBO.
Unlike older models of network television, Hernandez said entry-level writers are not able to "move up the chain" as much in the streaming landscape due to the incredible amount of content being produced. Unless a writer's show is a hit, there's no guarantee of a second season. Because of this, Hernandez said writers have to constantly search for job opportunities, just in case.
But Silveira said the increase in opportunities has made "paying the bills" much easier than before.
"Even if you're not getting paid the big bucks, there'll be some sort of a job that will need your talents," Silveira said. "Folks that go to Columbia will always have that going for them because we do really well in the technical sense."
At the same time, Silveira said pitching original content to streaming services is just as difficult as ever, as most projects have to be accepted to prestigious labs such as the Sundance Institute or receive recognition to have a chance in the first place. He said most accepted pitches come from people that utilize the network they build in school to get in touch with executives with the recommendation of their professors.
"
Streaming services are a really great platform for them to see themselves.
— Daniel Kayamba
Students like Daniel Kayamba, a junior cinema art and science major, remain enthusiastic about the launch of new streaming services because the new services can make it more accessible for consumers to explore more diverse types of filmmaking, leading streaming services to seek out independent filmmakers. "I'll be leaning towards streaming services [for work] because with the stories I'm telling, with minorities and people in the black community, the goal will be for [minorities] to see those stories," Kayamba said. "Streaming services are a really great platform for them to see themselves."

Netflix has been lauded in recent years for providing first-time filmmakers with opportunities they may not have received in the past and promoting new, diverse perspectives, as reported Jan 25 by the Los Angeles Times.
Adam Rugg, an assistant professor of communication at Fairfield University in Connecticut, questioned whether or not newer streaming platforms will take a similar approach.
"If you're launching a service like Apple TV and Peacock, you want to break into the conversation by saying, 'Look at who we've got to make shows for us,'" Rugg said. "[New services] have to arrive with a bang."
Rugg said streaming services may become more likely to embrace content creators with less experience as they look to expand their catalog of content once a reputation has been established, a process he said could take anywhere from five to 10 years.
For Columbia graduates looking to break into the industry, much still remains unknown in how these streaming services will impact job security for content creators, but some expect to see trends emerge in the next three years.
All in all, Rayburn said, "You have to be strict about your goal, but flexible about your method."