J.B. Pritzker, Kim Foxx discuss tackling criminal justice reform in Illinois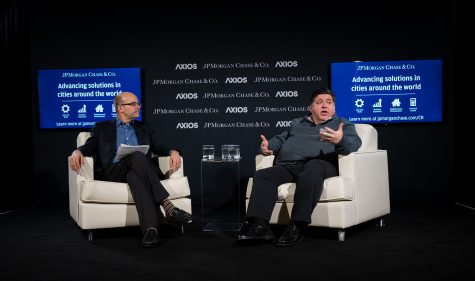 When Eddie Bocanegra was just 13 years old, he witnessed his first homicide. By the age of 18, he had been arrested multiple times and sentenced to 29 years for first-degree, gang-related murder.
This experience was just one of the issues discussed at a criminal justice reform panel held Wednesday at 1871, the business incubator located in the Merchandise Mart, 222 W Merchandise Mart Plaza, by Axios, a news and information website.
From record expungement to job opportunities for previously incarcerated people to the problem of normalized violence, Gov. J.B. Pritzker, Cook County State's Attorney Kim Foxx and Bocanegra, now senior director for Heartland Alliance's READI Chicago program, spoke one-on-one with Mike Allen, Axios co-founder and executive editor.
Pritzker said one of the ways Chicago has made progress in reforming the justice system is by passing the Cannabis Regulation and Tax Act, or House Bill 1438, which legalizes the possession of limited amounts of recreational marijuana for persons 21 and older.
The governor said this affects hundreds of thousands of people in Illinois who have low-level convictions and arrests for marijuana possession under 30 grams. The bill would possibly allow those convicted to have their records expunged for the drug misdemeanor.
"People who haven't been able to get the job because they have this on the record, this is going to give them an opportunity to go get a job," Pritzker said. "And we have an economy that will do that."
He acknowledged some of the difficulties with the bill and said when it goes into effect Jan. 1, he is aware of the effect it will have on families and young people and wants to make sure it is implemented in a way that makes it "equitable" for all.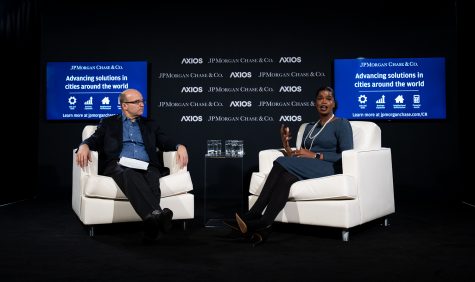 The bill also opens financial opportunities for minorities who have been negatively affected by the war on drugs by allowing them to become licensed recreational cannabis retailers, Pritzker said. The bill will allocate funds from preexisting dispensaries to fund loans for people who are interested in joining the market.
Part of the problem in allowing previously incarcerated people back into society beyond the justice system, is the way society labels them as "convict," "convicted felon" or "ex-con," Bocanegra said.
"Think about the biggest mistake, the biggest embarrassment in your life, and you're constantly being introduced that way," Bocanegra said. "And that's what it feels like for somebody who has been convicted of a crime."
There are laws for debt forgiveness, he said, but the challenge is society's lack of "forgiveness" for people formally incarcerated.
Bocanegra also emphasized that local businesses can affect the justice system by investing in programs that focus on issues driving the violence in the communities.
"We can't simply incarcerate our way from this problem," he said.
Growing up in the Cabrini-Green public housing development —a now-closed Chicago Housing Authority site on the Near North Side—Foxx said being raised around violence normalizes it to a point where children feel like the system was built for them to fail.
Foxx said violence teaches society to segregate people with a criminal record into a "good-guy, bad-guy narrative," and if a society is too wrapped up in that mindset, people who do want to contribute to society are not given the chance.
"If you are solely wrapped in, 'We are the good people, they are the bad people,' we are going to miss out on so much opportunity, so much development [and] so much growth," Foxx said.