It's a match: Columbia students create campaign for dating app
One night while Ricardo Alvarado was out dancing at Persona Lounge, he wanted to approach a group of women but was not sure if they were looking to meet other singles or just out with friends. It became an experience that prompted Alvarado to ask a question that would change his career path.
"I thought, 'There's got to be an easier way to figure out who in this specific space is single and interested in meeting other people,'" Alvarado said. "That's when it hit me—what if we could use the technology for dating apps … and apply it to this specific situation, where we're in a location. That's when I thought of Pulse."
Alvarado describes the Pulse app as "the old fashioned way of dating people with a touch of technology," by matching people in real-time with others based on the locations they have "checked in" to, such as a concert venue or bar.
Many other dating apps have received criticism for relying on algorithms that match people based on race and other factors, creating an algorithmic bias that can promote racial inequality, as reported Feb. 17, 2019, by Wired.
But Alvarado said he specifically designed Pulse to fight back against this type of bias by only pooling potential candidates by their location.
"You have other apps that are specific for specific communities. This one is open to everyone," he said.
To get the word out about Pulse, Alvarado teamed up with Columbia students from the "Agency" capstone course co-taught by Anne Marie Mitchell and Kevin Christophersen, both associate professors in the Communication Department.
Students divide into teams of five and set out to create marketing communication materials for their client.
Jazmin Thomas, a senior advertising art direction major, currently works with Pulse and said they have had to completely redirect their marketing strategy for the app in light of the coronavirus, or COVID-19, pandemic.
She referenced an early example of a campaign they created depicting people in bars and large groups that they first ran by their professors.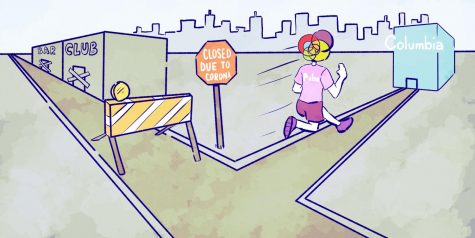 "The first thing [our instructors] said to us was, 'You need to touch base with him and on what he wants because, right now, this is not something you can show,'" Thomas said.
Thomas and the rest of her group had to go back to the drawing board and keep in mind being proactive in their marketing strategy amid the pandemic and stay-at-home orders.
"You have to be conscious and we're respectful of what people are going through. You can't just show images of the way life was before all of this," Thomas said.
Mitchell said this type of consideration is something students have to take seriously.
"Mass media, as we know, is such an influencer in people's behavior, so what we're always trying to teach the students to do is to be responsible," Mitchell said.
So far, Alvarado said his partnership with Columbia students has been exciting.
"It's been great bouncing ideas off of them," Alvarado said. "[We] had very in-depth conversations about Pulse and what they like and don't like, and it's been very helpful to me."
Alvarado added that he was impressed by the students' intuition, as he said he didn't have to give much direction to the students in order for them to deliver excellent advertising, public relations, marketing communication and social media deliverables.
While Pulse was hit hard by the suspension of all events and public gatherings, Alvarado remains hopeful for the app's future. He has advised the students to continue work on their initial marketing ideas, but to delay the launch.
"A lot of this app is based on human connection and people gathering and that kind of thing, but I do believe wholeheartedly that we will do that again," Alvarado said. "I think now more than ever, we have a newfound appreciation for human connection."