'It felt validating': Columbia's Excellence in Teaching Award winners, runners-up express appreciation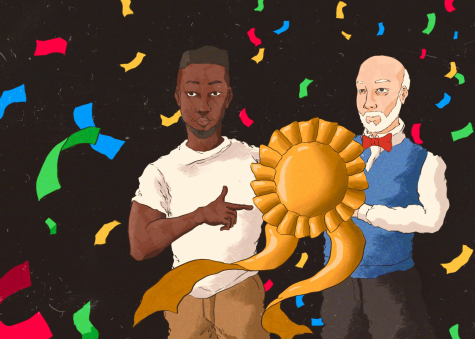 The college's 2021 Excellence in Teaching Awards recognized finalists' ability to overcome the challenges brought about by remote learning.
Provost Marcella David announced Greg Geffrard, adjunct faculty member in the Theatre Department, and Carmelo Esterrich, associate professor in the Humanities, History and Social Sciences Department, as the two winners in an email to faculty, staff and students June 1.
Additionally, David announced the runners-up were Lauren Downing Peters, assistant professor in the Fashion Studies Department, and Rachel Rozycki, an adjunct faculty member in the Cinema and Television Arts Department.
"All four of the finalists prepared compelling teaching philosophy statements, demonstrated outstanding presence and effective pedagogy during class sessions, exhibited pedagogically sound use of Canvas, and were very highly rated by their students," David said in the email.
Geffrard said he was shocked to win, but he learned one of his students encouraged their entire "Scenes: Performance & Analysis" class to nominate him for the Excellence in Teaching Award.
"It felt validating because you hope that is the effect that you have on young people," Geffrard said. "That's always the hope when you walk into the space for the first time, and when you walk out of there, it's just like these individuals feel like I had their back, and I was here for them and I supported them in trying to creating art during very unprecedented times."
Geffrard said he applied to jobs at the collegiate level for some time before beginning to teach at Columbia in the Fall 2020 semester. He is grateful Columbia hired him at a time when he felt his voice was most needed, with recent demands for diversity and sensitivity in theatre.
Ames Hawkins, associate provost for Faculty Research and Development, said the nomination process begins with students and faculty submitting testimonials about teachers to ETA@colum.edu during that year's nomination period.
After testimonials are submitted, nominees receive an email asking if they would like to formally apply for the award. The Excellence in Teaching Award Committee then evaluates the nominee's Canvas courses, their student course evaluations and their curriculum vitae, in addition to their submitted teaching philosophy.
Hawkins said after semifinalists were chosen last year, each had to submit a recorded class, which was evaluated by the committee and then compared to their teaching philosophies. The Office of the Provost then chose the winners and runners-up.
Esterrich said he was happy to be recognized.
"[There are times] when we are dedicating ourselves to something and we do a good job, but we never get an official recognition," Esterrich said. "It was nice getting that from the college."
Esterrich said early in his teaching career, he had the notion that teaching was about "giving content to students."
"While working at Columbia, I realized that the classroom wasn't necessarily about giving them all the information I could, but it was more about helping them think about the information that they received," Esterrich said. "[Teaching] became more about 'Can we learn together about the things that I select for the class?'"
In a June 17 email to the Chronicle, Peters said it was a significant honor being a finalist, "especially given the challenges and limitations of remote instruction."
However, Peters said she does not plan on returning to the "status quo" of in-person instruction next semester.
"There's so much I plan to take with me as I rethink my methods and approaches," Peters wrote. "At the forefront of my mind is how to better utilize our [precious] time together in person."
Rozycki said the nomination was exciting.
"Even when you're giving it your all, … you never know if you're making an impact," Rozycki said. "It is really nice to be recognized for all the hard work that goes into teaching."