'I'm so happy to be back': WGN's newest anchor is Columbia alum Ray Cortopassi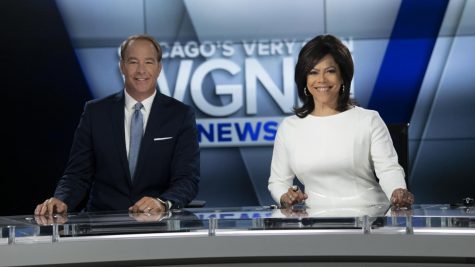 "Don't give up on your dream and keep trying" was Ray Cortopassi's motto as he questioned if his goal of becoming a TV news reporter was meant to be after he was continuously turned down by stations.
So, in 1994, he and his then-college sweetheart laid out a map of the U.S. and marked all the places they could drive to in the Midwest to talk with any TV stations' news directors he came across.
Cortopassi knew the stations did not have any open positions, but he said if he could make an impression, it would help start his career in the broadcast journalism industry.
Now 53, Cortopassi—a 1990 broadcast journalism alum and a WGN evening news anchor as of last month—said he is excited to be back in the city where his journey began.
"Every step along the way we found meaning and magic," Cortopassi said. "Every move led to a new discovery, a new process of learning and connecting both with a TV audience, the community [and] colleagues. I felt blessed at every stop along the way, but when [my wife and I] left Chicago, the goal was always to get back. So, we never lost sight of that."
Little did Cortopassi know that the first stop he made on his career-seeking road trip would land him his first broadcast job in 1994 at WPBN-TV, an NBC affiliate in Traverse City, Michigan.
Cortopassi said he is a realist and knew early on that in order to achieve his dream, he would have to move to a smaller market and work his way up.
He worked for three years at the Daily Southtown as a freelance print reporter right out of college, as it was available and a position for which he knew he had the right skillset after taking print journalism classes at Columbia.
Cortopassi said at his first job, he learned how to write timely news for his audience and discern what facts are important.
"In print, that really is a process that is so detail-oriented, so I think that translated well for me as a broadcast journalist," he said.
Cortopassi said he was determined to land a job at the City News Bureau of Chicago after graduating from college, but the timing was not right at first.
After months of trying to get his foot in the door, Cortopassi took on a job in the retail industry at a sign company that made advertisements for billboards, buildings and vehicles.
"I thought that would be my future until that nagging desire at the back of my heart said, 'Don't give up on your dream, keep trying,' and so that's what I did," he said.
All the doors suddenly opened for Cortopassi after he successfully applied for a second time at the City News Bureau in 1993.
Along the way, Cortopassi said he fell in love with a classmate named Leslie, who was also a journalism major and later became his wife. She supported his ambitions, pushed him to continuously network and ultimately helped him determine his career direction, he said.
And though he had footing in the print journalism world, the end goal was to still work in broadcasting.
Cortopassi and his wife packed their bags and made their way around the states, working in Michigan, Las Vegas and Indianapolis before returning to Chicago.
Now at WGN alongside news anchor Micah Materre, Cortopassi said it was a momentous achievement seeing all the names before him on the walls as he walked down the long hallway to the newsroom.
However, he said it was not an "unfamiliar" feeling. Instead, it felt like he was finally at home at a station that he has many memories of, from watching "Ray Rayner and His Friends" to "The Bozo Show."
"I've been in a lot of newsrooms over the years," Cortopassi said. "But what I found about WGN, whether it's a reporter, or an anchor or producer, [is] all of those journalists have a very down to earth, friendly way about them."
Tune in to WGN News to watch Ray Cortopassi anchor the 5 p.m., 6 p.m., 9 p.m and 10 p.m. newscasts.