If a sunflower blooms in a city, does it make a difference?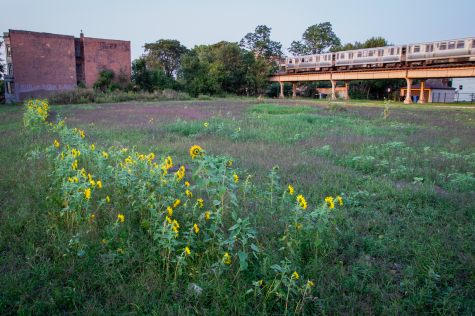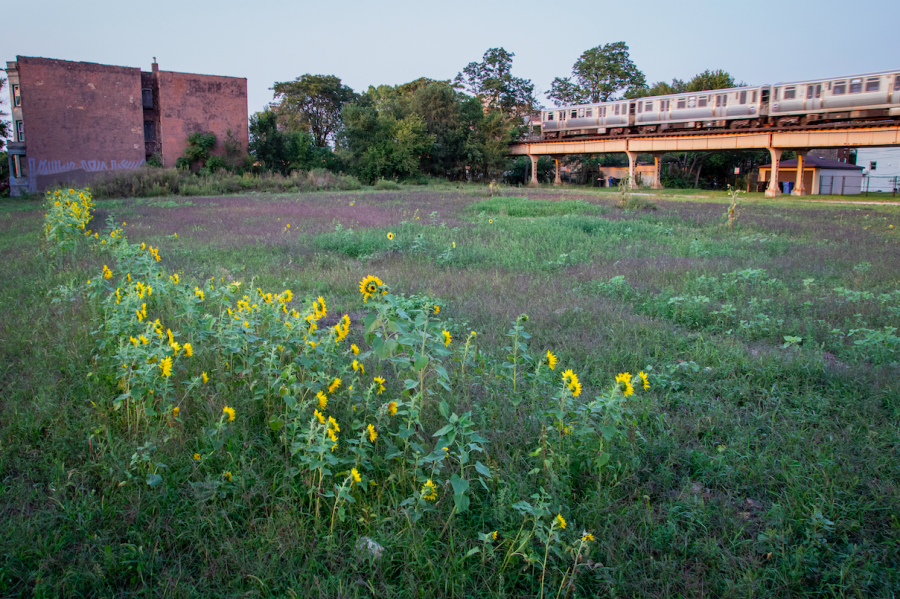 What was once a vacant lot under Green Line train tracks is now home to nearly an acre of sunflowers.
If the flowers are taken care of, these natural pollinators will bloom at least two to three times a year and help draw toxic chemicals out of the air.
Sunflower City, 5345 S. Prairie Ave., is a nonprofit sunflower patch in its third growing season. It began as a research project for Robert McHugh, Sunflower City's founder and director of operations, and a couple of associates in 2012.
When Sunflower City was created eight years ago, only a handful of sunflowers were planted. Similar to an initiative in Philadelphia where vacant lots were turned into green spaces, Sunflower City was created to demonstrate what it means to heal the environment and a community.
McHugh has a background in clean energy and once created fuel out of cooking oil. He wanted to test what growing a biofuel crop in contaminated soil would do.

"We looked at sunflowers grown in contaminated soils and if we could produce a seed oil that remained free of lead and other contaminants," McHugh said.
Sunflowers were chosen because they can grow well even in contaminated soils, McHugh said. They can also contribute to clean energy and product development through the use of sunflower oil.
The experiment soon became secondary, McHugh said.
When the sunflower heads turned downward for the first time in 2012, McHugh knew it was time to harvest them. But he found the residents of the Washington Park neighborhood wanted the sunflower patch to become a permanent fixture.
"Over time, I realized that there was something more important than a technical-scientific research project," McHugh said. "There was something that took precedence over that, and that was what can natural beauty do for neighborhoods."
In addition to being beneficial for wildlife, green spaces in urban areas are also important for "our own human benefit and emotional well-being" to break up what is otherwise a concrete jungle, said Michele Hoffman-Trotter, adjunct faculty member in the Science and Mathematics Department.
In Chicago, groups such as Chicago Eco House, 6439 S. Peoria St., are using urban agriculture to beautify neighborhoods while educating residents. When living in an urban environment, it can be easy to disconnect from Mother Nature, said Quilen Blackwell, president of Chicago Eco House.
Because of this, the group is there to establish a new connection between human beings and nature by turning vacant lots into 100% sustainable flower farms.
"The industry in the United States is pretty small for flowers; about 80% of the flowers that you see at the market come from overseas," Blackwell said. "Very few urban flower farmers are located within the city."
Despite this, McHugh believes Chicago is a great place for urban agriculture.
"Unlike New York City or Los Angeles, we are situated in the middle of some of the most productive agriculture in the world, some of the finest soils, even though they have been degraded in the city," McHugh said.
This year a miscommunication between McHugh and an equipment operator who was taking care of the flowers resulted in the sunflowers accidentally being cut down before they had time to bloom in late August.
Sunflowers are native to Chicago and able to endure rough conditions but can harm pollinators, such as bees and grasshoppers looking for nectar, when cut down before it is time to harvest them, Hoffman-Trotter said.
"If you cut them down before they have the chance to go to flower, it is going to deprive all those pollinator species of the nectar that they depend on," Hoffman-Trotter said.
Even though it is only Sunflower City's third year of operation and the sunflowers were cut earlier than expected, McHugh hopes these seasonal flowers will bloom again next year to bring joy and sustainability to the Washington Park area.
"When something beautiful is within one's own neighborhood, that is shown to have a different effect from when that same natural beauty is halfway across town," McHugh said.