Protesters oppose ICE plans to build new facility 80 miles from Chicago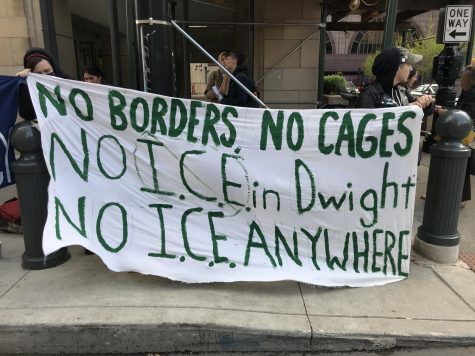 "No more child prisoners, free them all," shouted Rozalinda Borcila at a Little Village Solidarity Network protest at the U.S. Citizenship and Immigration Services building, 101 W. Ida B. Wells Drive. "Shut them all down!"
Members of the Little Village Solidarity Network demonstrated May 8 against the U.S. Immigration and Customs Enforcement building a new detention center in Dwight, Illinois, 80 miles from Chicago.
Flyers were handed out during the demonstration stating a state law cannot stop private companies from building detention centers, and asking opponents to plans for the proposed facility to join the fight against border enforcement, detention and deportation.
House Bill 2040 proposes the prohibition of private parties building detention centers and private prisons. These centers are similar to those that hold immigrants potentially awaiting deportation. The bill has not been voted on.
"Dwight wants this detention center … they think they will get some revenue," Borcila said. "They think they'll get a bigger tax base. They think they will get some kind of economic development through the s**t jobs that are going to be created."
The group is holding another demonstration on Sunday May 12 at the Cinco de Mayo parade—beginning at Cermak Road and Damen Avenue and ending at Marshall Square in Little Village.
Emylee Verde, a protestor at the event, wants detention centers across the country to close down as an act of solidarity.
"We're here to shame the [ICE] workers here, we're here to try to open up their eyes and their conscience," Verde said while holding her daughter against her chest.
"At the Chicago Teachers Union there were teachers speaking about their students being deported and their students being killed … there have been four in the United State's custody that have died," Verde said. "Every day people are disappearing. Women's lives, children's lives are at danger and it's not just undocumented children. It's [people of color], African people, African descendants. It's indigenous people."
Verde added the U.S. policies for ICE are not only affecting people south of the U.S. border but all over the world.
"This is a lifestyle," Verde said. "The idea of us communicating and building bridges with other people is so that we no longer are here in any space able to accept these policies and accept this lifestyle. Unfortunately capitalism has changed our whole world from our land being deforested and from our people to just be seen as property and not as individuals, not as stories."
The protest comes days after President Donald Trump proposed via Twitter that Mark Morgan, former head of U.S Border Patrol—under the Obama administration—will be selected as the new head of the Immigration and Customs Enforcement. The tweet came as a surprise to some, as current ICE officials had no prior notice to the change in leadership.
"I am pleased to inform all of those that believe in a strong, fair and sound Immigration Policy that Mark Morgan will be joining the Trump Administration as the head of our hard working men and women of ICE," Trump tweeted May 5. "Mark is a true believer and American Patriot. He will do a great job!"