Hundreds march calling for the removal of ICE's "Citizen's Academy Initiative"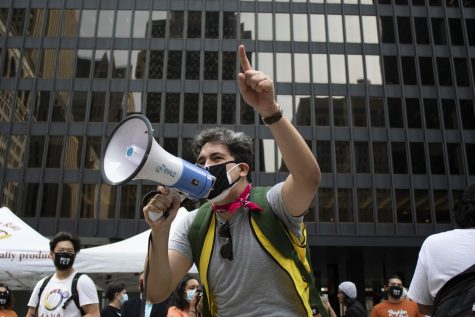 Standing across the street of the Field Building, home of Chicago's U.S. Immigration and Customs Enforcement office, hundreds of protesters representing dozens of organizations waved Mexican flags and gathered to celebrate the postponement of ICE's "Citizen's Academy."
Protesters met at the Chicago Field Office, 101 W. Ida B. Wells Drive, Tuesday, Sept. 15 to protest ICE and its ongoing initiatives to increase its presence in Chicago.
The People's Academy Rally and Teach In was originally organized in response to the U.S. Citizenship and Immigration Services' initiative known as the "Citizen's Academy," which was part of an ICE outreach program created to inform citizens about ICE tactics.
"Citizens Academy" was slated to start Tuesday, Sept. 15 but USCIS postponed it until spring 2021 due to the coronavirus pandemic, as reported by the Chicago Sun-Times Sept. 3.
The academy will follow a similar model of other law enforcement academies and will be a six-week training program to teach citizens about ICE policies and procedures, immigration history and demonstrate the training immigration officers undergo, according to an ICE press release from July 13.
Protesters have criticized the program for potentially promoting vigilante initiatives in communities with high immigrant populations and serving as another example of white supremacy, according to Antonio Gutierrez, strategic development and operations coordinator for the Organized Communities Against Deportation—one of the organizations responsible for organizing the event.
Gutierrez said as soon as his organization learned about the Citizen's Academy they wanted to plan a public rally in response.
Beginning at the corner of Ida B. Wells Drive and South Clark Street, protesters engaged in several chants before marching to Federal Plaza on South Dearborn Street where multiple speakers discussed a number of issues including abolishing ICE, defunding the Chicago Police Department and efforts to establish a citizens police advisory council.
Organizations at the event included: Organized Communities Against Deportation, Asian Americans Advancing Justice Chicago, Arab American Family Services, Brighton Park Neighborhood Council and Chicago Alliance Against Racist and Political Repression.
"We're here to support every marginalized group and every disenfranchised group that is being oppressed by this larger institution," said Sief Salameh, a case manager for Arab American Family Services, an organization that is part of the Illinois Coalition for Immigrant and Refugee Rights.
Fasika Alem, programs director for the United African Organization, stressed the importance of police reform and said there is a connection between policing and ICE policy.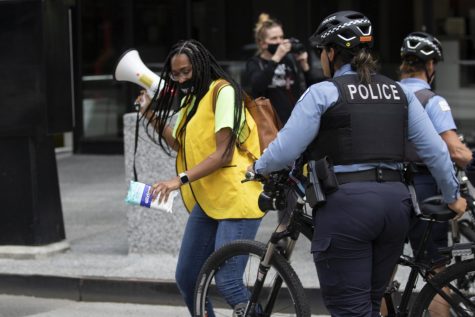 "As African immigrants, we stand right at the intersection of [anti-immigrant policy and anti-Black policing policies]," Alem said. "These systems doubly affect our community."
Despite being a large gathering, physical distancing and face coverings were encouraged by organizers and attendees were asked to follow pandemic guidelines.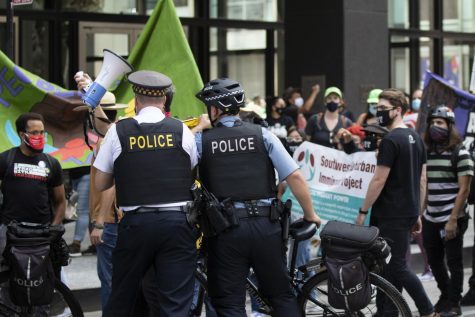 Though the march was originally planned to happen on the street, bike barriers set up by police limited protesters to the sidewalk. As attendees moved into the street at West Jackson Boulevard between South Clark and South Dearborn streets, cyclist in the bike line clashed with the group of protesters.
Organized Communities Against Deportations and the Illinois Coalition for Immigrant and Refugee Rights discussed organizing another protest against ICE, but no official event has been set.
"We know that it is not a permanent shutdown," Alem said in reference to the Citizen's Academy. "This is the beginning of a continued action to make sure [the Citizen's Academy] doesn't happen ever."