How students can get educated on sex, in and out of the classroom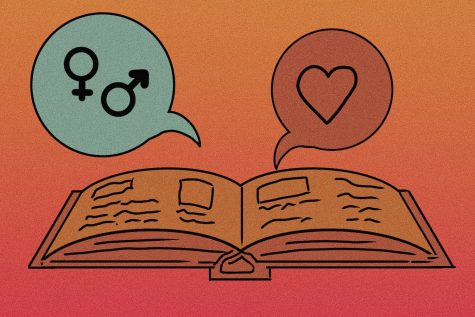 SEX ISSUE
---
Learning about and understanding sexual health, your own body and identity can be "mind-blowing."
That's how Paige Johnson, a junior creative writing major and education minor, described feeling when she took Columbia's personal wellness course.
"I learned that a period is 28 days long, which I had no idea beforehand," Johnson said.
Johnson went to middle school in Ohio and high school in the southern part of the country, where abstinence was encouraged. Both schools had a very small health unit, she said.
"In the textbook, we were supposed to do a unit on menstrual cycles and periods in general, and we completely skipped over it," Johnson said. "The teacher said out loud, 'Oh we're not doing this part. We're skipping over this.'"
Across the United States, fewer than half of high schools and less than one-fifth of middle schools teach key topics for sexual health education, according to the Centers for Disease Control. That includes information about now to prevent HIV, sexually transmitted diseases and an unintended pregnancy.
Kate Apostolacus, a senior entertainment marketing major, had her first health class in fifth grade.
"I, fortunately, had a lot of great education with [sex-ed], but a lot of other people haven't," Apostolacus said, who is a mental health senator for the Student Government Association. "Columbia is this great ecosystem of people all over, so they don't have that necessary education, and what a better place to get it than here."
Apostolacus said having more sex education class options than there are would be beneficial, like having a humanities portion or putting it in syllabi.
"I feel like this is a sex-positive environment personally and socially, but it's not really talked about on campus," Apostolacus said. "It's kind of a taboo subject."
Emily Battle, director of Counseling Services, said this month their department is having a group session event called Cultivating Connections, which will be about various relationships.
"They may discuss boundary setting, how to tell if relationships are healthy or unhealthy, conflict management–those types of relationship factors," Battle said.
Battle said counseling services are open to talking to students about sexual health if it is something that is relevant to treatment and are welcome to help students find resources that would be appropriate for them.
Battle said all of their providers have experience with various mental health diagnoses and come from a trauma-informed background.
Johnson said conversations around sex, sexuality and experimentation previously scared her.
"In a way, it made me more naive because I didn't know anything outside of STDs, so not having the knowledge made it easier to be taken advantage of, which happened," Johnson said.
Johnson, who did not start having sex until she got to college, said she would like to have known more about the psychology behind having sex and what it does to someone mentally.
When she kissed her boyfriend for the first time, she had a panic attack.
"We learn a lot about sex medically or physically, but not a lot mentally," Johnson said, who has sexual trauma. "That's an important part that's overlooked."
For more accessible resources, Planned Parenthood offers information on its website and provides services for all individuals, with the recent addition of telehealth communication.
Editor's Note: This story is a part of the Chronicle's annual Sex Issue which will be published mid-February.