House music's DJ Lady D spins a second role as Career Center liaison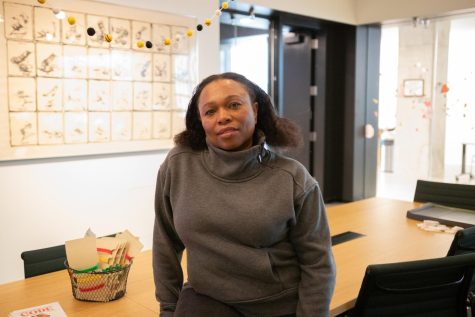 Darlene Jackson, who goes by the artist name DJ Lady D and is deemed "Chicago's house music queen," has been a DJ since 1995, a time when she said it was considered "new" to see a woman DJing, despite the many women who came before her.
DJ Lady D, a creative industry liaison in Columbia's Career Center, grew up on the Far South Side of Chicago in Washington Heights and said she was born into DJing when her two older brothers and some of her male friends had turntables in her adolescence.
She started to experiment with the craft when she was at Whitney M. Young Magnet High School and continued to DJ for her college radio station at Millikin University. After undergrad, she studied to be a podiatrist for a couple years before realizing it was not the career she wanted to pursue, which led her back on the path of DJing and getting her master's degree in communications from Northwestern University.
After Lady D got her first gig at a shoe store in Chicago that no longer exists, called Sole Junkies, her DJ career kicked off. She was eventually booked throughout Chicago and the U.S., and eventually in Asia, Europe, Mexico, Canada and Russia, sharing her creative house music sounds.
She releases her music on streaming platforms, plays every fourth Friday of the month on Chicago's Vocalo Radio 91.1 FM and owns D'lectable Music, a house music record label. Lady D is also a part of Super Jane, a group of four women self-described as America's first all women DJ collective.
"I'm inspired to present great music to people who are courageous enough to want something different than what they're being personally force-fed through media, television, radio, even streaming services," Lady D said.
Lady D said one of her favorite shows was playing Lollapalooza in 2011 — the 20th anniversary of the festival — because she was the first woman DJ and only Black woman DJ to ever play on the Perry stage, which is known for hosting house and electronic dance music artists.
"I know a lot of Black women DJs, and I know a lot of women DJs," Lady D said. "I feel like a lot of the festivals have yet to really open that up or create intentional space for people."
Lady D said especially in the industry of EDM shows, which is a genre inspired by house music, there needs to be acknowledgement of its roots and space for creators of color, believing that house music is meant to connect and elevate people.
"Its become less integrated than it used to be," Lady D said. "When I first started DJing, I would go to a club, and it would be all kinds of people there, literally a melting pot of people, very diverse audiences from all sorts of cultural walks of life … and now if you go to a club, 'this faction is over here, this faction is over here.' It's who you have affinity for and feel comfortable around, but I think house music was really made to get people out of their comfort zone and bring people together. And so, that's the beauty of house music."
Creating intentional space is exactly what she brings to Columbia's Career Center, meeting one on one with students and designing programming around diversity, equity and inclusion.
Lady D said when she first started working in the Career Center in 2015, called the Portfolio Center at the time, she noticed there were not many Black students coming into the Career Center and embarked on creating programs centered around their experiences.
"I came to Columbia with the idea that it was really time for me to start paying it forward and to see what the next generation needs," Lady D said. "To acknowledge that I had done a lot, and I had some giving back to do."
Her concentration is with students in music, business and entrepreneurship, media and communications, audio and fashion at Columbia because she has a wealth of experience in those industries.
While Lady D did not always see herself in higher education, she said her role at the Career Center is perfect because it allows her variety and the ability to cultivate diversity.
"I feel like everything I've ever done as a DJ or producer or record label owner has helped inform what I do here, the people that I can bring to speak to students, the companies and groups that I can tap into to create opportunities for students here," Lady D said.
She started working full time at Columbia in 2018 and had already become friends with colleague Angela Sheridon, a creative industry liaison in the Career Center who has known Lady D for about eight years.
Sheridon described Lady D as well-connected and always bringing creativity to her work. Recently, the two collaborated on an annual career fair event led by Lady D called CODE, Cultural Opportunities and Diversity Expo.
"She's really able to activate the Columbia community and everybody else that's involved," Sheridon said. "She brings a genuine voice when it comes to DEI to Columbia and beyond."
Sheridon said Columbia is lucky to have Lady D and admires her ability to stand up and take action.
"In the Career Center, we've always been aware that we need to be better advocates and more supportive of DEI. Darlene is one of those people: She's not just talking about it, she's doing it," Sheridon said.
A senior radio major, Osa Obaseki, who goes by the artist name Osa North, met Lady D for the first time in person last semester when a teacher invited her into the class to talk about branding yourself as an artist.
North encourages students to reach out to Lady D because she helped him with his portfolio and resume, and now he has a job with Live Nation in May as a production runner after he graduates.
"Her input is very, very appreciated, and we love to have her in that space," North said. "I know it made a difference for me as a student to have her speak with us, and as a DJ myself, it was really cool to just have that network and build my social capital."
Lady D is currently working on new studio releases before she tours this summer to festival performances at Movement Festival in Detroit and ARC Music Festival during Labor Day weekend in Chicago, along with various night club bookings.
Lady D said her artist journey began with concern about how the crowd would receive her. Now, her art has evolved from experience, and she has more to say, but her commitment to inclusivity has always rang true.
"I would implore people to just move through the world realizing how we're all connected. We have these shared experiences, and it brings us closer together and to not forget that. No matter what they read or see, they have to feel things for themselves," Lady D said. "You have to be the type of person that does the internal work. And I just want people to just be happy and just sort of like, realize we all need each other … It's been a very strange world recently, and I think people need to remember the things that connect us. House music forever!"