Graphic, campy and dark: Columbia artist Hink Stink explores femininity through horror-inspired illustrations, zines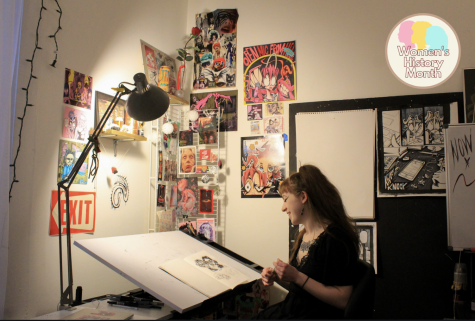 Freakish women with grotesque, shark-like teeth, slasher babes and bloody monsters bursting outside of heads grace the covers of Hink Stink's eccentric illustrations. Creating a horror lover's fantasy inside her artwork, Adele Henning, also known by her artist name "Hink Stink," explores femininity through an unconventional lens that is cutthroat, campy and violent.
Hink Stink, a junior illustration major, is a Chicago-based comic artist, illustrator, muralist and animator who uses artistic escapism in the local underground art scene to discover narratives that she finds healing. Her art also inspires community building with other independent artists.
"I enjoy exploring narratives and narratives that are relevant to me and are in a way therapeutic to me," Hink Stink said. "I feel like through being a comic artist or narrative artist in general, you're being honest in your work, and then other people can identify with it, and it's this cool, comforting group therapy thing."
Growing up, Hink Stink first explored comics like Jeff Smith's fantasy graphic novel series "Bone," saying she always had an interest in the "weird, low-brow stuff."
Exploring the spectrum of femininity, Hink Stink shines light on feminine and queer characteristics of stylized creature women from an edgy and ugly perspective.
"I want to explore the uglier aspects to femininity and what that can mean to people, just being shocking with not making something always so pretty," Hink Stink said.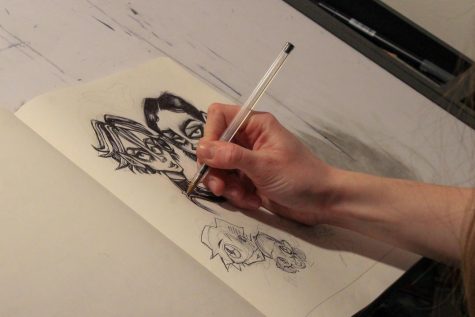 From her zine creations to street murals and tags, Hink Stink's art is created with the intention that anyone can relate to her creature women and illustrations.
"I think it's [artwork] just for anyone who resonates with it," Hink Stink said. "It's like me exploring ideas and, in a way, exploring myself. … I don't need it to be for any specific person because at the end of the day, it's just me exploring stuff, and I'm happy when whoever can identify with it in any way."
Hink Stink's horror comedy illustration book titled "Bad God," began her experimentation with monster head characters. The book features creature characters, such as Rae, a bitter art school dropout with big dreams, and Cindy, a reformed cornfield suburbanite. The story follows the duo attempting to become a wildly successful pop group — the problem is, they suck.
"In the general sphere of things, big people in the [illustration] industry are usually straight, white guys leading the way," Hink Stink said. "I think in general, there needs to be more diversity [among] people in all industries, especially narrative industries, like comics or animation. It's just important to have all sorts of people in power in narratives and artistic professions."
Hink Stink takes inspiration from comic artist Abby Jame who has written for The New Yorker, Adult Swim and Giphy. She said she admires Jame's work because the subject matter is "raunchy" and "jarring."
"I like her work, and it's these weird girl comics, but they're so raunchy, and the subject matter that she covers is so cut and dry," Hink Stink said. "Sometimes they're almost jarring. Her art sales also are super unorthodox."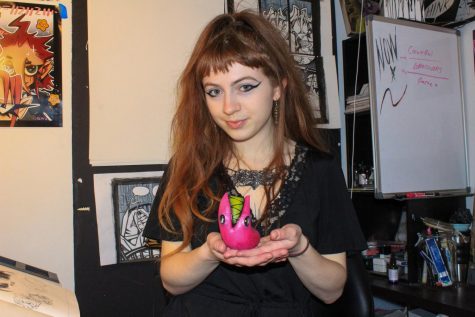 Hink Stink has participated in art events throughout the city such as All American Trash, Get Flea, Dope Art Show and Ink Fest.
Hink Stink said participating in events as a vendor throughout Chicago has been a positive experience because it allowed her to meet other artists in the community.
Hink Stink started to integrate into the street art community in early 2020 with drawing her creature women and horror illustrations on stickers, later shifting to pasting poster art throughout the city. She also got the chance to paint a mural of "angry ladies" in the Wabash Arts Corridor.
"The mural was just a super amazing opportunity I applied to, and I like there being public, accessible art, and art being on the street is super fun and cool, and it just is enriching and interesting. And not everything needs to be boring," Hink Stink said. "I think street art and murals are super important, especially in urban environments."
Hink Stink's latest project is a 50-page graphic novel titled "LORA," which will be released as a webcomic and print book this summer.
"Anyone can make comics, and anyone can start putting up stickers," Hink Stink said. "Anyone, if they want to make art, they should and they could."
For more information on upcoming book drops including "LORA" and art events, check out Hink Stink's Instagram and official website for art launches, comic and zine collections and a merchandise shop.