Global PR course engages students in citizen diplomacy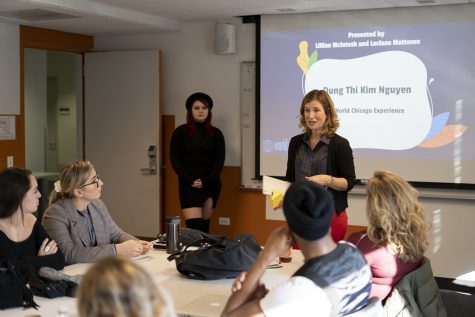 Students in Columbia's "Global PR" course honed in on one unique client this semester: WorldChicago, a nonprofit that fosters worldwide collaboration.
In the course—taught by Anne Marie Mitchell, an associate professor in the Communication Department—students produced content to provide WorldChicago with a platform to share its story.
Mitchell was inspired to jumpstart the course after meeting a group of visitors to WorldChicago, whose social and political work in their own countries gave her hope for the good that can be created by people.
"So, I thought, 'How could I give that experience to my students?'" Mitchell said. "Isn't that what I am trying to do as an educator? I am trying to give [students] these meaningful experiences so that [they] walk away … and feel hope."
Mitchell connected "Global PR" with the nonprofit after speaking with WorldChicago President Peggy Parfenoff, who was present in Mitchell's class—along with Program Manager Kyla Williams—when students unveiled their work.
Student groups were paired with a visiting fellow involved in the WorldChicago Professional Fellows Program, which is sponsored by the U.S. Department of State's Bureau of Educational and Cultural Affairs. The fellows are technology entrepreneurs, leaders of nonprofits and public policy professionals from the Balkans, Central and Southeast Asia and Eastern Europe.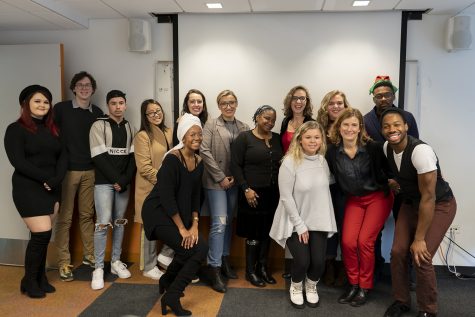 The short-term program offers fellows an opportunity to observe how Americans address social and public policy issues so they can integrate the same knowledge into projects in their countries. Many of the fellows stay with host families during their time in Chicago, an experience which offers them a close-up look at American culture.
One fellow, Dung Thi Kim Nguyen, is the co-founder and project leader of Tiệm bánh Tròn Xoe Bakery in Hanoi, Vietnam, which offers employment and job training for individuals on the autism spectrum.
Nguyen was partnered with senior public relations majors Lillian McIntosh and Luciana Matteson this semester. The two created a day-in-the-life video, documenting Nguyen's time in Chicago, and wrote a press release and article for WorldChicago's annual report for the nonprofit to use to spread its citizen diplomacy narrative.
Citizen diplomacy, according to WorldChicago, is the concept that citizens can help shape U.S. foreign relations through interpersonal relationships with people from other countries.
"This experience, for me, was definitely more of an experience in citizen diplomacy as opposed to PR," Matteson said. "WorldChicago bridges gaps that I didn't know existed."
Senior public relations major Magda Pach and senior marketing major Constance Geze said spreading the idea of citizen diplomacy was important. They created social media content with their fellow, Tanja Dzido—bestselling author and founder and CEO of the online hub for young entrepreneurs, Shhhefica.
One piece of Pach's content includes an article published on WorldChicago's blog. The article details the history of WorldChicago, from a group of professors' wives hosting international students for the holidays in the 1950s to an organization that now helps connect people worldwide.
Pach said the experience of working with WorldChicago has taught her the importance of eschewing assumptions about people from other countries and "representing your own country as you would want to be represented." She said what she learned in the course helped her change her career path toward global public relations.
"This is the only class that completely changed the way I view what I want in the future," Pach said. "WorldChicago is also a big part of that."