Global artists transform Museum of Contemporary Photography in new 'Shift: Music, Meaning, Context' exhibit
Upon arrival at the Museum of Contemporary Photography, viewers are greeted with projectors, music, videos and three floors of different cultural interpretations of music for "Shift: Music, Meaning, Context."
Asha Iman Veal, the museum's associate curator, said the exhibit is a curatorial partnership between the museum and the Goethe-Insitut Chicago.
The exhibition opened on Friday, April 14, for a reception where Columbia Photography Instructor and Visual Artist Cecil McDonald Jr. spoke about his work.
McDonald's work in the exhibit include pieces from his monograph "In the Company of Black," which was published and shortlisted by the Aperture Foundation for the 2017 First PhotoBook Award.
The exhibit is made up of collaborative work between artists to explore how music changes in form and interpretation across time.
10 global artists, including McDonald, are featured: Sven Johne, Bani Abidi, Lawrence Abu Hamdan, Tony Cokes, Jeremy Deller, Hassan Hajjaj, Andre Lützen, Emeka Ogboh and Taryn Simon.
The exhibit will be displayed through Aug. 6 with free admission.
Leah Gallant, program curator for the Goethe-Institut, joined Art Historian and Goethe-Institut Director Leonhard Emmerling in co-curating the exhibit.
"He was really interested in exploring this question of how music can change radically depending on the context and intentions with which it's presented," she said.
Gallant worked with Emmerling and a selection of other curators to come up with a group of international artists that would create an exhibit that was "global in scope," while also considering representation.
"We are not approaching this as musicians or ethnomusicologists or music historians. We are approaching this thinking about how different visual artists have tackled these subjects," Gallant said.
Gallant said the exhibit is made up of mostly collaborative pieces, and artists would hire musicians to make them the subject of their artwork.
"We were interested in that process, in terms of thinking about who has cultural authorship over individual artworks as well as this larger question about who has cultural authorship over pieces of music," Gallant said.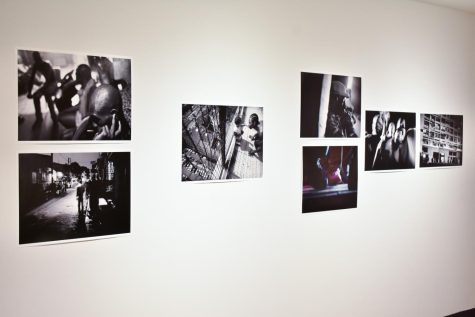 "Shift" is the first exhibit at the MoCP that includes a selection of sound installations and videos for each piece, as well as being a more tech-heavy show.
"It's more the thematic that is special and unique," Veal said.
Johne, a Berlin-based artist who typically works on projects focused on "great political and social upheavals," was invited by Emmerling to feature his work "Cliffs of Wissow" in the exhibit.
"Cliffs of Wissow" is the tragic story of a musical nature guide who finds out that in his former life, he was a border guard for the Iron Curtain.
Johne said he was inspired by his own family history as his father was a border guard for the East German Baltic Coast.
"I'm interested in the footnotes of world history, that is, everything beyond the 'big'; the known history and historiography. Music rarely appears in my work, which is probably also due to the fact that I make relatively few films, but mostly work photographically or write," Johne said.
Veal said the audio aspect of the exhibit brought on new challenges for the MoCP as far as managing sounds between each piece with the space in the gallery.
"In terms of timing individual pieces, it's kind of cool, especially on the first floor. There are three sound installations, so it's like, how do we make it so that each space holds its own audible space? It's almost like a choir in this really beautiful way," Veal said.