GIRL K on journey to being 'cutest band in Chicago'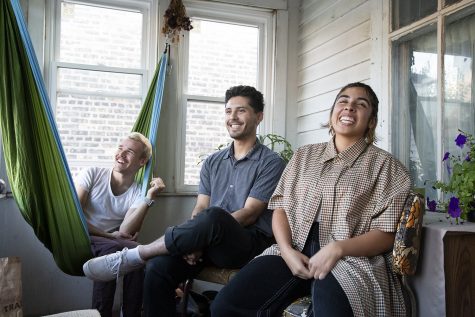 Up and coming Chicago-based band GIRL K enters new territory with a very subtle rock sound for their latest single, "Settle."
The four-member band, comprised of Kathy Patino, vocals and rhythm guitar; Kevin Sheppard, lead guitar; Alex Pieczynski, bass; and Tony Mest, drums, are normally labeled as an indie-rock group, but are expanding their horizons after two years of recording.
Gathered closely with the band in her cramped sunroom in Logan Square, Patino said she used to hate when people would categorize the band in the indie-pop genre because she thought of pop music strictly as radio hits.
"More recently, my ears have grown and I have gotten into pop music," Patino said. "[I told myself] indie-pop could be cool, I also finally got a computer and I have been messing around with different sounds and I think it is a much more accurate depiction of where we are going."
Usually Patino's mindset while creating music is to create something fun, that may also make a person feel something. Along with that, the band's focus is also on being friendly and welcoming to others, in order to break the stigma of edginess that is associated with rock 'n' roll.
Patino started out as a solo artist in early 2017 after leaving University of Illinois at Chicago. Patino began searching for bandmates shortly after the release of her debut album "Sunflower Court" because she disliked being solo and could not fulfill the instrumental aspect, such as drums and guitar.
While searching for people to bring her lyrics and sound to life, Patino found Sheppard, Pieczynski and former drummer Ajay Raghuraman from the band Books.
"We were all coming to this new era in our lives where [we] wanted to release and play music, and [Ajay] asked us to be part of it, and all of us were so timid," Sheppard said.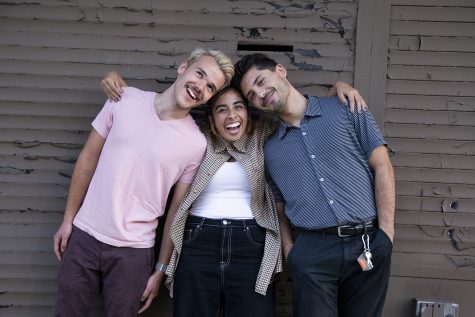 The band quickly discovered making the transition into a real group was exactly what they were meant to do. Since then, GIRL K has released one full album, which debuted March 15, titled "For Now," as well as multiple singles.
"With GIRL K, it was a lot of being in the right place at the right time," Sheppard said.
When talking about the band's process of writing and recording their songs, Sheppard and Pieczynski teased Patino for taking the writing and recording process too seriously.
While at UIC, Patino was studying to become an English teacher and said although it did not influence her style of the lyrical writing she does today, she always had a love for writing, especially with short stories, and uses that passion to create a story within her lyrics.
Patino starts off by using a personal story or event from her own life, but keeps it vague enough to where the band's listeners can hear or envision their own stories.
"I really like the idea of music being comforting to people," Patino said. "When I write a song that is really personal to me and someone tells me [the song makes them cry], then I feel like I did a good job."
With a dedicated and passionate fan base already, GIRL K live shows are an intimate experience where more than half the crowd is singing along to each word, Pieczynski said.
"[We] want them to sing along," Pieczynski said. "That is what [we] want to be able to do when we are listening to music, so we like when that happens at our shows."
With another released single under their belts, the band plans to be under the radar writing and recording music for a while following its most recent show at Subterranean, 2011 W. North Ave., Aug. 30.
Although the band will be focusing on new material, fans can still connect to their vivid storytelling and, in the meantime, keep an eye out for the cutest Chicago band.