Get to know your candidates for Illinois Secretary of State: Brady vs. Giannoulias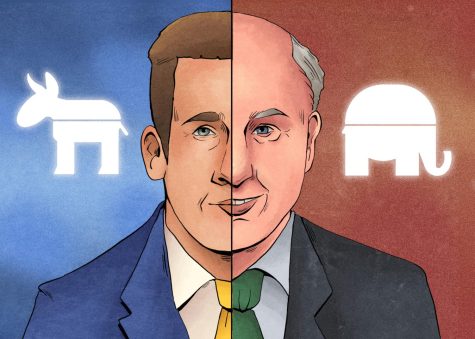 From paying for a new or renewed driver's license to registering to vote, the office of secretary of state directly affects everyone living in Illinois.
Illinois State Rep. Dan Brady, a Republican, Alexi Giannoulias, a Democrat and former Illinois state treasurer, and Jon Stewart, a Libertarian, are competing for the office of secretary of state.
After 24 years, voters will elect a new secretary of state on Nov. 8.
If elected as secretary of state, Brady, Giannoulias or Stewart would take over the position from current Secretary of State Jesse White, the longest serving secretary of state in Illinois and the first Black secretary of state in Illinois. White was widely popular, partly because of his role as founder of the Jesse White Tumblers, a tumbling team that has assisted at-risk Chicago youth for 63 years.
The Candidates
Brady and his wife Teri have a daughter, Danielle, and a son, Tom, who is a junior at Columbia.
"We certainly support Columbia on a variety of fronts, but especially with our son Tom," Brady said.
Brady's broad experience in private business, his service as the former McClean County Illinois coroner and as an Illinois state representative makes him well-prepared to serve as the next Illinois secretary of state, he said.
Giannoulias is a lifelong Chicagoan who lives in the city with his wife, Josephine, and their three daughters, according to his campaign website. He served as state treasurer of Illinois from 2007 to 2011 and serves on the board of directors at Feed Chicago, One Million Degrees and the Chicago Children's Advocacy Center. He is also the CEO of the start-up investment company Annoula Ventures.
Giannoulias' campaign did not respond to requests by the Chronicle for an interview.
Voting Systems and Integrity
After election authorities in each Illinois county canvass and certify individual county election results, the office of the secretary of state is responsible for certifying those results, Brady said.
"The main role the secretary of state's office has in voting is from motor voter registration, to register voters. We will continue to register voters and make that process as streamlined and efficient as possible," Brady said.
Motor Voter Registration, an automatic voter registration program, forwards applications from those who want to register to vote to the Illinois State Board of Elections.
Brady said streamlining of the registration process could be accomplished by fully staffing motor secretary of state facilities with cross–trained personnel knowledgeable about voter registration for eligible voters, along with other driver and vehicle services.
Brady said the key to voting integrity lies with secretary of state personnel and their understanding of documented information needed to qualify to vote.
"Having staff fully trained in those areas about what is needed and authentic is extremely important," Brady said. "We would review that process as often as possible."
Giannoulias, along with other voting rights advocates, propose back-end automatic registration "which would automatically add eligible voters to the rolls without requiring additional steps on the part of the voter during their visit to a driver's license facility," according to his website.
Giannoulias also proposes voter pre-registration of 16- and 17-year-olds applying for driver's licenses or state IDs enabling automatic voter registration once they turn 18, according to his website.
Upgraded Driver Service Experience
Both candidates pledge to introduce cutting-edge technology to streamline processes at Illinois' Driver Services facilities, but differences remain between their proposed policies.
Brady's proposal involves partnering with approximately 96 Illinois community colleges that are interested in housing secretary of state facilities, he said. In facilities where heavy volume increases wait times, colleges would alleviate the problem because there is adequate space, security, disability accessibility and existing computing infrastructure that includes Wi-Fi, internet and digital services.
"They all have public transportation to them and cybersecurity which would be extremely important. The ability to partner with these community colleges of 38 districts of Illinois holds great potential; that would be number one," Brady said.
Brady said his second idea is to create remote services, such as kiosks in libraries, to help with the issuance of renewal stickers.
According to his campaign website, Giannoulias plans to upgrade secretary of state facilities to improve customer service by introducing contact-free options.
His "Skip the Line" program would reduce wait times by allowing customers to make appointments either on the secretary of state website or by phone. Appointments would be verified by text, including a check-in link, and let customers skip lines. Seniors and people with special needs would be given priority.
Giannoulias also proposes digital drivers licenses, state IDs, the ability to upload documents prior to appointments and in-office advocates to assist seniors and those with language barriers or other challenges.
Duties of the Office
The office of the secretary of state is important for the services it provides to students and Illinois residents. Aside from driver services and voter registration, the office generates $2 billion in annual revenue and $1.2 billion is used for state highway construction.
The secretary of state's office also oversees Illinois State Archives, a searchable database containing, among other resources, Abraham Lincoln manuscripts and the ability to do genealogical research.
Why Becoming Secretary of State is Important
"It's important to me because this office touches the lives of more Illinois residents on a daily basis than any other executive branch office," Brady said. "There will be no one more prepared to step in as secretary of state behind secretary White, and no one who would be more passionate and job-driven from a standpoint of dedication to serve the people of Illinois."
According to Giannoulias' campaign website, he is running for secretary of state to rebuild trust in public institutions. He wants to reverse what he sees as a pattern of prioritizing "the interest of the powerful and wealthy over the welfare of the majority," including those with less means and people of color.
For more student information about registering to vote or voting go to Columbia Votes.