Get to know your candidates for Illinois governor: Pritzker vs. Bailey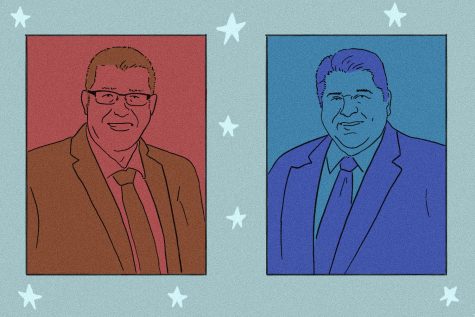 As the midterm election season is approaching, it might feel overwhelming to register, learn as much as possible about the candidates listed on the ballot and then vote for the best choices.
To help diminish some voter anxiety, the Chronicle has researched the gubernatorial race between incumbent Gov. J.B. Pritzker and his opponent, Republican state Sen. Darren Bailey.
Who is J.B. Pritzker?
Democrat and current governor Pritzker, 57, announced he was running for reelection in July 2021. He has held the seat since 2019 after running on topics like supporting women's rights, protecting immigrant families, raising wages and taking a public health approach to gun violence.
What has Pritzker done while in office?
Pritzker has succeeded in his plans to raise the minimum wage in Illinois to $15 an hour by 2025, maintaining reproductive rights for women and expanding health care access across Illinois.
In the last gubernatorial debate hosted by WGN on Oct. 18, Pritzker and Bailey went back and forth on their plans if they are elected into office and shared their views on why their opponent is unfit for the job.
"After years of mismanagement, I've balanced four budgets in a row, paid off all the state's overdue bills, gotten six credit upgrades," Pritzker said during the second gubernatorial debate. "That's allowed me to provide $1.8 billion in gas, grocery, property and income tax relief for working families. I've also raised the minimum wage to a livable wage, and I protected a woman's right to choose. And I did all that while fighting a deadly global pandemic, saving lives and livelihoods."
However, criticism of his effort to change the state's income tax to a progressive one has been a challenge for him, especially during the pandemic. The "fair tax" was one of Pritzker's top priorities when running in 2018, but since there was still an unbalanced budget, critics were doubtful that Democrats would use income from the measure to reduce debt, arguing that any income would likely be used for more programs.
The measure, formerly known as the "Illinois Allow for Graduated Income Tax Amendment," was on the ballot in Illinois as a legislatively referred constitutional amendment on Nov. 3, 2020. The ballot measure was defeated.
Before running for governor, Pritzker created "1871," a nonprofit start-up business incubator, and he prides himself in creating thousands of jobs. After he took office, his passion for creating more jobs evolved into adding nine new innovation hubs working to create more businesses and signing into law the largest infrastructure plan in Illinois' history, according to Pritzker's campaign website.
Pritzker emphasized a need for investing in Cook County and other counties' issues like road construction and education systems.
"We send dollars [from Chicago] downstate because we need to improve roads; we need to improve schools," Pritzker said during the debate on Oct. 18. "It's the right thing to do. But do I also think we need to invest here in Cook County and in the collar counties. Of course, I've done that as governor."
Pritzker said he has increased education funding by $1.3 billion, improving Illinois classrooms and rebuilding deteriorated schools.
Another hot topic during the debate was violence in the state. Pritzker spoke about where his funding is going and what he has done in the past four years.
"I'm the first governor in literally nine years to fund the gang crime witness protection program," Pritzker said. "Because we need to fight against gangs; we need to make sure that they're held accountable. I've also invested, as you know, in [the] state police. We've increased the number of state police; our state-of-the-art crime labs are actually doing DNA evidence evaluation so that we can reduce crime.
Who is his running mate?
Alongside Pritzker is Lt. Gov. Juliana Stratton, 57, the first Black lieutenant governor in Illinois history. Before her political career, Stratton earned her Bachelor of Science in broadcast journalism from the University of Illinois, Urbana-Champaign and a Juris Doctorate from DePaul University College of Law in 1992. Stratton was the executive director of Cook County Justice for Children and Cook County Advisory Council.
Stratton's experience and interest in public safety also led her to serve as director of the Center for Public Safety and Justice at the University of Illinois at Chicago, according to a 2015 UIC press release.
Who has endorsed them?
Groups and organizations such as the Chicago Federation of Labor, Communications Workers of America, Equality Illinois, Everytown for Gun Safety, Illinois AFL-CIO, Illinois Federation of Teachers, Illinois National Organization for Women, Personal PAC, Planned Parenthood Illinois Action and Service Employees International Union (SEIU) Healthcare – Illinois have endorsed the Pritzker campaign so far.
Former President Barack Obama announced his endorsement for Pritzker via Twitter on Oct. 21.
Who is Darren Bailey?
Republican state Sen. Darren Bailey, 56, represents Illinois' 55th District and has since 2021. In 2018, Bailey served one term in the Illinois House of Representatives for the 109th District. He is originally from Louisville, Illinois, and currently resides there. Bailey has an associate's degree of science in agriculture production from Lake Land College.
"Chicago is the nightmare called 'Pritzker-ville,' and it is still two weeks from Halloween," Bailey said during the second debate with Pritzker.
Outside of the political world, Bailey owns a family farm and founded a private Christian school, Full Armor Christian Academy, with his wife, Cindy Stortzum, according to Bailey's website.
Bailey has received criticism about the teachings at his school, specifically about representatives from Bob Jones University who admitted that versions of its textbook used by the school include phrases like, "The majority of slaveholders treated their slaves well," and "The contributions that women made in the workforce were not without its cost."
When asked about it during the final governor's debate, Bailey said the school is not political to him, and he will not bring it into his campaign.
"It is [Gov. Pritzker] bringing cultural issues into our schools. … Wall Street Journal gave us an 'F' in our education, and we're doing nothing about it," Bailey said.
According to Bailey's campaign website, he holds conservative values and is running to protect people's freedom that is threatened by certain government legislation and powerful career politicians.
Bailey has declared himself a pro-life supporter and a strong supporter of the Second Amendment. He is a member of the Illinois State Rifle Association and several agriculture associations.
What has Bailey done while in office?
While in office, Bailey successfully passed one piece of legislation, which was related to the recruitment of firefighters, Senate Bill 2150, however, he has introduced many amendments.
In 2019, Bailey introduced a bill to the House of Representatives that would amend the Medical Assistance Article of the Illinois Public Aid Code so that healthcare for gender reassignment surgery would no longer be covered. This did not pass.
Additionally, in 2022, Bailey introduced an amendment to the Code of Criminal Procedure of 1963 to reinstate the death penalty for defendants over the age of 18 found guilty of first-degree murder which has so far been unsuccessful.
He has otherwise sponsored several amendments that relate to funding the police, reimbursing pharmaceutical providers, eliminating provisions that prohibit openly carrying firearms on public transportation and in parks, removing penalties for selling firearms to a convicted felon, as well as cutting property and motor fuel taxes.
Bailey has consistently voted against Democrat-introduced legislation, including bills that extend food stamp benefits, require public schools to teach about prominent LGBTQ+ figures, increase the minimum wage, protect women's healthcare and require progression toward increasing renewable energy resources.
During the debate, Bailey was asked if he would pursue pro-life legislation if elected governor and said "let's talk about extremism."
"Governor Pritzker is perfectly fine with our children getting abortions without their parents knowing anything about it. I think that's extreme," Bailey said during the debate. "Governor Pritzker is perfectly fine injecting his gender curriculum, the first of its kind in the nation, into our schools' woke ideology."
What does Bailey want to do as governor of Illinois?
If elected, Bailey has made campaign promises to uphold pro-life values, protect gun rights, reform education, lower property and income taxes, stand up for farmers and promote governmental transparency.
"Education here in Illinois is an absolute national embarrassment. Our children can't read, and they can't do math at grade level, and that's proven," Bailey said.
Who is Darren Bailey's running mate?
Running alongside Bailey as candidate for lieutenant governor is Stephanie Trussell, 49, who is a former conservative radio talk show host on WLS-AM 890. Trussell was born and raised on the West Side of Chicago.
Bailey's campaign has been endorsed by the Chicago Fraternal Order of Police and the Illinois Fraternal Order of Police. He has also been endorsed by A Brotherhood Aimed Toward Education (ABATE) of Illinois, Illinois Family Action and the Illinois Federation for Right to Life. Organizations such as the Illinois Right to Life Action, Illinois Chamber of Commerce and the National Rifle Association rated Bailey's positions and his votes as a state senator favorably based on their respective interests.
Bailey has also been endorsed by former President Donald Trump and received a campaign donation of $2 million from Richard Uihlein, a billionaire and conservative donor.
When Bailey was asked if he will support Trump if Trump runs for president in 2024, Bailey said he would share his support when campaigns for the 2024 election are announced.