Fruits, veggies and opportunities: A guide to Chicago's urban farms
Urban farms, like the name implies, are farms located in a city environment. These specific farms not only provide fresh produce to Chicago residents, they offer educational programs, vocational training and fight food insecurity, waste and more.
These farms also allow Chicago residents to connect with the land, see how their food is grown, engage with the gardening community of Chicago, support the local economy and find fresh fruits and vegetables at a low cost.
Star Farm Chicago
Star Farm Chicago is a nonprofit urban farm, landscaping and farm-to-table dinner service in Back of the Yards.
Today, Star Farm engages with adults with disabilities, provides vocational training, horticulture therapy, farmers markets, farm stands, community supported agriculture boxes, women and children's gardening programs, composting and landscaping. It also hosts a Love Fridge while helping new farmers grow their business.
"The point of our activities is that not only do we ourselves in our practice help to revolutionize and improve equity in the food system, but we also help other institutions and businesses do the same," said Stephanie Dunn, Star Farm's executive director.
Precious Blood Ministry of Reconciliation
Only a few blocks west from Star Farm Chicago is Precious Blood Ministry of Reconciliation's farm. PBMR focuses on restorative justice through radical hospitality, hope and healing.
PBMR engages with the Back of the Yards and Englewood communities, especially those who have been affected by violence and the criminal justice system, through farming, education, healing circles and more.
PBMR offers fresh produce, eggs and honey for free or a reduced price.
"Our community is important to us and it's important to us that no one goes to bed hungry," said Sister Carolyn Hoying, one of the famers at PBMR.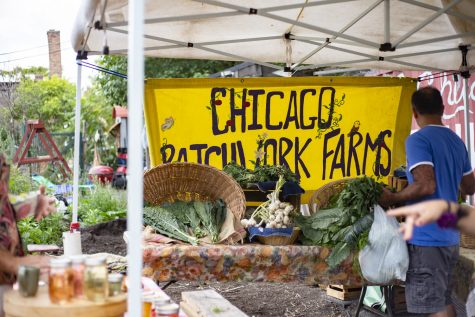 The Plant
The Plant, 1400 W. 46th St., focuses on material and energy efficiencies. It consists 18 small food businesses, multiple indoor and outdoor farms, a vegan market, a Love Fridge, a retail shop that the business contribute to and more.
Robert Phillips, farm manager for Chicago Patchwork Farm, one of the farms located at The Plant, said their farm emphasizes on becoming more regenerative, conscientious and accountable when it comes to sourcing and producing the fertility for their farm.
Carolee Kokola, director of operations for Bubbly Dynamics, The Plant's operator, said the food waste that happens when transporting food to Chicago is "crazy."
"The opportunity to grow food indoors year round was seen as something that wasn't really happening here in Chicago," Kokola said. "That was something that was very compelling and led to the founding of [The Plant]."
Growing Home
Growing Home is the first USDA certified high-production urban farm in Chicago.
According to LaQuandra Fair, Growing Home's community engagement coordinator, the nearest grocery store to their farm in Englewood is 20 minutes away by foot, which means few opportunities to get fresh produce for residents who may not have a vehicle.
"It was important for us to have [fresh produce] within walking distance for our residents," Fair said.
Their farm stand is open on Thursdays at reduced prices for the Englewood community. They also provide CSA boxes, participate in pop-up markets, fresh markets, cooking demonstrations and job training.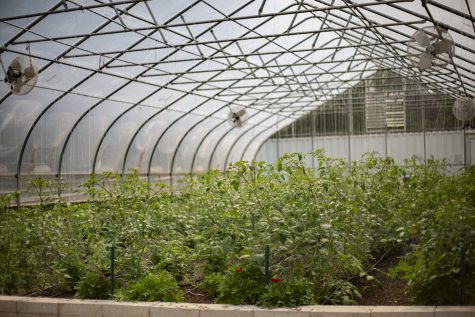 Growing Solutions Farm
Growing Solutions Farms is a vocational training Urban Autism Solutions program in Tri-Taylor.
By going to work at the farm, the vocational training program provides transferable skills for CPS young adults with developmental disabilities to gain independence.
"It's as big and complicated as using machinery to as small as making sure that when our students enter the farm every day that they shake a hand, that they make eye contact and that they're wearing the uniform," said Tucker Kelly, Growing Solutions Farm's lead grower.
As they are a full service farm, they hold on-site and and off-site farm stands, they have a CSA program and are a wholesaler to The Urban Canopy.
The Urban Canopy
The Urban Canopy seeks to reform the food systems in Chicago from a whole cycle approach, focusing on food waste and food distribution, especially in food deserts.
"It makes a lot more sense to eat what is grown around you, as opposed to all of the emissions and labor and costs that it takes to get things from super far away," said Bonnie Shultz, senior American Sign Language interpreting major and crew member for the Urban Canopy.
The Urban Canopy has both outdoor and indoor farms to serve the Chicago community through CSA boxes and farmers markets, as well as restaurants and juice bars.
They also have a distributions and processing branch that focuses on buying bulk organic produce that otherwise would go to waste and a composting club that provides subscribers with bins for food scraps that they later pick up for composting.
Farm on Ogden
Farm on Ogden is one of Chicago's Botanic Garden locations in the city, a multi-use community food hub in North Lawndale.
Farm on Ogden has on-site indoor and outdoor farms, a market with both fresh and processed foods, educational programs for the South and West side community, healthy food accessibility services and paid work opportunities for youth and people who have been affected by the justice system.
Eliza Fournier, Windy City Harvest's director of health and special contracts at the Chicago Botanic Garden, said they believe plants are the solution for many of the 21st century problems.
"Community disengagement from each other, too much screen time, [un]healthy diet related diseases, climate change, all of those things can be solved and improved by engaging with plants," Fournier said.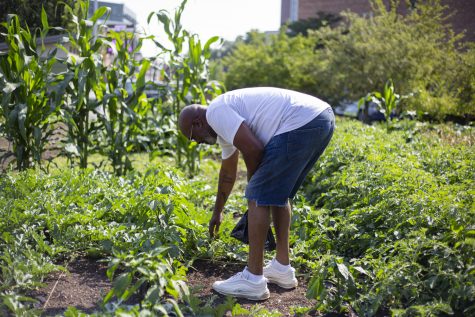 Smooth and Social Roots Café
At Smooth and Social Roots Café, customers can directly pick their vegetables from its on-site farm.
"This is the most genuine aspect of farm-to-table that you will see anywhere because typically everything relies on a truck for a period of time where it sits somewhere in transition," said Mendi Harrod, Smooth and Social Roots' director of operations.
Smooth and Social Roots Café is a newly opened hybrid farm and café. Their menu is based on creole food, with many healthy options like smoothies, wraps and plant packed foods.
Together with their other farm in Garfield Park, Smooth and Social Roots, funded by Chicago native David Edwards, provides CSA boxes, donations and youth agriculture programs while hosting farmers markets, farm stands, and more.
Get your veggies before it gets cold again!