From jazz to classical music, the Blackstone Hotel hosts Columbia musicians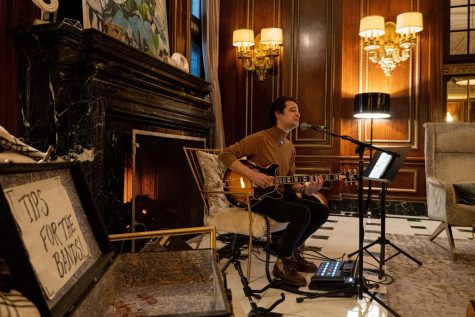 The lobby of the Blackstone Hotel serves as a unique, laid back setting for anyone to come in and listen to live music performances.
But three days a week, Columbia students can feel even more at home in the lobby, as their peers are the ones that take the stage for three-hour sets.
Faculty from the Music Department select several students to perform in the hotel lobby, 636 S. Michigan Ave., each semester, since the three-hour performances call for a committed skill set.
The Blackstone has collaborated with Columbia since 2018, creating a space for student musicians to perform live music in the hotel's chandelier and fireplace-lit lobby.
"There are so many solo musician gigs out there, it's important that our students are able to take advantage of that work," said Joe Cerqua, creative director and producer in the Music Department, which handles the student talent affiliated with the hotel.
The process of hiring for this position requires the students to display impressive engagement in the music program. Each performance consists of a solo act, which is a paid position alongside tips. Cerqua schedules the artists two months at a time, providing opportunity for others and plans to run the program throughout the year. There are currently three student performers and one alum.
"The gig at the Blackstone is a three-hour gig, so it is mostly about who can pull off a three-hour gig by themself," Cerqua said. "Since I see every concert that the Music Department does, I am in touch with our student talent, and we seek out students who we think can do a long performance at a professional level."
Well known for its history of hospitality immersed in the arts, the Blackstone Hotel has focused on creativity since its opening in 1910. "Jazz Showcase," one of the oldest jazz clubs in Chicago, was founded in 1947 and resided at the Blackstone for 14 years before moving to other locations. While the jazz club is no longer at its home location, the hotel has not strayed far from its musical roots.
Pierre Giacotto, general manager at the Blackstone, strongly believes in the importance of incorporating and maintaining music back into the hotel.
"Part of bringing back the history was bringing the art of music to our guests, and what better partnership than with the school next door," Giacotto said.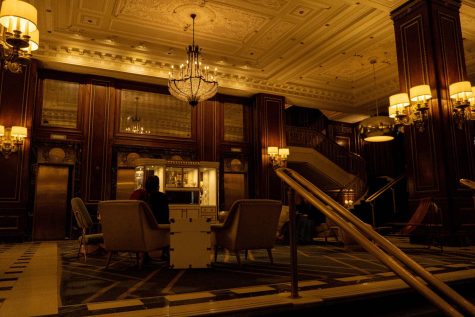 Music alum Eric Rutherford, who earned his bachelor's degree in music in 2017, maintains his close connection to Columbia through playing one night a week for the hotel.
Jazz guitar and jamming to funk loops is how Joshua Trimble, a senior music major, spends his three-hour performance at the hotel.
"I think this opportunity really is a stepping stone of a lot of the things that I've envisioned and wanted to manifest for myself," Trimble said. "It's given me a very good outlet to make sure that I'm still doing my solo artist stuff within the craze of just trying to get through school, and surviving the slight onslaught of all of life's responsibilities."
Trevor Stewart, a senior composition major, is another one of the three student musicians who performs live. Primarily specializing in composing, Stewart writes his own music for various groups, but diversifies his talents at the Blackstone.
"I play about half classical guitar, half contemporary music with singing," Stewart said. "I play a lot of Beatles, and the Al Green song 'Let's Stay Together' is really fun. I try to play music that any demographic can enjoy; there are people from all over the world at the Blackstone."
Miles Pretel, second-year student at Columbia majoring in contemporary jazz and popular music, anticipates beginning his journey of performing at the Blackstone in November.
"I am mainly a jazz/improvised music piano player, but I also do classical, Latin jazz, jazz fusion and hip-hop production," Pretel said. "The teachers [at Columbia] are preparing us for the real world, so it'll be a learning experience that I'll take into the future."
Giacotto is excited to continue strengthening the Blackstone's relationship with Columbia.
"I would love nothing more than to do something one day to expand our collaboration with Columbia," Giacotto said. "We are not cookie cutter; it's fun, it's artsy and we support the community and college students."
Columbia students and alumni perform in the Blackstone Hotel lobby every Thursday, Friday and Saturday from 5:30-8:30 p.m.
To support these Columbia musicians, listen to Trimble on Spotify and Apple Music, Stewart on Youtube and Pretel on Youtube.