Four Columbia teachers achieve excellence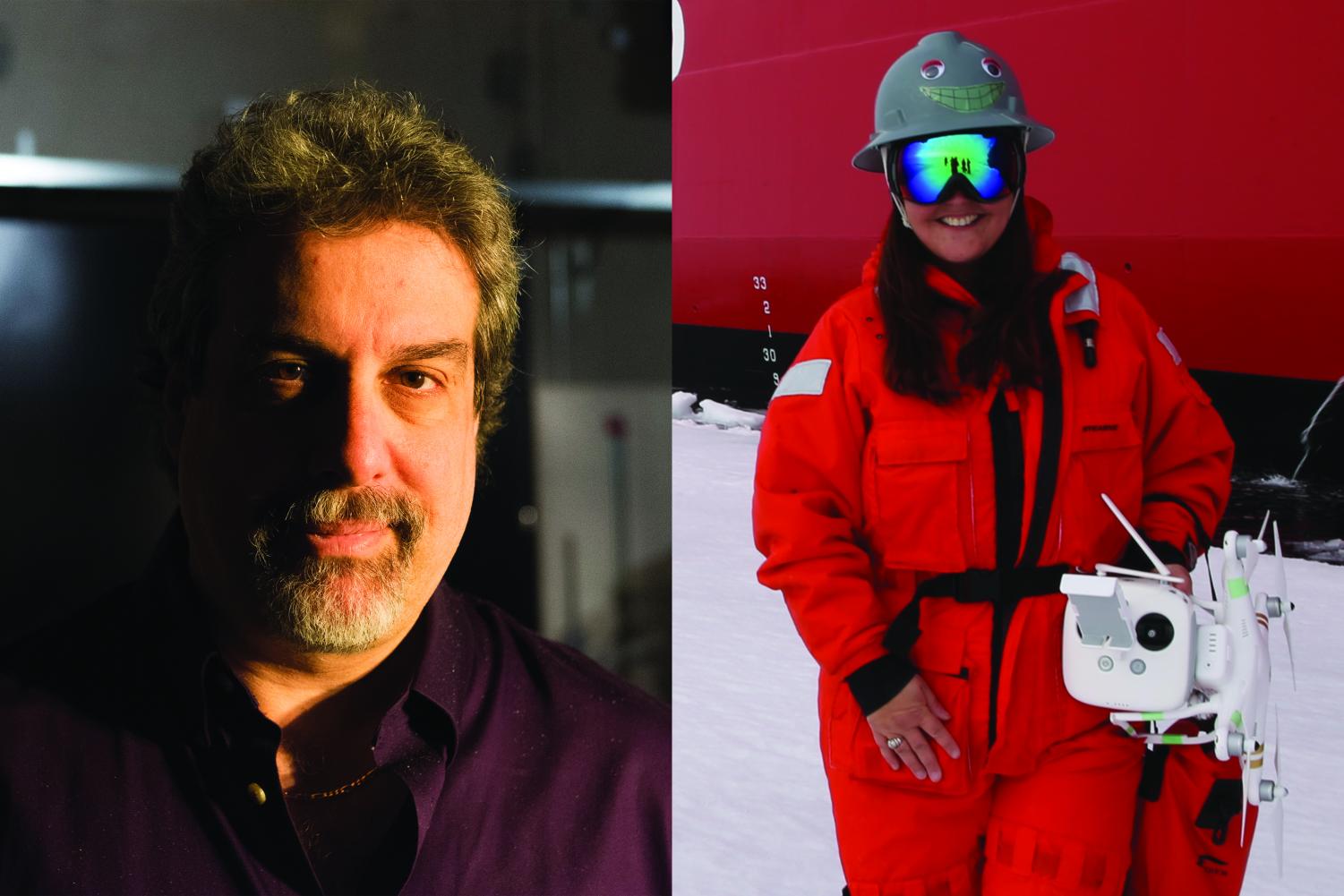 An instructor who combines his command of the Italian language with his love of cinematography and another who captures students' imaginations by teaching marine biology to creatives were this year's winners of the Excellence in Teaching Award.
Tom Fraterrigo, professor of instruction in the Cinema and Television Arts Department, and Michele Hoffman Trotter, adjunct professor in the Science and Mathematics Department, were awarded top prizes while Mort Castle, adjunct professor in the English and Creative Writing Department, and Jessica Young, associate professor in the Dance and Creative Arts Therapies Department, were runners-up.
"The field of nominees was especially strong," said former interim senior vice president and provost Suzanne Blum Malley in a May 31 email to the college. "All four of the finalists prepared compelling teaching philosophy statements, demonstrated outstanding presence and effective pedagogy during classroom observations, were very highly rated by their students, and made thoughtful and engaging final presentations to the campus community."
The finalists made presentations to the Columbia community on May 22, as reported by The Chronicle.
Tom Fraterrigo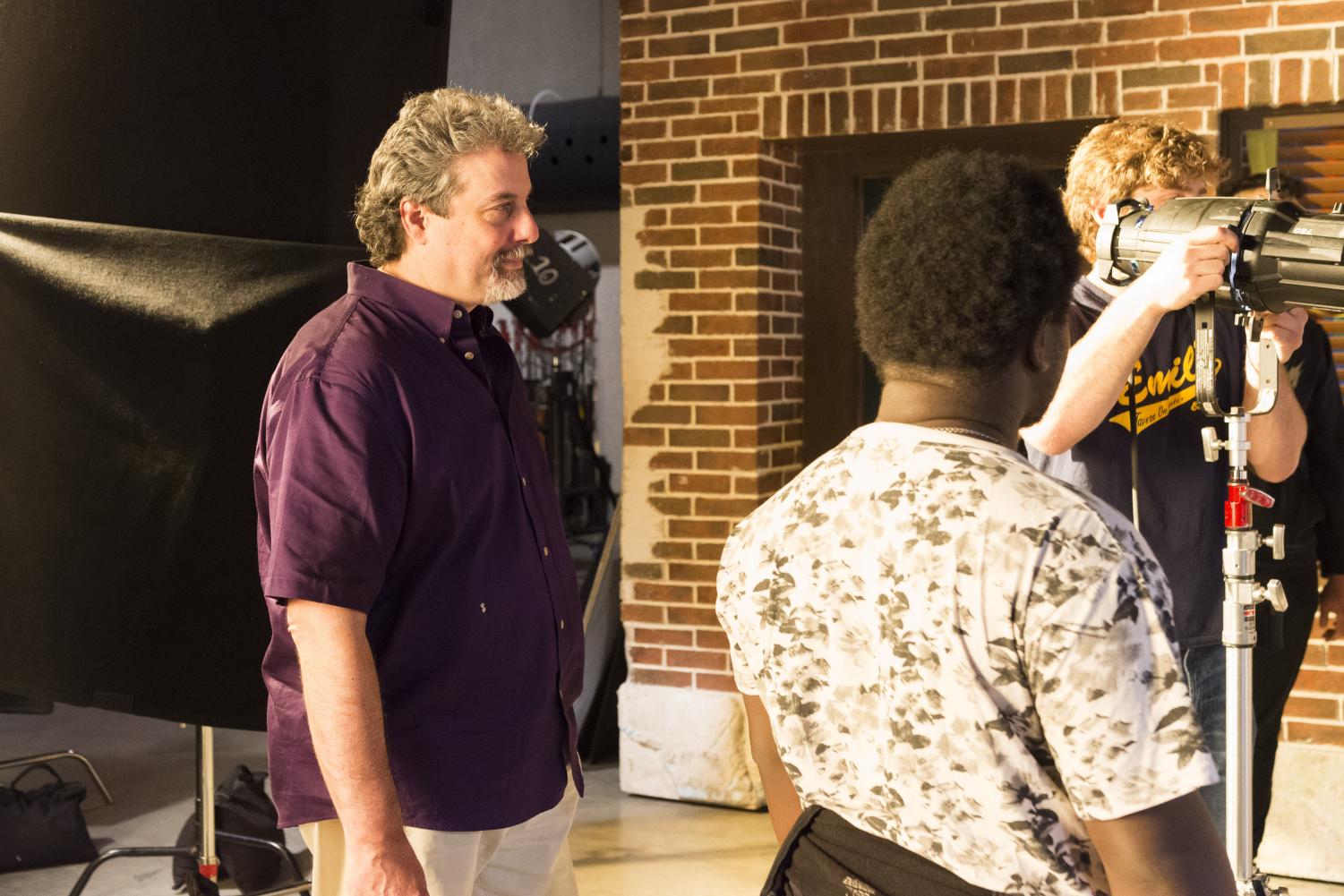 Fraterrigo spends his teaching career behind the scenes. When he first started instructing students, they shot film on three quarter inch video. Then on Hi8, then shot digitally with a P2 card until they began shooting on the Canon cameras they have now. He also makes good salami.
"Tom is fascinating because he has a lot of interests that are beyond what you see in the classroom," said Eric Scholl, interim chair of the Cinema and Television Arts Department.
Beyond his cooking skills, Fraterrigo is a wine expert and speaks fluent Italian.
"That all comes together in his personality, and he finds a way to incorporate that into the classroom," Scholl said.
An example of that incorporation would be the international course Fraterrigo teaches in Italy, "Cinematic Art in the Land of Leonardo." When he is not teaching in Italy, however, Fraterrigo teaches the highest-level directing courses at Columbia, Scholl said.
"This honor went to me, but I couldn't teach this class without the support of my collaborating faculty. I wanted them also to be a part of this recognition," Fraterrigo said.
Students in Fraterrigo's classes are some of the most successful in the program because they come out of his classes with industry-ready experiences, according to Scholl.
"He holds them to the standards of the industry. If they are not performing work that is of high quality, he is going to call them on it, and he is going to give them suggestions on how to bring themselves up to his expectations," Scholl said.
Scholl noted Fraterrigo is a skilled professor who helps students think outside the box.
"He gets people to go beyond, not just their comfort zone, but also beyond what is familiar for them having watched a lot of movies and TV shows," Scholl said.
Directing films is never easy and Fraterrigo said they are never truly finished. But with the technological advances since his first day 26 years ago, he is able to push his students for higher levels of completion. Students are able to edit and film more now than ever before.
Fraterrigo is still on campus helping students with their final projects even though the Spring semester ended nearly a month ago, but he said it is worth it to see the finished products each semester.
"There is no greater day for me as a teacher than our week 15 screenings," Fraterrigo said. "It's why I keep going back to teach these advanced production classes."
Michele Hoffman Trotter
Hoffman Trotter always wanted to be a scientist, even though her high school counselor said she would never be one. Now, she has won her second Excellence in Teaching award and has traveled the world as a scientist.
Her travels have taken her to Australia and Honduras for underwater photography and filmmaking.
Hoffman Trotter, over the course of her career at Columbia, has taught marine biology, oceanography, geology and general biology, all with a smile on her face and the same energy for the past two decades.
Hoffman Trotter felt the need to give back to the Columbia community, where she graduated from in 1994 as an interdisciplinary major. She said Columbia helped her become the person she is today, and that she has always wanted to teach science to students who may have been told they were not great at it.
"Everybody has a scientist in them," she said. "I enjoy the challenge of trying to bring that out."
It was at Columbia where her teacher noticed she was taking a lot of science classes and encouraged her to pursue her goal of being a scientist.
"I am absolutely a scientist, hands down, but I am also an artist," said Hoffman Trotter, who earned a Master of Marine Science degree from the University of New South Wales in 1996 and a juris doctorate from the College of Law at DePaul University in 2004. 
Donna Marie Siegel, 2018 cinema arts and science alumna, is a former student of Hoffman Trotter.
"[Without] walking into her classroom I would not have been able to do any of the things that I've done in the past three years," she said.
Even though not many students major in science at Columbia, Hoffman Trotter still finds a way to incorporate students' majors into science. Some of her students have gotten internships to work alongside her in the field.
Siegel has spent three years interning with Hoffman Trotter. With the connections she's made through Hoffman Trotter, she has gone to Hawaii and West Palm Beach. In the summer, she will travel to Alaska.
Hoffman Trotter's favorite moments as a teacher come when she teaches students something they previously did not think they could learn.
"Science can get kind of sticky sometimes, and you get scared of mathematics, or numbers or statistics," Siegel said. "But she does a good job of reaching everyone on their level."
Hoffman Trotter said the most important goal is to educate students to be science literate.
"My job as a teacher is to guide people, not feed people information," she said.
Siegel's internship experiences and skills she learned would not be possible without Hoffman Trotter.
"Michele is able to foster relationships with students that are more special than most," Siegel said. "She has a lasting effect on people, and everybody I have met is better off for meeting her."