Former Democratic presidential candidate Pete Buttigieg warns Americans of a 'crisis of mistrust' during the election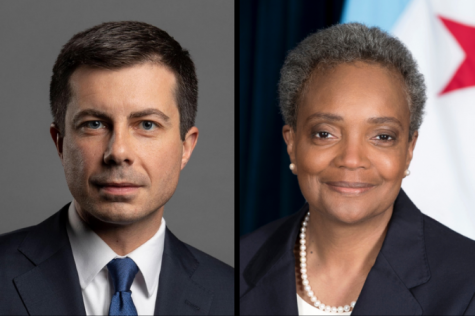 On the last day of his presidential campaign, former Democratic presidential candidate Pete Buttigieg said as he marched alongside John Lewis, he wondered how protesters who marched 55 years ago across the Edmund Pettus Bridge in Selma, Alabama, were able to summon the level of trust needed to believe the system could be changed, despite all odds against them.
"They had no illusions about the good faith of the deputies and the state troopers waiting on the other side of that bridge," Buttigieg said. "But they had a level of trust in each other, a level of trust in their cause and I think ultimately a level of belief that when it was confronted with a demand, the system could actually change and improve."
Buttigieg, the former mayor of South Bend, Indiana, was joined by Mayor Lori Lightfoot as a moderator during a prerecorded virtual interview through the Chicago Humanities Festival, an annual series of events showcasing people and ideas that shape and define society.
The two talked on Friday, Oct. 16, about topics from Buttigieg's new book, "Trust: America's Best Chance," which was published Oct. 6.
In the book, Buttigieg argues that Americans' trust in government institutions and one another will ultimately determine the level of success in dismantling systemic issues such as racial and economic injustice and better managing challenges such as the pandemic and climate change.
The paradox of the American system is that voting is the most powerful tool for fixing the system, yet people do not have faith in the power of their vote, he said. So, in order for American democracy to be more responsive, he said people must use the tools within the system to rebuild it from the inside out.
"In many ways, voting is also an expression of hope more than we acknowledge," Buttigieg said. "There has to be some level of trust that [this] hope will be vindicated for people to be moved to vote."
With the election less than a month away, he said when people choose their next president, they are placing their trust in the person to do a good job when leading the country and exercising their authority over the different sectors of government.
According to a 2020 survey from the Pew Research Center, 20% of U.S. adults say they trust the government in Washington to "do the right thing" always or most of the time. This is down from the last three presidencies during which trust in government wavered around 30%.
Perhaps the deepest well of distrust in America surrounds systemic racism, Buttigieg said.
He said the murder of George Floyd was a "moral awakening" for white Americans to stop and truly understand the decades of systemic racism Black Americans have experienced—from fearing for their safety during police encounters to distrusting medical professionals to properly treat them.
"Think about it in the other direction, too," Buttigieg said. "The reality is the system doesn't trust Black Americans equally. As the recipient of the trust, that really matters to your chances in life."
Lightfoot agreed with Buttigieg's point about racism being systemic, but she said that control over it is not limited to white Americans—it also applies to people in positions of power, she said.
The current system is set up to have "winners and losers" she said, and the "losers" are always people of color.
"What's so important now is for there to be an understanding of just how much needs to change in institutions dominated by white Americans, many of whom consciously hate the idea of racism, but are still in many ways replicating or benefiting from racist structures that need to be dismantled," Buttigieg said.