For Women, By Women gives voice to 'muted, overlooked' female Columbia artists
During the opening remarks of the For Women, By Women art gallery, co-curator and senior photography major Corinne Pompéy held back tears as the gallery's mission to uplift Columbia women artists had come to fruition.
"[The gallery] is just everything that I've ever pictured that it could possibly be," Pompéy said. "Just that [we] were able to bring so many people together and to support one another and create such a safe space is exactly our goal, and to see it here is heartwarming."
The opening night of the first For Women, By Women gallery was April 29 on the second floor of the 618 S. Michigan Ave. building and showcased 24 female artists, who were prominently photographers. The gallery was entirely produced and organized by women.
Diana Vallera, co-curator of the gallery and adjunct faculty member in the Photography Department, said the mission for the gallery was to create an inclusive space for work that touched on issues such as body-shaming, identity and race.
"We're not going to be able to change norms [or] change the policies that unfortunately exist today and are problematic until we have these kinds of showings that give voice to this kind of work," Vallera said.
Lauren Johnson, a junior photography major, showcased her work "Kintsugi: The Beauty of Imperfections," which focuses on body image. She was inspired by the Japanese art form Kintsugi, which uses lacquer mixed with gold to mend broken pieces of pottery. Johnson applied the art form to the scars found on people's bodies.
"[If it was for an] insecurity, I coated it in intricate golden lines or [would fill] in stretch marks, surgery scars [or] self-harm scars, just things that society has deemed to lessen a person's value," Johnson said.
Senior photography major Katelynn Rogers focused on her personal struggle with mental illness through portraits that depict her experiencing moments of "aggression" and "euphoria" at the same time.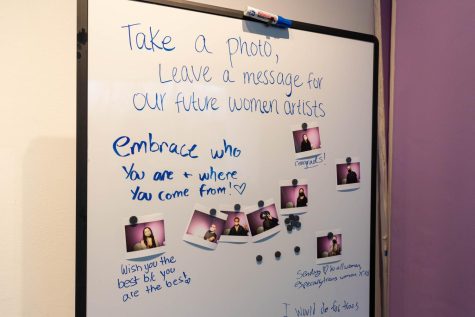 One image features an up-close shot of a woman with blood pouring down her face to illustrate the battle of living with a mental illness.
"[The image] ended up being this really good representation of how violent and horrific these thoughts can be but how no one ever really sees them on the outside, but it is like a big gaping wound," Rogers said.
The curators of the gallery, which runs through Manifest, hope to continue For Women, By Women as an annual production, including other departments in the future as they strive to spotlight women artists from across campus.
"We really just wanted to foster an inclusive learning environment and give voices to women [who] otherwise have been either muted or overlooked by society and social norms," Pompéy said.