For Women, By Women celebrates female artist's voices through second exhibition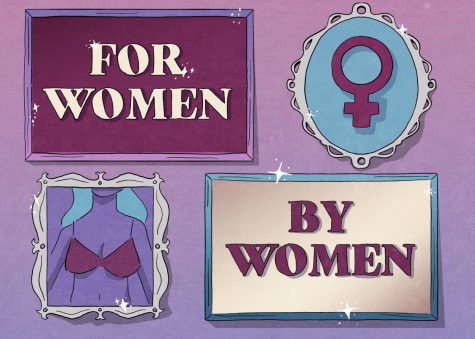 All throughout her life, Lauren Johnson has looked up to the women in her family.
Her grandmother. Her mother. Her aunt, younger sister and niece.
Now, one way the senior photography major honors the women in her life is through the lens of her camera.
"I draw a lot of inspiration from my mom and my grandma because we always had their artwork around our houses and my appreciation for it [has] allowed me to make sure that I'm following my passions as an artist and just being fearless with it," Johnson said. "And then making sure that the space is there because of the space that they have given me."
Johnson is one of the co-curators for the For Women, By Women student-run gallery that is in the process of installing the exhibition for the second year in April.
The gallery serves as a platform for cis women, trans women and nonbinary artists and to celebrate their creative works at the college.
There's not always a huge platform for women, trans and nonbinary creators "once we get out into the world, so I think having [the exhibition] this year at the college helps get your foot in the door almost," Johnson said.
Johnson said one of the goals of this year's exhibit is to foster relationships across departments, along with working with woman-owned businesses.
Corinne Pompey, a senior photography major, has helped develop For Women, By Women since its inception. Pompey said the project is a "safe space to explore women's issues, identity and experiences."
Pompey co-founded the idea of a gallery for women and nonbinary artists during her sophomore year with the help of Diana Vallera, an adjunct faculty member in the Photography Department.
"We saw that there was really no space like this that existed on Columbia's campus and so we felt that it was our responsibility to create something like that," Pompey said. "So with this being our second year, we're really ramping things up. … It's been a ride."
The Student Center will host the gallery on the first floor this year, but Pompey said she hopes in the future it can get a dedicated space.
"I just really want to be able to leave this gallery behind and pass it on to other people who feel the need, feel the responsibility to continue this vision," Pompey said.
Vallera said this gallery is important because women's voices have been silenced, in and out of the art realm.
"Historically all women have been silenced, in particular, women of color, trans women and that certainly is taking place in the arts as well," Vallera said. "We want to raise awareness and to ultimately advance that culture of equity and empowerment."