'Food, people and art': @whatwasbreakfast talks passion and yogurt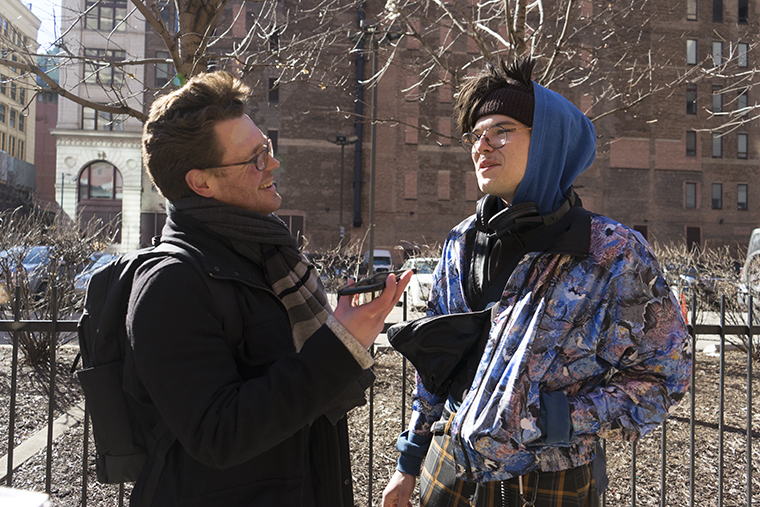 During his time as a waiter Alan Epstein was always amused by the follow-up questions he had to ask patrons interested in the restaurant's two-of-everything breakfast: Toast? What kind of bread? Eggs? Cooked which way?
It was a running joke with his fellow morning-shift workers, until one pointed out that there is a lot you can learn about someone from what they ordered for breakfast.
Epstein thought his co-workers at the Cherry Circle Room, 125 Michigan Ave., might be onto something.
Since August 2016, Epstein has run an Instagram account called What Was Breakfast, with a relatively simple premise: He walks around Chicago, stops people he thinks look interesting and asks what they had for breakfast.
"[It's like a] little window into that person," he said.
Epstein was studying improvisation during his time at the Cherry Circle Room, and had a DSLR camera for a sketch he had filmed. He started taking pictures of co-workers and asking what they would get for the two-of-everything breakfast. When he ran out of co-workers and did not want the project to end, What Was Breakfast was born.
Now, WWB has about 7,500 followers, and Epstein has stopped working in the restaurant industry to make time for the neither full-time nor part-time but "sometime," as he calls them, freelance photography gigs he has been working.
Epstein's relaxed, friendly demeanor coupled with his enthusiasm for WWB makes him personable as he approaches passersby on the street. He catches their attention with an easy, "Hey, I'm Alan," followed by a compliment and a practiced pitch of the project. By his estimate, he has a success rate of around 90 percent.
"Of all of the hundreds and hundreds of people I see a day, [I have to say] why I choose you. It's important to tell them or else I'm like a telemarketer," he said. "In a street interaction, you just gotta throw your cards on the table as fast as you can and [say], 'All I want to do is this, and this is why.'"
Epstein is a smooth, fast-talker and an incredibly sincere artist. He speaks quickly, but leaves long pauses between his sentences. His eyes are constantly darting around looking for potential subjects, but when they connect with something, he has a laser focus. He was once a club promoter in Las Vegas and has spent much of his adult life working in sales, but he sees WWB as an opportunity to examine bigger topics through a micro-representation of people's days.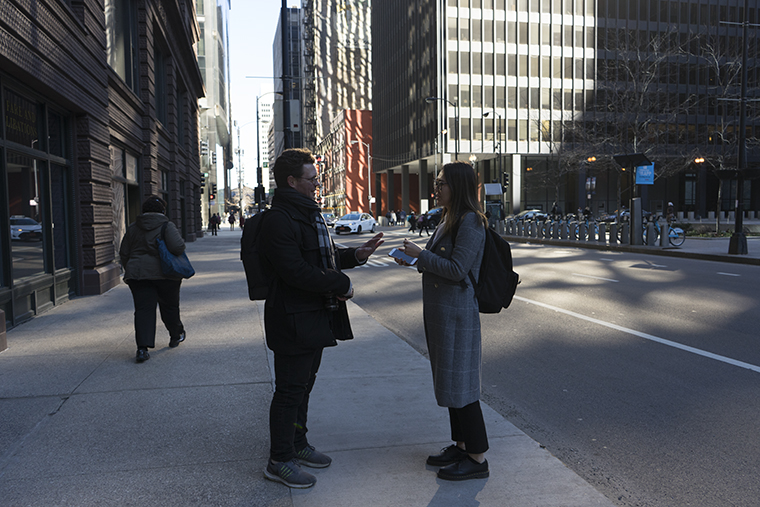 Epstein thinks you can learn certain things about a person through their breakfast habits, like if they are a meticulous planner or if they are just winging it. He has also learned specific patterns.
"I do know that business people eat yogurt, from my market research," Epstein said.
He is primarily interested in the way people communicate and thinks asking them about breakfast is a way to simply get them talking so he can document who they are in that moment.
"We're all human beings who have the same functions and feelings," Epstein said, "Breakfast is a way of saying, '[These are] our shared experiences.' How does somebody wake up and eat? We all do it. And you can read into [it] however you want."
Epstein said he hopes WWB grows into other projects that explore the way food intersects with people and their stories. He wants to create a show called "Eggsistentialist," which would talk about bigger human issues using food as a vehicle to enter those conversations. He also has an idea for a podcast called "Sandwiches with Storytellers," where he would meet up with storytellers from various mediums—anything from filmmakers to standup comedians—and discuss storytelling with them over a sandwich.
Epstein finds a creative outlet in the community aspect of food. He said he spent about six years in Argentina and felt like he was not able to share the culture of American food with anyone. He created a space for that himself, an American burger joint called The Office.
His desire to cultivate community has continued with WWB. He recently held what he dubbed a "Polaroids and Pancakes" party that brought together the different aspects of what people like about WWB.
"Food, people and art, right? Those are the three things that I'm working with," Epstein said. "And instead of just [existing in] the internet world, I just transferred those things to the real world."