'Flannery': a stroll through the mind of writer Flannery O'Connor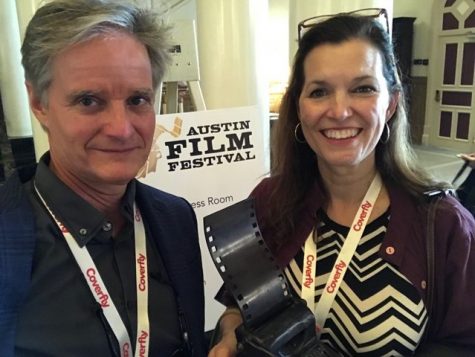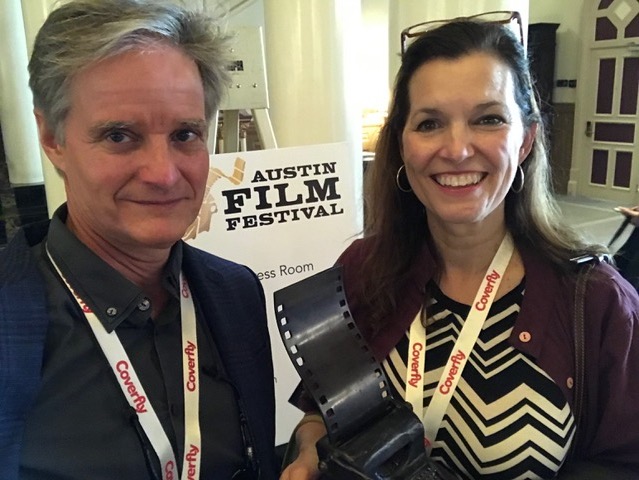 Growing up, Flannery O'Connor was shy. The few images that exist of O'Connor show her on crutches surrounded by peacocks—farmland in the background, not looking at the camera, but looking down.
As a white Southern woman who found inspiration through her observations of other white Southerners, even in those early photographs she looked mindful.
O'Connor, an American novelist and short-story writer, only lived to be 39, but she once said, "Anybody who has survived childhood has enough information about life to last him the rest of his days."
Her observant writing style speaks to this sentiment, and the 2019 documentary "Flannery" emphasizes the mystery and precision of O'Connor's work.
"Flannery," directed by Elizabeth Coffman and Mark Bosco and produced, shot and sound designed by Ted Hardin, an associate professor in the Cinema and Television Arts Department, brings O'Connor's short stories of mystery and redemption to life through animation.
"We thought illustrating her stories and using slight exaggeration like [O'Connor did] would echo her aesthetic," Hardin said.
The animation, brightly colored and with exaggerated facial features, emphasizes O'Connor's awareness of setting and space. Her literary work is full of drama and mystery—each scene creating another spectacle and layer for the reader.
In one of the film's animations, O'Connor's story "A Good Man is Hard to Find" comes to life as a family goes on vacation to Tennessee and encounters an escaped murderer who was called "The Misfit" before being killed.
The prospect of the film began in 2011 when Coffman found a box of tapes of an O'Connor conference at Loyola University, Hardin said. Because of these tapes, Coffman decided to help with another O'Connor conference held in 2011 and interviewed a few attendees before starting the documentary.
It was those tapes that provided a unique insight into O'Connor and her work, sparking the match for a documentary. Coffman, Bosco and Hardin thought, "there is something here," and the tapes began to answer some of their questions about her work, Hardin said.
One of the driving themes of O'Connor's work is mystery, and in that mystery came her acute observations of the overt racism of white Southerners.
Hardin quoted Bruce Gentry, a professor of English at Georgia College and editor of the Flannery O'Connor Review, who said through her writing, "O'Connor was speaking to white racists [who] knew something was wrong with their worldview."
O'Connor's timidness—but not naiveté—and instinct to observe others from the sidelines is captured throughout the film. Through letters written by O'Connor and narrated in the film, viewers learn that when novelist James Baldwin comes through Georgia in the 1960s, O'Connor has the option to sit and talk with him but declines.
The film notes that O'Connor knows if she met with Baldwin it would upset the social order of Georgia, and she would no longer be able to remain as a quiet, unnoticed observer of Southern language and ideals. In her letter she writes, "Might as well expect a mule to fly as me to see James Baldwin in Georgia."
These quiet observations are what make her writing a standout among others. She does not blatantly cast judgment, rather, she simply reports what she has seen and, more specifically, heard. Sound, as the film explains, was paramount to her writing.
O'Connor wrote until she died from lupus in 1964. Even in her hospital bed, she worked.
Through its format, the film encapsulates the triumphant nature of O'Connor, going through the years of her life in stages starting as a young cartoonist, a writer and then a student at the Iowa Writer's Workshop at the University of Iowa before moving to New York and ultimately back to Georgia.
"The way she viewed the world was never settled," Hardin said. "There is always more work to be done."
Other than one television interview, there are no moving pictures of O'Connor in the documentary, yet it has the ability to build a complete story and image around a person with very little physical representation—which Hardin said was no easy task.
"Flannery" is a film for people not only interested in the life of O'Connor but simply in the mind of a writer. Watching the film will make one want to rush to pick up one of her books and read it all the way through.
In terms of what people should take away from the film, Hardin said he wonders that himself.
"Part of it is a fair portrayal of her struggle, her interests and the philosophical question that she is after … despite dark acts and judgmental behavior, can one still find redemption? Can one still find grace?" Hardin said. "Flannery would answer yes."
"Flannery" is the first-ever winner of the Library of Congress Lavine/Ken Burns Prize for Film. From July 17-August 16 you can view "Flannery" for $10 through the Chicago-baseed American Writers Museum.