Five songs made by Columbia creativity to blast at the holiday party
Anessa Rivera – "SEEMS 2 BE"
Anessa Rivera's "SEEMS 2 BE" is a song that makes your hips sway and think about that special someone.
The song is a product of one of Rivera's assignments in a junior year "Songwriting II" class.
"It was one of the songs that out of all the millions of songs it felt like we had to do for that class, that was one that I really related to and I just wanted people to hear," said Rivera, who is now a senior music major.
Comparing the song's final state to the original submission in Canvas, Rivera said "it sounded completely different."
"Not lyrics-wise, but the instrumentation was completely different," Rivera said.
After submitting it, Rivera continued to work on the song, collaborating with producer Manny Megz, from her hometown in Tucson, Arizona. From there, she mixed the song with mixer Ethan Deetz in his Chicago studio. On Dec. 4, they released the song.
"I wanted to really grow from my first song," Rivera said, referring to her earliest song "Worth It" which was released in June. "I wanted it to feel more me, and it's not that it didn't feel more me, but it sounded like I was discovering it."
While finding her sound, Rivera "wanted what I sounded [like] to feel sexy."
The song is a romance story, Rivera admitted. "In all honesty, it's like a little sneaky link vibe."
Finishing the mixing, Rivera was proud of the final product.
"I got so emotional hearing the track for the first time. I was like 'this is exactly what I wanted to sound like,'" Rivera said.
For her colorful, vibey cover photo, she used the Columbia photography studios, being photographed by junior photography major Cole Grodzin, whose artist name is "colegrzn."
Rivera hopes to release an EP eventually and start performing at small taverns and music spaces in Chicago and in Arizona.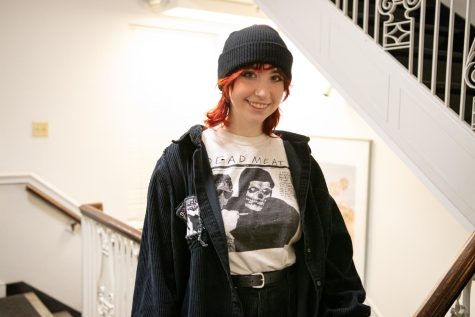 Grace Bloom – "I don't feel like dying today"
Grace Bloom's song "I don't feel like dying today" is Bloom's first big production, being the first song they have recorded in a professional studio and her first song accompanied by a music video.
"My other projects I've done myself were more do it yourself, so I recorded in my bedroom and outsourced a couple things," Bloom said. "This was the first project where I could actually fully put everything that I had into it."
The senior cultural studies major wrote the song during winter 2021 and recorded it in April at Narwhal Studios in Wicker Park. Bloom did all the instrumentation and vocals and Jake Freeman, a Chicago-based musician, produced it. The two met through Freeman's sister.
Bloom said the song is their way of processing feelings of existentialism and the knowledge that every moment could be their last.
The song's slow beat and relaxed guitar picking align with Bloom's emotional message, however, the song's progression to a dramatic, loud ending reminds listeners to be positive as well.
"It is slower in the beginning and then has this really emphatic, climactic ending that hopefully gives some more hope that even though you might be feeling some frustrations or anxieties, there is a way to still enjoy life," Bloom said.
This year, they have performed the song at many iconic Chicago clubs like the Empty Bottle, Schubas Tavern and Subterranean.
Bloom also made a music video for "I don't feel like dying today" that was the product of Columbia's creativity.
"It was a lot of Columbia minds on set pushing the visual aspect of this release, which was incredible because Columbia film students take s— seriously," Bloom said.
Director and cinematographer Jacob Sutton, a junior film and television major, as well as other Columbia film students, worked together to create a music video that matched Bloom's emotional, colorful sound.
Bloom's long-term goal is to do advocacy work against sexual assault in the music industry and work to create safe workspaces for musicians as well as use her voice as a platform to help others who are struggling. Bloom's zine series about sexual assault is currently in production for a second volume and is taking submissions.
Bloom hopes to keep playing shows post-graduation in May, do a tour in the summer and release an album in the next year or two. She is playing a show at Schubas Tavern on Jan. 12.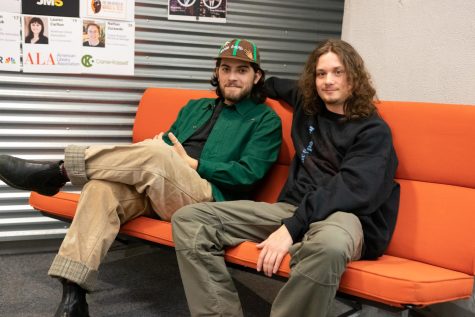 Samuel Aaron and Micah Miller – "You're Still Here"
The combination of two creative minds was necessary for the creation of the rhythym and blues new-wave song "You're Still Here" by Samuel Aaron, produced by Micah Miller.
Samuel Ellenby, whose stage name is Samuel Aaron, is a senior music major and Micah Miller is a sophomore with a focus in music business.
The two met at a Halloween show where Miller's "costume," was his Starbucks uniform that he wore to his previous shift as a barista. This caught Ellenby's attention.
Once they started talking and realized they had a lot in common, they made plans to make music together, leading to the creation of "You're Still Here."
The song was originally written by Ellenby alone and started as just an idea on his guitar.
But once he showed it to Miller and the two started working on it together, the song grew into what it is today.
Ellenby said there was probably a two-week period where they were working on it every day in his home studio in Logan Square.
It was the first "full-blown collaboration" Ellenby had done in music, saying that Miller was "the perfect person" for the job, his skills in production complementing Ellenby's folk sound.
The song describes "this feeling of gratitude," Ellenby said, "those everyday realizations of love, someone sticking around."
Miller hopes to put out new music this year with a six-track project accompanied by music videos, as well as continue producing other artists' work.
"I just want to be doing this for the rest of my life," Ellenby said.
Lauren Kenyon – "Emily"
Lauren Kenyon, a senior music major, wrote the song "Emily" in the spring of 2021 when attending Occidental College in Los Angeles. The song was born out of a songwriting class when asked to write for 30 minutes straight.
"From that, I was able to find ideas I liked," Kenyon said, who wrote the lyrics first and the melody later.
"I wrote a poem, but a rhythmic style of poem," Kenyon said.
Eventually she added guitar chords and a keyboard. Kenyon's favorite aspect of "Emily" is the lyrics, having a mixture of "frankness and more lyrical, poetic elements."
Kenyon described the lyrics as "very straightforward."
The song is about Kenyon's middle school friend who died. Kenyon discusses her and the different roads that people can take.
"I was thinking a lot about how even though we grew up in the same environment, and people may be the product of a similar environment, but that doesn't mean that they're the same," she said.
"I didn't have a piano. So I went to Guitar Center and did a voice memo of it," said Kenyon of the DIY approach to the song.
Her new album she plans to release early next year is being produced in a more professional manner.
"With my new album, I care a lot more about the details of it," Kenyon said. "I've been really trying to make sure every element is done to the best that I can do, make sure it's all produced. I've been outsourcing to my friends who know more about producing than me and using those resources. It's different, I think it shows more development."
Kenyon hopes to work with Columbia and other Chicago creatives for her upcoming album, collaborating with other musicians and having Marjorie Hellyer, a senior fine arts major, create her album art.
Liam Taylor – "wake up"
"wake up" was conceived in Liam Taylor's, a senior music major, first few weeks of college in his dorm at the Dwight where he met his producer and best friend, Sam Vallianatos.
When they started working on an EP together in 2021, the two decided that "wake up" had to be on it.
Taylor and Vallianatos re-recorded everything to their liking, creating the version of "wake up" that is heard on streaming services.
Taylor wrote the song to combat the feeling of struggling to get up in the morning.
"It's the hardest thing for me to get out of bed and get my day started," he said.
Taylor said the song is a gentle reminder that everything's gonna be OK.
"It's very fun to have that side to show because when so many other things are so intense … having that break to just be like 'life is gonna be OK,'" Taylor said.
Taylor has found that Columbia has been the source of many of his music connections while living on campus in the Dwight and being exposed to other avenues that introduced him to producers, musicians and singers.
"The biggest thing that I've gotten from Columbia when it comes to my own original music is that I've been introduced to a lot of really, really cool people," Taylor said.
The Chicago-based band he performs with mainly consists of Columbia students and fellow music majors: his drummer Hugh Maxey, his guitarist Josh Trimble, his bassist Andrew King and his backup singers Gracie Lubisky and Martha White.
Taylor is currently in Germany doing a music performance exchange program with the school PopAkademie Baden-Württemberg in Mannheim, Germany.
While there, he is recording an EP with German classmates attending PopAkademie.
Separate from that project, Taylor's upcoming EP "How'd I Get Here" will be released on Feb. 3, 2023. Next month, a single to promote the EP will be released.