Final presidential debate: Less raucous, more repetitive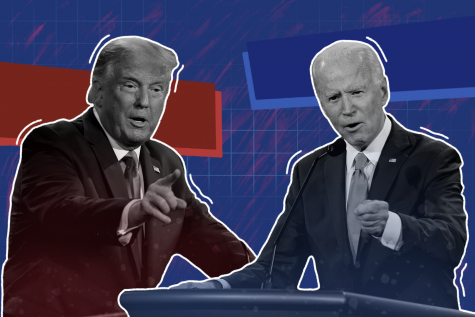 After the infamous debacle that passed for the first debate between President Donald Trump and Democratic presidential nominee and former Vice President Joe Biden, the Commission on Presidential Debates reinforced its no-interruptions policy by muting each candidate's microphone while the other was speaking.
The measure did not entirely solve the problem of interruptions, rather it served as a reminder to adhere to the debate's rules. As the debate went on, both candidates preceded to speak over one another and ask for more time to comment.
The second and final presidential debate took place at Belmont University in Nashville, Tennessee, on Thursday, Oct. 22, and was moderated by NBC News White House correspondent Kristen Welker.
The topics for the debate included plans for combating COVID-19, national security, health care, immigration, race, climate change and leadership.
How would you lead the country in the next stage of the coronavirus

pandemic?
Trump said although under early projections 2.2 million people were expected to die from COVID-19 in the U.S., its excess mortality rate is down 85% and is lower than other countries. But, Trump's statistics were measuring what would occur if no control measures were taken during the pandemic, according to BBC News.
"We have a vaccine that's coming," Trump said. "It's ready. It's going to be announced within weeks, and it's going to be delivered."
However, the Food and Drug Administration is a month away from considering emergency authorization of a vaccine for COVID-19, and Pfizer, a pharmaceutical company with late-stage vaccine clinical trials, said it would not apply for Emergency Authorization Use of their vaccine before the third week of November, according to the New York Times.
Trump said there was no guarantee the vaccine would come within weeks, but it will arrive by the end of the year. Officials from the Trump administration have estimated a vaccine would take until early 2021 for all Americans to have access to, but Trump said his end-of-year timeline is more accurate.
The military will distribute the vaccine through Operation Warp Speed, according to Trump, and he doubled down on saying the U.S. is rounding the corner on COVID-19. But, the positivity rate of cases in the U.S. has increased, with 428,795 new cases and 1,009 new deaths within the last week, according to CNN and Centers for Disease Control numbers.
"This is the same fellow that told you this was going to end by Easter," Biden said. "We're about to go into a dark winter, and he has no clear plan."
Biden said anyone responsible for the death of 220,000 Americans should not be the president.
Under his leadership, Biden said he would encourage everyone to wear a mask all the time, initiate rapid testing and set up national standards for opening schools and businesses safely, while ensuring they have the financial resources to do so.
"99.9 [percent] of young people recover. Ninety-nine percent of people recover," Trump said. "We have to open up our schools, and we can't close up our nation or you're not going to have a nation."
But, Trump's claim on the recovery rate for those who contract COVID-19 lacks evidence, according to research conducted by The Lancet Infectious Diseases experts.
"[Trump] says we're learning to live with it," Biden said. "People are learning to die with it."
Trump said he takes full responsibility for COVID-19 but that it is China's fault the pandemic came to the U.S.
What would you do if the Supreme Court overturns the Affordable Care Act?
Trump said the ACA would be "no good" no matter how well it was run. He said if the Supreme Court does not overturn the ACA, his administration would "have to run it."
"I'd like to terminate Obamacare [and] come up with a brand new beautiful health care [system] … always protecting people with preexisting conditions," Trump said.
Trump has yet to present a plan that will protect preexisting conditions and replace the ACA, according to NPR.
Biden said he does not want to terminate private health care but has proposed adding a government-run public option to the ACA. He said no one lost their private insurance under the ACA, and he will pass Obamacare with a public option and name it Bidencare.
However, millions of Americans had their private insurance policies canceled because they did not meet the health care law's requirements before the ACA exchanges opened in 2014, according to Factcheck.org, though most qualified for alternative plans or had health care options through federal and state marketplaces.
"If you qualify for Medicaid and do not have the wherewithal in your state to get Medicaid, you're automatically enrolled," Biden said.
Biden said he will reduce premiums and drug prices by allowing Medicare to negotiate drug prices with insurance companies.
How will families

separated

at the border be reunited?
Welker said 4,000 immigrant children were separated from their parents and placed in facilities under Trump's administration. The U.S. has been unable to locate the parents of more than 500 children since Trump reversed his zero-tolerance immigration policy in June 2018, she said.
"[The children] are so well taken care of. They're in facilities that are so clean," Trump said.
Trump said those children were brought in by cartels, "coyotes" and gangs and that his administration is trying "very hard" to reunite children with their parents.
Biden said those children came to the U.S. with parents and were separated at the border as a disincentive to enter the country.
"They got separated from their parents, and it makes us a laughingstock and violates every notion of who we are as a nation," he said.
Biden said it took him and former President Barack Obama too long to get the immigration overhaul right during their administration. He said within 100 days in office, he will send the U.S. Congress a pathway to citizenship for more than 11 million undocumented people.
What

will you say to Americans who did not vote for you?
Trump did not answer the question but instead said if Biden is elected, the U.S. will face a depression "the likes of which you've never seen."
"Your 401(k)s will go to hell, and it will be a very, very sad day for this country," Trump said.
Biden said whether people voted for or against him, he will make sure they are represented. He said he will "choose science over fiction and hope over fear."
"What is on the ballot here is the character of this country. Decency, honor, respect—treating people with dignity and making sure that everyone has an even chance," Biden said. "I'm going to make sure you get that. You haven't been getting that for the last four years."

Election day is on Tuesday, Nov. 3. Click here to learn more about how to vote in your state.